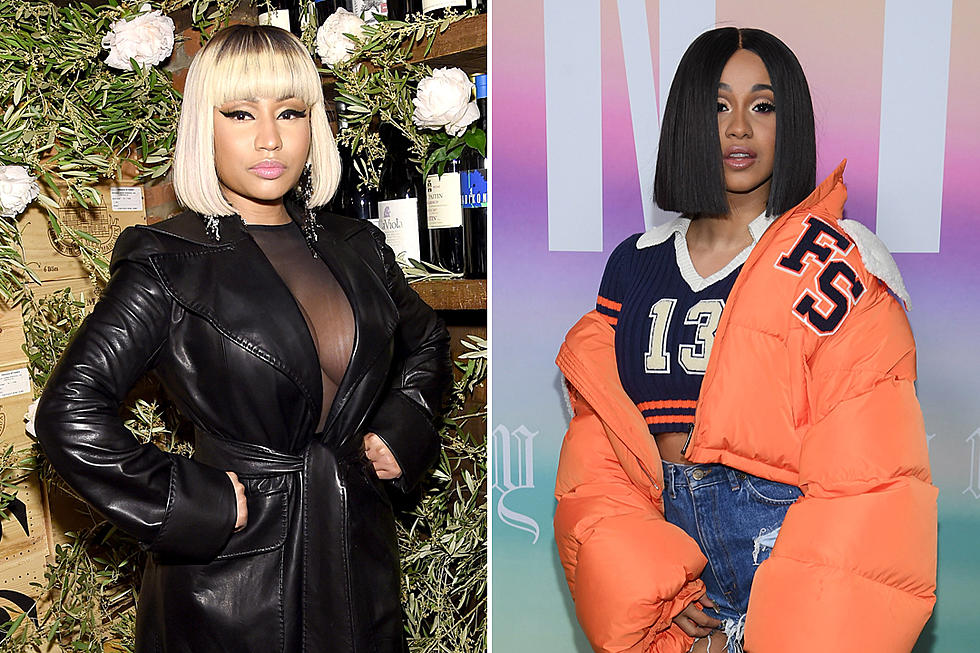 Cardi B and Nicki Minaj Calls It Truce?
Jamie McCarthy/Dimitrios Kambouris, Getty Images (2)
On the latest episode of her Beats 1 "Queen Radio" Nicki Minaj denied a claim from Cardi B's sister, Hennessy, that she had leaked Cardi's phone number.
"You can't control your sister, but you want me to control millions of fans," Minaj said. "I've never leaked a number in my life and y'all continue to lie on me to make me look like a bad person."
Funny Nicki Minaj makes these claims when other people such as; DJ Akademiks, Jason Lee, and Maria Lynn from Love and Hip-Hop also stated the head barb linked their phone numbers before. Minaj also alleged that Cardi influenced her husband, rapper Offset, and fellow rapper 21 Savage not to record with Minaj. To put the icing on the cake, Nicki Minaj said it was her friend Rah Ali who had really got into the altercation with Cardi B during fashion week. Nicki Minaj, goes on Queen Radio and says Rah Ali punched Cardi B 8 to 9 times hard resulting to Cardi B leaving with a knot on her forehead.  To make this more interesting Nicki calls out for the footage, and offer 100,000 dollars to the person that release the tape from that night. (says CNN)
"You went home and told people security hit you, and we let that ride for legal reasons," Minaj said. "Anybody that wanna pull up the surveillance footage, I will give you $100,000.
Well, we know The Bronx rookie wasn't just going to take that laying down. An enraged Cardi B, took to her Instagram and released a series of expletive-filled videos countering what Minaj had to say.
"You lie so much you can't keep up with your f**ing lies," Cardi said. "First you say you've got the footage, but then you say you wanna pay somebody $100,000 if they give you the footage? Make sense when you're talking."
Once again Cardi B also brings up the Motorsport video, saying Minaj changed her verse 3 times and she wasn't not feeling the "Queen of Rap" lyrics. Cardi called up her management and refused to do the video until Nicki Minaj changed her verse. Cardi stating very clear "you did not help me do anything … I'm nothing like you" referring to Nicki Minaj original verse
"I'm with a couple bad b****s that'll rip the party/If Cardi the QB, I'm Nick Lombardi" Minaj raps.
Exposing the lies of Nicki Minaj, Cardi B goes through her phone showing receipts of deals that she turned down, that became Nicki Minaj. It seems like this two talented women will never get along. One of these ladies has to take the high road and put an end to this dispute. Minaj, went to Twitter to implore her fans to "focus on positive things only from here on out." Looks like Cardi B agrees to retweet Nicki's post. "Alright then! Let's keep it positive and keep it pushing!" Cardi comments. Hopefully, these two ladies go back to focusing on great music, and as Cardi B would say the "Shmoneyyy."