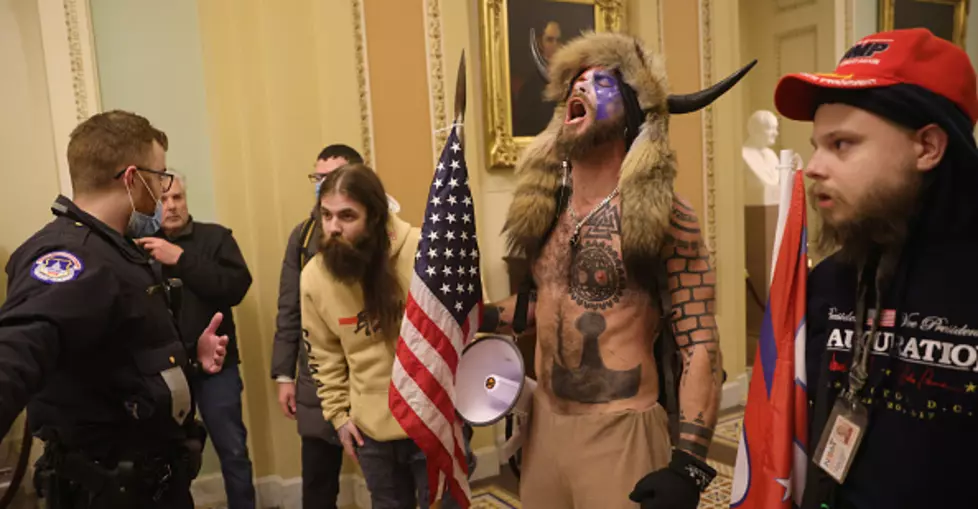 Why Were The Capitol Protesters Treated So Kindly?
Getty Images
If you've been keeping up with the news, you know that there was a violent attempted coup in Washington DC, at the U.S. Capitol.
Just before the riot began the Trump team gave their supporters their marching orders. Immediately the mob descended on the US Capitol where lawmakers were working to certify the election of President Elect Joe Biden and Vice President-Elect Kamala Harris.
Armed Trump supporters, wearing MAGA hats, draped themselves in Trump flags, destroyed property and fought with police officers who attempted to take control of the U.S. Capitol building.
It appeared that some officers did not even try to defend the Capitol. Officers took selfies with the rioters with smiling faces. Intruders were allowed to roam through the Capitol building, take selfies as they rummaged through Senators' offices and destroyed property.
The criminals were very brazen as they strolled through the Capitol building wagging confederate flags and breaking windows. Legislators were whisked away to safety as the assault on democracy continued. Four rioters died during the attack on the Capitol.
There were protests all over the country, including here in Albany and the outcome here wasn't very good either. Just about an hour before the protests became violent in Washington DC, protesters gathered here around noon.
The protesters gathered inside the East Capital Park in Albany. Counter protestors gathered near them and the groups almost immediately began to clash.
During the altercation, two Trump supporters were stabbed and hospitalized. One of them had to undergo emergency surgery.
Alexander S. Contompasis was charged with Assault, Criminal Possession of a Weapon, and Menacing. Contompasis was arraigned at the Albany City Court and bail was set at $30,000.
The past four years have been very enlightening. The racial divide is much wider than many people could imagine. We have a lot of work to do in this country to co-exist as American citizens.
Black Lives Matter protesters would have never been treated so kindly by law enforcement. Law-enforcement allowed those criminals to leave the Capitol Building without being brutalized or arrested. Who should be held accountable for inciting the violence that occurred in DC?
While we struggle to recover from the onslaught of racial disparities, we should remember that the whole world is watching us with dismay.
Enter your number to get our free mobile app
See 25 of the Best Illustrated Hip-Hop Album and Mixtape Covers of All Time
ALSO SEE: See 25 of the Best Illustrated Hip-Hop Album and Mixtape Covers of All Time