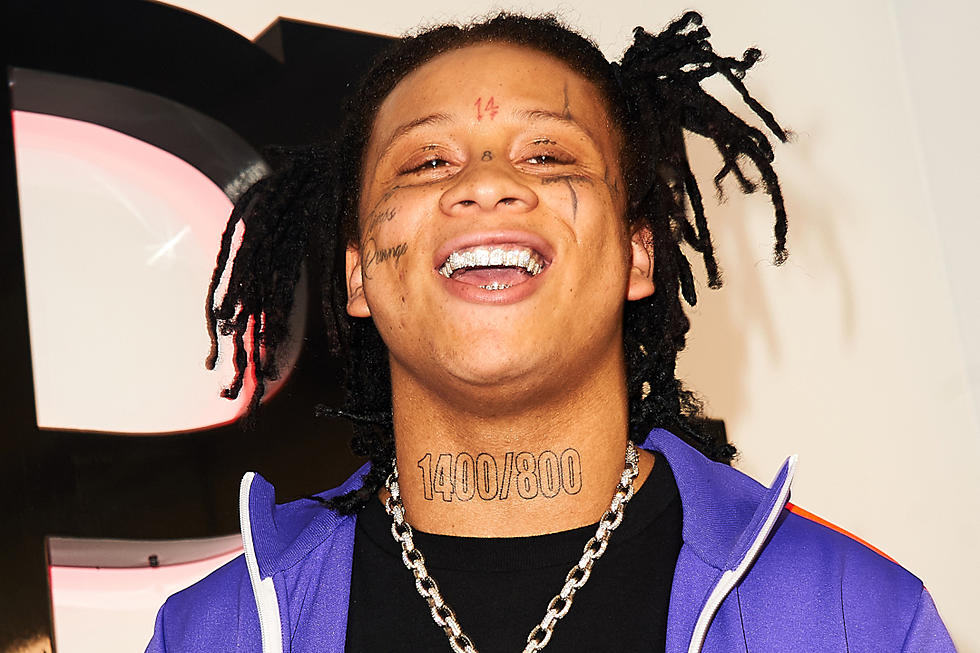 Trippie Redd "Under Enemy Arms": Listen to New Song
Unique Nicole , Getty Images
The 2018 XXL Freshman hit up Zane Lowe at Beats 1 on Wednesday (May 29) to debut the new record, which is called "Under Enemy Arms." The song is a lot more heavy on the horns than his previous work and it gives us an amazing glimpse at what we can expect from him in the future. During his conversation with Lowe, Redd alludes to the name of his upcoming project, which may be called !, and a few of the features fans can expect to hear on it.
"It's pretty much done," Trippie Redd said about the project. "I've pretty much got the concepts for lots of videos and shit. I'm trying to be visual with this one. Right now I'm just finishing up little features and stuff. I got to go pick up on The Game later and probably have him on it. I got Carti on it. Playboi Carti. It's [an] exclamation mark."
"Under Enemy Arms" comes over a month after he released his previous single "Murder." In the song, Trippie fuses the sounds of modern hip-hop with notes from an organ. The brief song was accompanied by a short flick featuring Trippie and his crew.
"I wish the enemy harm (Harm), Huh, bitch I'm a star (Star)," Trippie Redd raps "Under Enemy Arms." "Foreign lil' whip and I'm whippin' this car (Car), I might just park in the yard (Yard)/Catch the hoes like and I rip em apart, Fuck it, I got her heart (Heart)/Show no emotions I live in the dark (Dark),"
The new banger comes as Trippie Redd approaches the end of his probation. Back in January, the rapper pleaded no contest to disorderly conduct in a case revolving a fight he and Lil Wop were involved in last year. As a result of the deal, Trippie had his three other charges of simple battery, fighting in public and criminal trespass dropped. After paying $2,425 in restitution to Lil Wop, he was given six months probation.
Listen to Trippie Redd's new song "Under Enemy Arms" and check out his interview with Zane Lowe on Beats 1 below.
See Behind-the-Scenes Photos of Trippie Redd at the 2018 XXL Freshman Cover Shoot