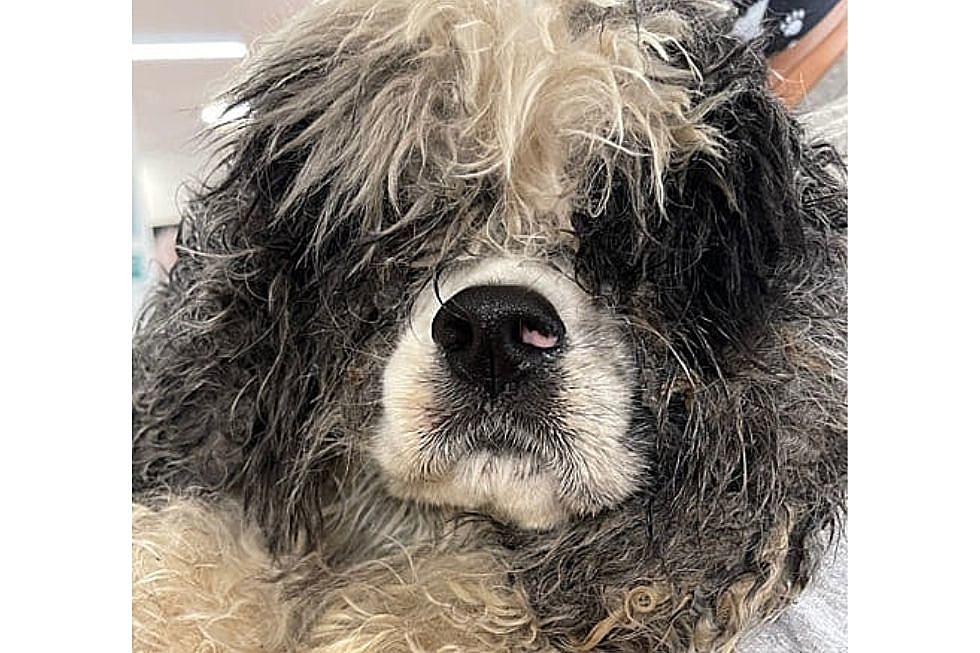 Tied-Up and Crying, Abused Valatie Doggo Waits for Forever Home
Columbia-Greene Humane Society/SPCA Facebook
Despite being abused and terribly neglected, a 13-year-old girl with special needs loves people and is super sweet.  Meet Oreo who was found over three weeks ago when she was seen tied to a pole in a Valatie parking lot, crying.   On the mend and looking for love, the Columbia-Greene Humane Society says they'll waive the adoption fees if they can find her a "forever home."
According to a report from News Channel 13, once Oreo was tended to by Kinderhook Dog Control and the New York State Police on June 5th, it was determined that "she's blind, her hearing is impaired, and her coat was so terribly matted that it caused her pain every time she moved."
And while Oreo comtinues to get some long-overdue TLC by the staff at the CGHC, her abusive owner is set to receive some long-overdue punishment as a result of the horrible neglect administered to this innocent doggo.
"New York State Police in Kinderhook arrested the alleged owner, Michael McMahon, on Friday, June 18 was charged with two counts of cruelty to animals." -Columbia-Greene Humane Society Facebook
Words can't express how much this sickens me to see.  The silving lining is that enough people cared and noticed that something wasn't right and alerted the authorities.  Hoping that her previous "owner" is brought to satisfying justice and perhaps someone reading this right now (maybe even you) inquire about bringing her home to your family.
Here's a look at Oreo now as she waits adoption:
For more information on Oreo, you may contact the CGHS/SPCA by phone at (518) 828-6044 ext. 100 or email info@cghs.org.
LOOK: Here Are 30 Foods That Are Poisonous to Dogs
To prepare yourself for a potential incident, always keep your vet's phone number handy, along with an after-hours clinic you can call in an emergency. The ASPCA Animal Poison Control Center also has a hotline you can call at (888) 426-4435 for advice.
Even with all of these resources, however, the best cure for food poisoning is preventing it in the first place. To give you an idea of what human foods can be dangerous, Stacker has put together a slideshow of 30 common foods to avoid. Take a look to see if there are any that surprise you.