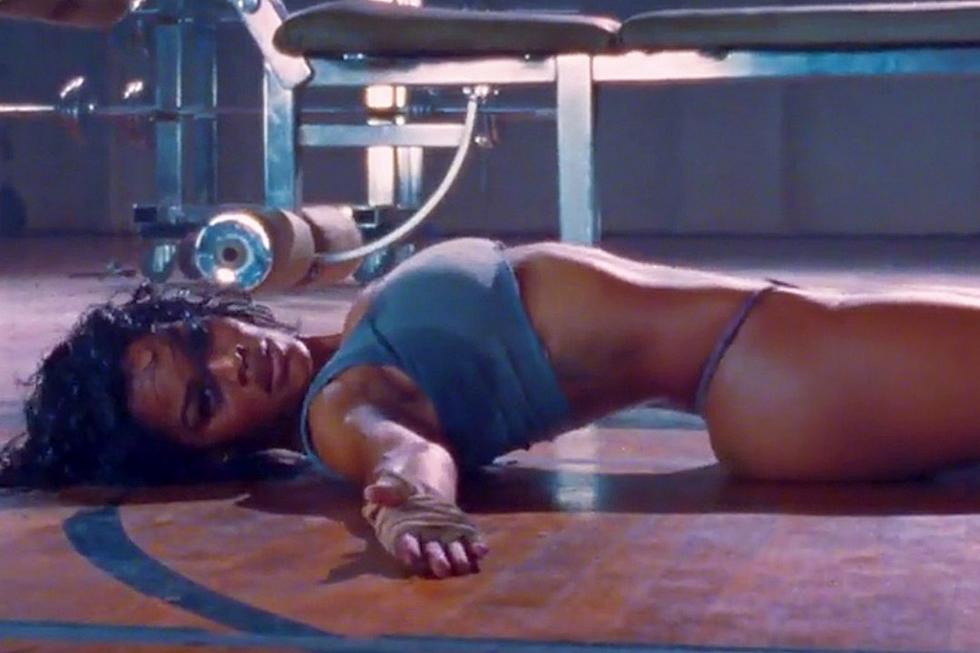 Teyana Taylor Blast Jeremih
Youtube
According to TMZ, Teyana Taylor drops out of the 'Later That Night Tour' after her Boston concert. Teyana takes to twitter to address her fans that she would not be continuing touring with R&B artist Jeremih.  Clearly where was some backstage beef between both talented artists. She claimed to be "extremely mistreated" and would "end up knocking this n---a out" if she continued to remain in the presence of her male co-headliner artist.
"Lazy, sneaky, jealous, conniving, [selfish], lame ass n---a! Don't ever try to play me Petunia," Teyana tweets.
The tour just start Aug.3rd with Jeremih and Teyana both is the headliners, Dani Leigh their opening act. Rumors are circulating that Jeremih became jealous of all the love and support Teyana was receiving on the tour. Some people even forgetting Jeremih was also on tour with her, it is said many fans would leave after Teyana' performance before Jeremih would get onto the stage. The G.O.O.D Music artist accuse Jeremih of messing with audio and visual elements of her set, leaving water on the stage before she was set to perform and thanking her for opening for him while they were in Boston. Mrs.Taylor-Shumpert had enough and took to social media with the issue, many fans was upset to hear the news Teyana was leaving the tour and clap back at Jeremih on social media.
Jeremih have not directly replied to Teyana' rants on social media, but did, but he did post on Instagram a video of Lil Duval singing lyrics from his song "Smile" including, "I'm living my best life/I ain't goin' back and forth with you niggas." The caption reads, "#KTSE." What a class act. His assistant posted his side of the story, placing blame on Teyana, says Baller Alert.
He post, "Crazy @teyanataylor ruined Jeremih's backdrop on the first day of tour in Atlanta and we let that slide, that was the first day. She complained about food, we fed em out our own pockets. Next show she tells the crowd to leave the venue to go to her meet and greet after she gets off stage (leave before Jeremih performs), we aint trip. Now she is blaming J for X, Y, Z and the shit jus aint true!"
Now we may not known the full detail and story about what really went down, but what we do know is someone was having diva tendencies and everyone was not being treated fairly. Great news for Teyana Taylor fans though! The 'Later That Night' tour is now called "KTSEOnAlseVII TOUR," On Thursday; Taylor tweeted that the tour would actually continue on under a new moniker, without Jeremih, with Thursday's show in Toronto being rescheduled.
She also announced that rapper Dani Leigh, Later That Night's opening act, would continue to perform with her. Good for her!
Teyana Taylor's Keep That Same Energy Tour Dates
Aug. 9 — Norfolk, Va. — The Norva
Aug. 10 — Philadelphia, Pa. — Union Transfer
Aug. 11 — Washington, D.C. — 9:30 Club
Aug. 13 — New York, N.Y. — Playstation Theater
Aug. 14 — Boston, Mass. — Royale
TBD — Toronto, Ontario — The Phoenix Concert Theater
Aug. 17 — Detroit, Mich. — The Majestic
Aug. 19 — Chicago, Ill. — Vic Theatre
Aug. 21 — Nashville, Tenn. — Marathon Music Works
Aug. 22 — Kansas City, Miss. — Arvest Bank Theatre
Aug. 24 — Houston, Texas — The Revention Music Center *
Aug. 25 — Dallas, Texas — The Bomb Factory
Aug. 28 — Denver, Colo. — Ogden Theatre
Sept. 1 — Los Angeles, Calif. — The Novo
Sept. 3 — Santa Ana, Calif. — The Observatory OC
Sept. 4 — San Diego, Calif. — The Observatory SD
Sept. 5 — San Francisco, Calif. — Regency Ballroom
Sept. 7 — Seattle, Wash. — The Showbox Sodo
Sept. 8 — Portland, Ore. — The Crystal Ballroom
Sept. 15 — Raleigh, N.C. — Dorothea Dix Park $