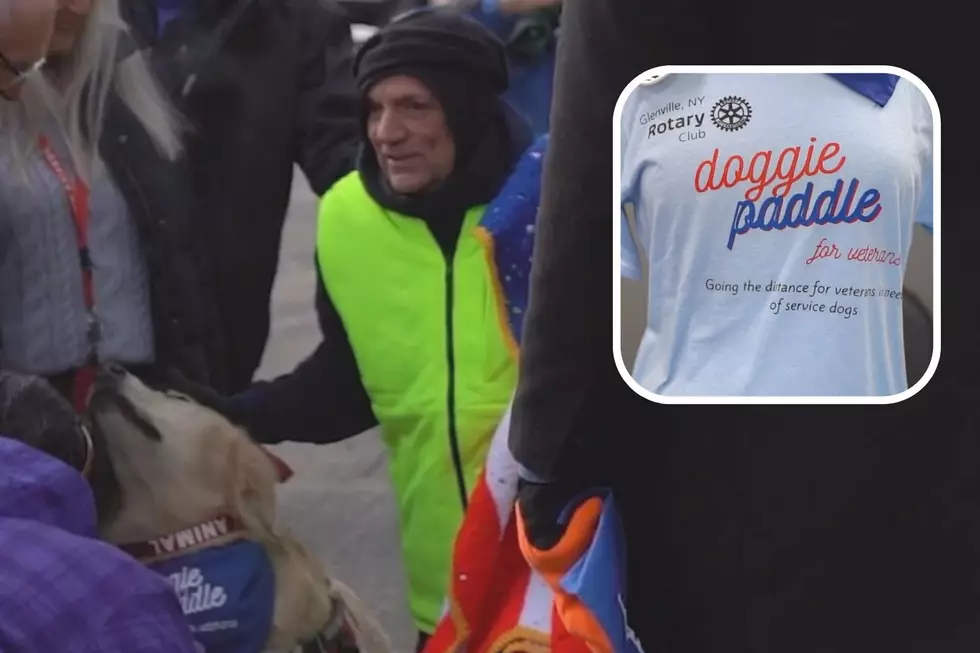 Local Veteran Trekked 4000 Miles to Raise Funds for Service Dogs
Doggie Paddle for Veterans via YouTube (Canva)
In September of 2022, Glenville veteran Jimmy Thomas left his hometown on a perilous journey. He kayaked down the coast to Florida, after which he turned around and rode his bike all the way back home. Just barely 5 months after making the 4,000 mile trek, Thomas returned home on Saturday, February 4th to over 100 people cheering him on outside of the Glenville Empire State Aerosciences Museum. This is just one of many voyages he's completed, all for a good cause: to raise money for veterans' service dogs. He explains to Natasha Vaughn-Holdridge at the The Daily Gazette how it costs, on average, about $50,000 to have a service dog, which is something not many veterans can afford.
Knowing firsthand the benefits that come with a service dog, Thomas founded the Doggie Paddle for Veterans charity. His own service dog, a golden retriever named Boots, has helped him recover from bipolar disorder and stress related seizures by alerting him prior to having a seizure. Sadly, Boots passed away this past summer after battling cancer, so Thomas dedicated this most recent adventure to him (Doggie Paddle for Veterans, YouTube).
According to Natasha Vaughn-Holdridge at the The Daily Gazette, The Glenville Rotary helped Thomas organize this event, which has so far been the biggest Rotary project in the area. This journey really was a perilous one for Jimmy, his eyes ended up freezing from the chilly temperatures and he even endured two hurricanes, during one of which the Coast Guard made him get out of the Hudson River. Assistant Governor of Rotary Beth Kissinger explains,
There was sharks, there were manatees, there were waves, there was wind, and there was record breaking cold, but the one thing that never stopped was Jimmy. -Beth Kissinger (Natasha Vaughn-Holdridge, The Daily Gazette)
4000 Miles Home
Everybody can accomplish whatever they want to do, it's that simple. -Jimmy Thomas (Natasha Vaughn-Holdridge, The Daily Gazette)
For more information and to donate to Doggie Paddle for Veterans, you can visit their website.
New York State Police Canine Unit
Here is a partial list of the New York State Police K9 Unit. This division was created in 1975. The original three canines were put into service as explosives detection canines in preparation for the 1980 Winter Olympic Games in Lake Placid, New York.
New York State Police canines are named in honor of the men and women of the state police who have died in the line of duty.
For Veteran's Day - Musicians That Served In The Military
Stupid New York Laws That Are Still On The Books