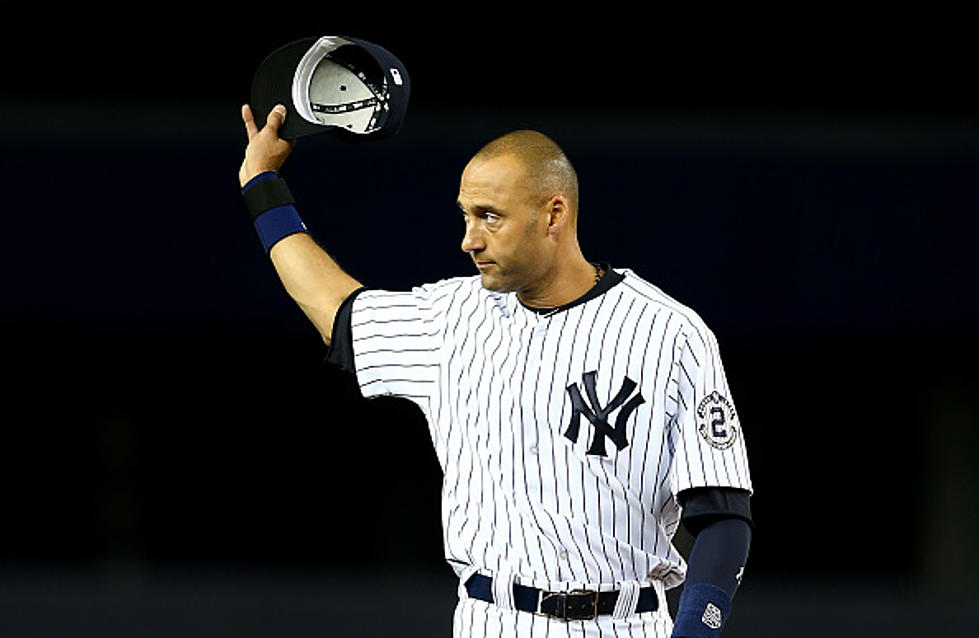 Get Your Tix Now! New York Yankees Will Celebrate "The Captain"
Getty Images
It's been five years since #2 has been back home at The Stadium. Things have certainly been tumultuous for the Hall of Fame shortstop over the last month, following his resignation as President of the Miami Marlins. However, some home cookin' in September will probably make things a little better.
The New York Yankees announced on Thursday that Derek Jeter will to return to Yankee Stadium on September 9th when the Pinstripes will celebrate the 2020 National Baseball Hall of Fame inductee with Derek Jeter Hall of Fame Induction Tribute Night. The first 40,000 guests in attendance will receive a replica of Jeter's Hall of Fame plaque, courtesy of Bank of America.
#2 is arguably the greatest living New York Yankee. The Captain retired as the Yankees' all-time leader in hits with 3,465, games played with 2,747, doubles with 544, stolen bases with 358 (yes stolen bases!) and at-bats with 11,195, tallying eight 200-hit seasons. His career hit total remains the sixth highest in Major League Baseball history.
According to Bryan Hoch of mlb.com, The Captain will throw out the game's ceremonial first pitch. The Yankees will be taking on the Tampa Bay Rays that evening in what could be an important game in the American League playoff picture at that time. Hoch noted, "It will mark Jeter's first appearance in the Bronx since May 14, 2017, when his No. 2 uniform was retired and installed in Monument Park."
The night will feature a very cool display of Derek Jeter's Cooperstown plaque will be available for fans to view throughout the game in the New York Yankees Museum, which is located on the 200 Level of Yankee Stadium near Section 210.
For tickets for Derek Jeter Hall of Fame Induction Tribute Night you can click here. For a complete list of all 2022 Yankees promotional dates you can click here. Enjoy. This will certainly be a fun night for The Captain and the fans.
New York Colleges That Made The Top 50 Most Expensive In America
CBSNEWS.com did a Top 50 Most Expensive Colleges and Universities in America. Let's see which New York colleges made the list.
10 Capital Region Golf Courses You Can Play For Under $40
Taking a look around the Capital Region at some of New York's finest public golf courses, I was able to find more than a few that won't break the bank. Check out these affordable options, so you can save and play the links more often!
Great Time For A Late Winter On The Albany Rail Trail
According to the Albany County website, the Albany County Helderberg-Hudson Rail Trail stretches nine miles along the old Delaware & Hudson (D&H) Railroad between the Port of Albany and Voorheesville.