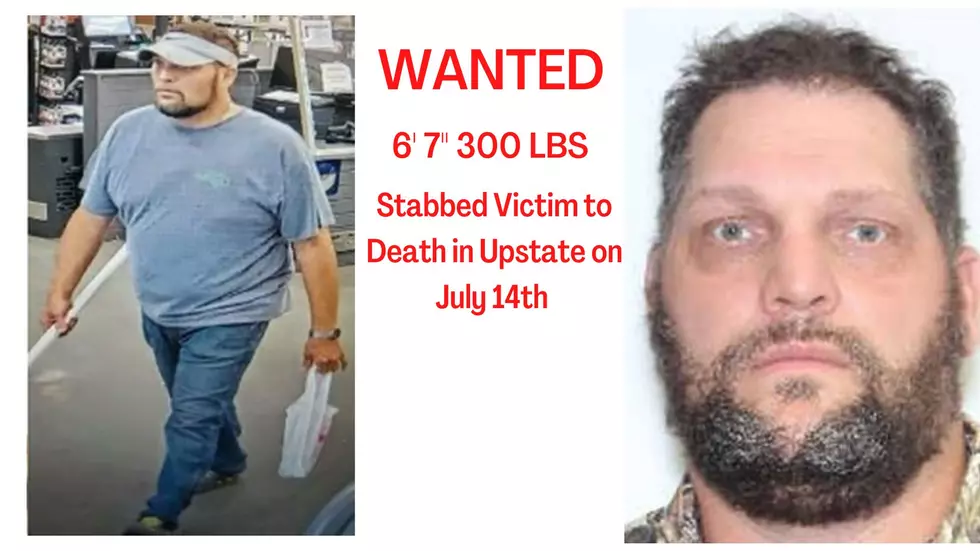 WANTED: 6′ 7″ 300LB Man Accused of Grisly Murder in Upstate NY
Photo: NYSP
Police say he killed a woman in Plattsburgh weeks ago and has been on the run ever since.  The last time anyone saw him was over one week ago - heading possibly to Mexico.
A 6' 7", 300-pound behemoth of a man, accused of murder in Upstate New York, has been on the run for weeks ever since police anointed him as the prime suspect in a stabbing murder back on July 14th.
On Friday, the New York State Police said a warrant has been issued for murder charges against Larry M. Hicks Jr. 47, of Tabor City, North Carolina.
What is Hicks accused of?
State Police in New York say that Hicks is responsible for the grisly murder of Monique R. Yanulavich.  According to reports, the 45-year-old woman was found dead, stabbed 45 times, and left in her vehicle in a bank parking lot in Plattsburgh on July 14.
The attack, violent in nature, had people in Upstate New York on high alert, but police have stated that Hicks targeted Yanulavich and this was not considered a "random" act of violence.
Police say that after Hicks killed Yanulavich, he fled New York and was seen one day after the alleged murder in South Carolina driving a 2015 Honda Goldwing motorcycle.
On July 21st, Hicks was spotted boarding a bus in Corpus Christi, Texas destined for Brownsville, Texas - and from there it's anyone's guess where he is.
At 6'7" tall, and weighing 300 pounds, it seems unlikely that this mammoth man can continue on the run without being noticed - but police so far have announced very little about the case outside of him appearing on a few surveillance cameras.
If any information regarding this request is found, please contact NYSP at (518) 563-3761.
11 of New York's Most Wanted Criminals with Upstate Connections
Below are individuals with ties to the Capital Region and Upstate New York. They have been designated as some of New York's Most Wanted Fugitives and should be considered ARMED and DANGEROUS.
3 New York Cities Ranked Among 50 Worst To Live In US
Whether you agree or disagree, Roadsnacks has put together their list of the 50 Worst US Cities to live in based on crime rates, poor quality of life, weak job market, and their overall lack of culture. We 100% disagree with these rankings as all three of these cities are full of life and have so much to offer. Not to mention - how many times have we actually made these cities a destination for a getaway of some sort?
So feel free to pick apart this list and sneer as you read it! You will find each of the NY cities included on this list below, with their rank among the 50 worst in the United States.