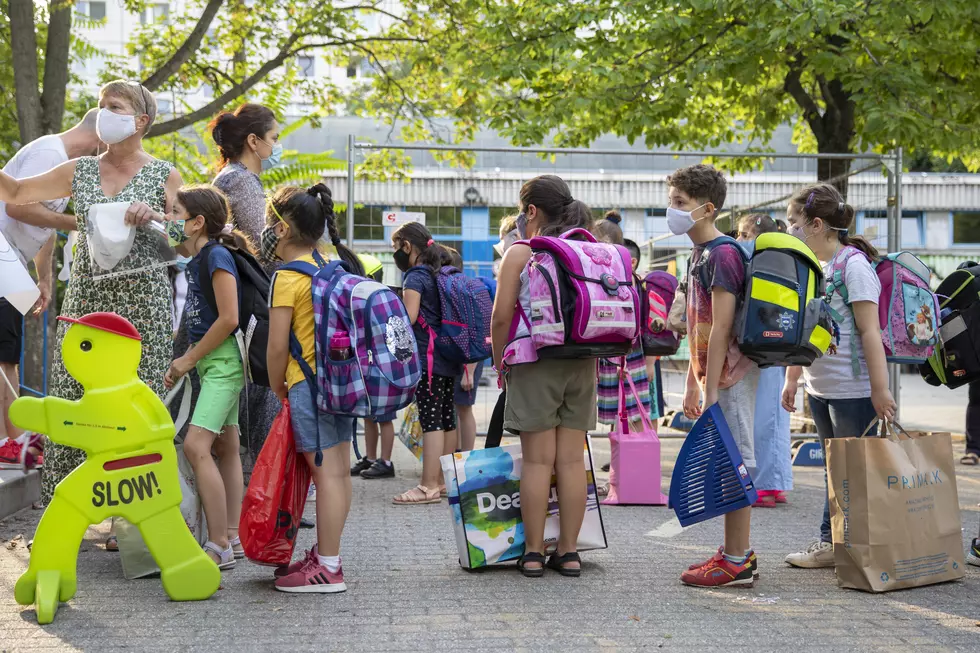 New Rules New Yorkers Must Follow at Schools
Getty Images
State officials released updated guidelines New Yorkers must follow at for at Pre-K to grade 12 schools.
Enter your number to get our free mobile app
Social Distancing and Face Coverings (Mandatory)
Ensure that social distancing (of at least 6 ft. or a physical barrier) is maintained between individuals while in school facilities and on school grounds, including in the cafeteria, unless safety or the core activity (e.g. moving equipment, using an elevator, traveling in common areas) requires a shorter distance or individuals are of the same household.
If social distancing is not possible, individuals must wear acceptable face coverings; excluding students who are unable to medically tolerate a face covering.
Be prepared to don a face covering if another person unexpectedly cannot socially distance; for this reason, individuals – including students – must wear face coverings in common areas, such as entrances/exits, lobbies, and when traveling around the school.
Acceptable face coverings for COVID-19 include but are not limited to cloth-based face coverings and surgical masks that cover both the mouth and nose.
Provide acceptable face coverings to faculty and staff who directly interact with students or members of the public while at work at no cost to faculty/staff; and provide face coverings to any student who does not have their own, at no cost to the student.
Train all students, faculty, and staff on how to adequately put on, take, off clean (as applicable), and discard PPE.
Students must wear a face covering to ride the school bus and wear it while entering, exiting, and seated.
Ensure social distancing while eating in the school cafeteria; if not possible, serve meals in alternate areas or staggered meal periods.
Prohibit sharing of food and beverages (e.g. buffet style meals, snacks), unless individuals are members of the same household.
Gatherings and Operational Activity (Recommended)
Consider measures that can be implemented to decrease density and congregation in school facilities and on school grounds, when possible, such as:

• Finding alternative spaces in the community to allow for more in-person instruction;
• Adjusting class or work hours, where appropriate;
• Limiting in-person presence to only those staff who are necessary to be at school during school hours;
• Maintaining or increasing remote workforce to accommodate social distancing guidelines;
• Staggering schedules and allowing more time between classes to reduce congestion; and/or • Shifting design of class schedules.

Place students in pre-assigned, self-contained cohorts with reasonable group size limits set forth in the school's plan, to the extent practicable to limit potential exposure, particularly for younger students.

• Prevent intermingling across cohorts, to the extent possible (e.g. 10 ft. of distance or physical barrier).
• Ensure cohorts contain the same students for the duration of the COVID-19 public health emergency.
• Faculty may instruct more than one cohort so long as appropriate social distancing is maintained.

Reduce bi-directional foot traffic using tape or signs with arrows, and post signage/distance markers denoting 6 ft. of distance in commonly used areas and areas where lines are formed or people congregate (e.g. outdoor spaces, class rooms, cafeterias, health screening stations).
Determine which facilities (e.g. libraries) will be closed to the public (i.e. not students, faculty, or staff), or offer limited, specific hours to members of the general public.
Establish designated areas for student drop-off and pickup, limiting contact and entry of parents/legal guardians into the building, to the greatest extent possible.
Limit the sharing of objects, such as laptops, notebooks, touchscreens, writing utensils, chalk and dry erase boards, musical instruments, tools, and toys, as well as the touching of shared surfaces, such as conference tables
Hygiene, Cleaning, and Disinfection (Mandatory)
Adhere to hygiene, cleaning, and disinfection requirements from the Centers for Disease Control and Prevention (CDC) and Department of Health (DOH) and maintain logs that include the date, time, and scope of cleaning and disinfection. Identify cleaning and disinfection frequency for each facility type and assign responsibility.
Train all students, faculty, and staff on proper hand and respiratory hygiene.
Provide and maintain hand hygiene stations, including handwashing with soap, running warm water, and disposable paper towels, as well as an alcohol-based hand sanitizer containing 60% or more alcohol for areas where handwashing is not feasible.
Conduct regular cleaning and disinfection of facilities and more frequent cleaning and disinfection for highrisk areas used by many individuals and for frequently touched surfaces, including desks and cafeteria tables. Refer to Department of Environmental Conservation (DEC) products identified by the Environmental Protection Agency (EPA) as effective against COVID-19.
Ensure regular cleaning and disinfection of restrooms and that distancing rules are adhered to.
Provide for the cleaning and disinfection of exposed areas in the event an individual is confirmed to have COVID-19, with such cleaning and disinfection to include, at a minimum, all heavy transit areas and hightouch surfaces. Refer to CDC guidelines.
Communication (Mandatory)
Affirm you have reviewed and understand the State issued guidance and submit reopening plans prior to reopening.
Conspicuously post completed reopening plans at the school and on the school website for faculty, staff, students, and parents/legal guardians to access.
Engage with school stakeholders and community members when developing reopening plans.
Develop a communications plan for students, parents/ legal guardians, staff, and visitors.
Encourage all students, faculty, staff and visitors to adhere to CDC/DOH guidance regarding the use of PPE, specifically face coverings, when distance of 6 ft. can't be maintained, through verbal communication and signage.
Train all students, faculty, and staff how to follow new COVID-19 protocols safely and correctly, including but not limited to hand hygiene, proper face covering wearing, social distancing, and respiratory hygiene.
Screening and Tracking (Mandatory)
Implement mandatory health screenings, including temperature checks, of students, faculty, staff, and, where applicable, contractors, vendors, and visitors.
Conduct temperature checks for all individuals every day – ideally, at home, prior to departing to school – before entering any school facility.
Ensure that personnel performing in-person screening activities are appropriately protected from exposure
Use a daily screening questionnaire for faculty and staff reporting to school; and periodically use a questionnaire for students, particularly younger students, who may require the assistance of their parent/legal guardian to answer. The questionnaire should determine whether the individual has: a) Knowingly been in close or proximate contact in the past 14 days with anyone who has tested positive through a diagnostic test for COVID-19 or who has or had symptoms of COVID-19; b) Tested positive through a diagnostic test for COVID-19 in the past 14 days; c) Has experienced any symptoms of COVID-19, including a temperature of greater than 100.0°F, in the past 14 days; and/or d) Has traveled internationally or from a state with widespread community transmission of COVID-19 per the New York State Travel Advisory in the past 14 days.
Any individual who screens positive for COVID-19 exposure or symptoms, or who presents with a temperature greater than 100.0°F, must not be allowed to enter the school if screened outside, and must be immediately sent home with instructions to contact their health care provider for assessment and testing.

• Students sent home because of a positive screen must be immediately separated from other students and supervised until picked up.
• Immediately notify the state and local health department about the case if diagnostic test results are positive for COVID-19. Develop protocols for caring for a student, faculty, or staff member who develops COVID-19 symptoms during the school day, including:
• Identifying a dedicated area to separate students, faculty, or staff with symptoms of COVID-19 from others until they can go home or to a health care facility, depending on severity of illness;

Plans to ensure that symptomatic students waiting to be picked up remain under the visual supervision of a staff member who is physically distanced;

• PPE requirements for school health office staff caring for sick individuals, which must include both standard and transmission-based precautions; and
• Required guidelines for cleaning and disinfection.

Develop protocols for asthma-related acute respiratory treatment care using up to date standard of care.
In case of a positive test, develop plans with local health departments to trace all contacts of the individual, in accordance with the New York State Contact Tracing Program. Confidentiality must be maintained as required by federal/state law/regulations.
Ensure that reporting plans are in place for individuals who are alerted that they have come into close or proximate contact with a person with COVID-19.
Include a process in reopening plans for if/when COVID19 cases are discovered, including closing areas/classes where individuals were infected, or the entire school in consultation with the local health department.
Establish policies, in consultation with the local health department(s), about the requirements for determining when individuals, particularly students, who screened positive for COVID-19 symptoms can return to the in-person learning environment. This returning to learning protocol must include at minimum documentation from a health care provider evaluation, negative COVID-19 testing, and symptom resolution, or if COVID-19 positive, release from isolation
Remains of Man Missing Since 2008 Found Tops This Week's News
KEEP READING: See states hit hardest by COVID-19's impact on tourism