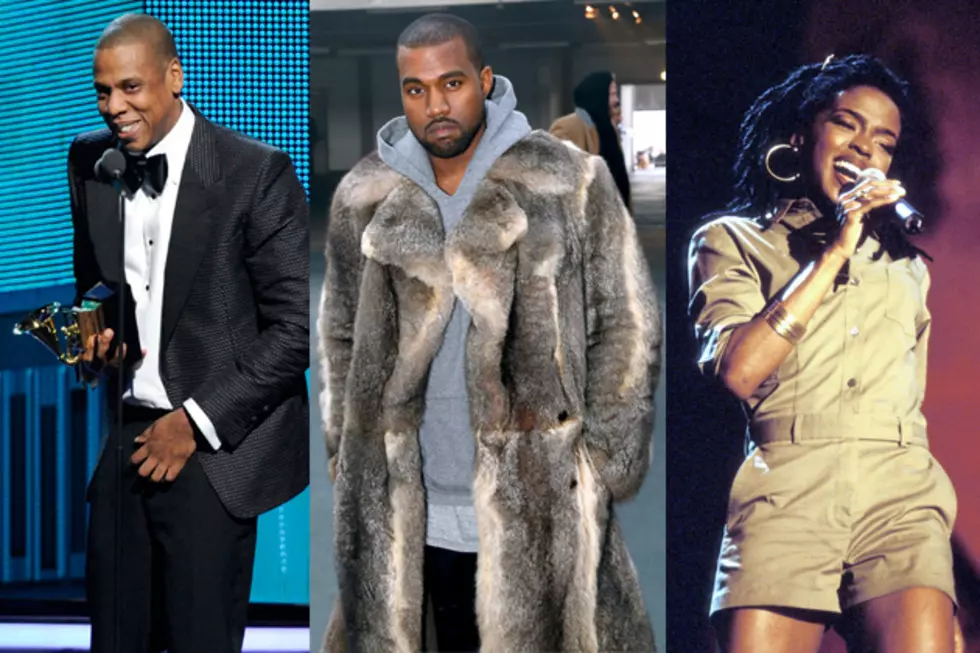 20 Most Stylish Rappers of All Time
Kevork Djansezian / Bertrand Rindoff Petroff / Kevin Mazur, Getty Images
Just as important as charisma, rhymes and beats, personal style is one of the most important elements of a rapper's allure. An MC must also have impeccable taste to really flourish in the visual world of hip-hop. But following popular trends and bragging about brand names isn't enough to earn a spot in our Style Hall of Fame.
To be considered one of the most stylish rappers, an artist has to push his or her own personal fashion sense into unique trendsetting territory -- thus dictating the style of an era. From Run-DMC's signature shell toe adidas to Biggie's Coogi sweaters to ASAP Rocky's popularization of Hood By Air gear, these are our picks for the 20 Most Stylish Rappers of All Time.
20

Randy Holmes, ABC via Getty Images

Randy Holmes, ABC via Getty Images

"Style!" If you're a fan of Danny Brown, the XXX-rated Detroit rapper with the missing tooth, you've heard him exclaim that word on his songs. It's more than just a trademark ad lib -- it also speaks to his affinity for all things sartorial. He might be the only indie rapper you'll see modeling menswear for designer Mark McNairy and one of the few you'll see wearing Balmain jeans with Maison Martin Margiela kicks as often as he wears a pair of adidas Top Tens. Yeah the 'I Will' rapper proves that you can rap dirty and still dress clean.

19

Karl Walter, Getty Images

Karl Walter, Getty Images

When Tyler, the Creator isn't dressed as one of his many characters, the Odd Future's frontman's style is an extension of what Pharrell highlighted years ago. A Cali hipster skateboarder of sorts, his casual style mostly consists of attention-grabbing T-shirts, Vans (or Converse), hoodies and a Supreme cap. But his fashionable imagination eventually spawned his own clothing brand.

18

Djamilla Rosa Cochran, Getty Images

Djamilla Rosa Cochran, Getty Images

Before Cam got the s--- to pop, no one was rockin' pink in such an extravagant way (sorry 'Ye). Blush-painted furs and bandanas, the Diplomats frontman didn't shy away from making pastels cool. Not to mention, the rap general paired paisley prints with basketball jerseys and even outfitted baseball jerseys in leather, all while introducing us to the camo bucket hat. Salute.

17

Andreas Rentz, Getty Images

Andreas Rentz, Getty Images

Theophilus London has a knack for hats, lapel pins, not-so common kicks and, essentially, styles that the average spitter couldn't pull off. That said, his cultured taste, ability to forecast trends and self-created LVRS brand has caught the attention of other brands, including Stussy and Del Toro.

16

Karl Walter, Getty Images

Karl Walter, Getty Images

This G.O.O.D. Music general has a fashion encyclopedia for a brain. Within the CREAM shop owner's designer drug raps, skim through any of his verses to find luxury brand references that have caused coke dealers to dress different. While you're at it, peep his Instagram for an assortment of Rick Owens, Pyrex, Balmain, Balenciaga, En Noir -- and the list goes on -- eye candy. Trust, the streets are watching to see King Push take his love for fashion to new heights.

15

A forefather of '90s fashion, Grand Puba made a grand style entrance once the '80s trendsetters phased out. Rocking Tommy Hilfiger, Girbaud denim and Polo, he set the tone for the decade and even the resurgence of those looks today.

14

Scott Gries, Getty Images

Scott Gries, Getty Images

Who's the direct descendant of Slick Rick in the style department? Pretty Toney. Ghostface's penchant for oversized robes, outrageous gold jewelry, brightly-colored leather and furs and Clark's Wallabees make his contributions to hip-hop's fashion closet undeniable.

13

Kevin Mazur, Getty Images

Kevin Mazur, Getty Images

Once upon a time, L. Boogie's style wasn't quite so ... eccentric as it is these days. The free-spirited soul songtress has always had a knack for eclectic designs; however, her love of mix-matched prints, geometric patterns, Italian jackets and brightly-colored Giuseppe Zanottis made sense. An early icon of boho -- or afro -- chic, she taught the miseducated masses all about fashion.

12

Formerly known to the masses as Mos Def, Yasiin Bey turned to a shirt-and-tie uniform a few years ago as a salute to his late grandfather. The only rapper we can think of to be featured in a Louis Vuitton campaign, Bey's mastered a tailored gentleman's look with a distinctively Brooklyn, N.Y., twist.

11

Kevork Djansezian, Getty Images

Kevork Djansezian, Getty Images

Nas' ability to swap out his huge Cuban link necklace for a simple gold chain pocket trim (on a metallic suit, no less) so flawlessly is a nod to his undeniably versatile taste. Although venturing into a more tailored style -- and biz with HSTRY clothing -- Nas seems to never lose his "illmatic" floss.

10

George Pimintel, Getty Images

George Pimintel, Getty Images

When Jay Z moves, the world tends to move with him. That goes for style too. His ability to transition back and forth between dope boy fresh to all grown up and high-end effortlessly sets him apart from his peers. He made us change clothes and start sporting button-ups and more recently put the name of designer Tom Ford on the tips of our tongues instead of Molly with his hit song of the same name. During his climb, Hov has ventured into the fashion biz with his S.Carters and Rocawear collections, but the higher he goes, he's never too far from his Roc Boy basics.

9

Stephen Lovekin, Getty Images

Stephen Lovekin, Getty Images

Andre 3000's taste over the years is a dizzying assortment of outlandish wigs, turbans and bold patterns that surprisingly work. A dandy at heart, the ATLien's style evolved into a masterful aesthetic of tailored trousers and suspenders -- miles away from his '90s fashion roots.

8

Michael Ochs Archive, Getty Images

Michael Ochs Archive, Getty Images

Gold rope chains? Chunky rings? Half moon parts? Gucci tracksuits? That's all Rakim. Not only are most of these rappers his sons lyrically, he also fathered several trends that remain the marker for raw hip-hop style. Word to Dapper Dan.

7

Karl Walter, Getty Images

Karl Walter, Getty Images

Without question, A$AP Rocky is one of the fashionable front runners of the new golden era of hip hop. He's influencing a nation of kids with his penchant for mixing high-end labels with streetwear sensibility. Early on, the fashion killa hailing from Harlem, N.Y., pledged his allegiance to the likes of Jeremy Scott, Rick Owens and Alexander Wang, which has caught the eyes of Black Scale and runway enthusiasts alike. Our prediction? The fashion future for this kid is bright.

6

Adger Cowans, Getty Images

Adger Cowans, Getty Images

Even Donatella will tell you: Biggie helped make Versace famous. The heavy-set rap god made the over-the-top brand aesthetically pleasing for a hip-hop crowd who was none-the-wiser to luxe fashion. Big Poppa also hypnotized NY shorties with DKNY, ditched black Carhartt hoodies for colorful Coogi sweaters and blinded the masses with iced out Jesus pieces that rappers rock even today as a symbol of a negative-to-positive lifestyle change. And it's still all good.

5

Michael Ochs Archives, Getty Images

Michael Ochs Archives, Getty Images

Take the gaudy flavor and high-level fashion sense of your favorite rapper and multiply that times a hunnid thousand; you'll end up with Slick Rick. MC Ricky D's aesthetic is part b-boy, part drug dealer chic and part Saville Row. You could catch him rocking a floor-length mink or six to seven solid gold chains with super-sized medallions to match. With a penchant for going against the grain, he donned suits while his rap counterparts stayed cool in casual sportswear. Even an eye patch and frequently worn Bally kicks became signature to the Ruler's overall look.

4

Frank Micelotta, Getty Images

Frank Micelotta, Getty Images

Way Before Kanye pledged allegiance to adidas, the Hollis, Queens, N.Y., trio of Run, D.M.C. and DJ Jam Master Jay (R.I.P.) made shell toe sneakers sans shoestrings a hip-hop staple. Not only had the unlaced kicks become a phenomenon back when they spit bars about their travels, tracksuits, Kangols  and Cazals all became the "it" look of the era.

Let's not forget that this rap crew also made "all-black everything" hot way before Hov did (see: their fedoras, leathers and Lee jeans). They eschewed the Village People-esque costumes of their predecessors like the Furious Five opting for a more accurate reflection of 'round the way street style instead. There's no way these iconic rap stars aren't considered style gods.

3

Michael Kovac, Getty Images

Michael Kovac, Getty Images

Sure, nowadays you can catch Pharrell in a Lanvin tux (or a headline-grabbing hat), but there was a time, back when he was throwing up his Star Trak hand sign religiously, when the Virginia super producer and part-time rapper mostly rocked skate and streetwear staples -- hoodies, T-shirts, camo cargo shorts, slim-fit jeans, Vans and trucker hats. Naturally, Skateboard P's style (and stuntin!) evolved as he's become a wealthy fashion designer for his own Billionaire Boys Club and Ice Cream clothing brands (no doubt bumping into a few outlandish trends along the way), but he's continuously praised for putting the casual style elements of skate-streetwear on the map.

2

Al Pereira/Michael Ochs Archives, Getty Images

Al Pereira/Michael Ochs Archives, Getty Images

Like his famous hi-top fade, Big Daddy Kane lands smoothly on this list for his long-lasting style contributions. The '80s was arguably the height of all things fresh -- gold dookie rope chains dangling across silk shirts, fly basketball kicks and gaudy four-finger rings to set off any look -- and BDK wasn't half steppin' at the center of it. Fathering the trends alongside a few of his boom-bap cohorts, he'll forever be heralded as a hip-hop style magnate.

1

Ilya Savenok, Getty Images

Ilya Savenok, Getty Images

Kanye has always had a passion for fashion and, like it or not, he's been one of the most influential figures in men's style in the last decade.

Even before his debut LP, 'The College Dropout,' debuted, Yeezy was a pink polo shirt-wearing Chi-town beatmaker spitting about Louis Vuitton backpacks and retro Jordans. Although Mr. West's highly-publicized temper tantrums and rants detail his frustration with the proverbial glass ceiling as a designer, the style god (who recently traded a Nike Swoosh for adidas stripes) tops this list for pushing style limits and setting numerous hip-hop trends. For instance, the leather-accented apparel you, dear reader, might be wearing right now.

Say what you want, but Yeezy deserves to stomp his feet a bit about his fashion credits. Not so much single-handedly, but the APC collaborator is responsible for slimming down baggy jeans, upping the hip-hop style bar to high-level luxury brands (Maison, uh, Martin Margiela) and the sole rapper who's overly expensive kicks won't get you clowned in any room. Salutes are in order, no matter how you flip it (no Anakin), because 'Ye has a penchant for pushing the culture forward. I mean, come on. How many motherf---ers you done seen with a leather jogging pant (or a kilt)? Praise Yeezus.