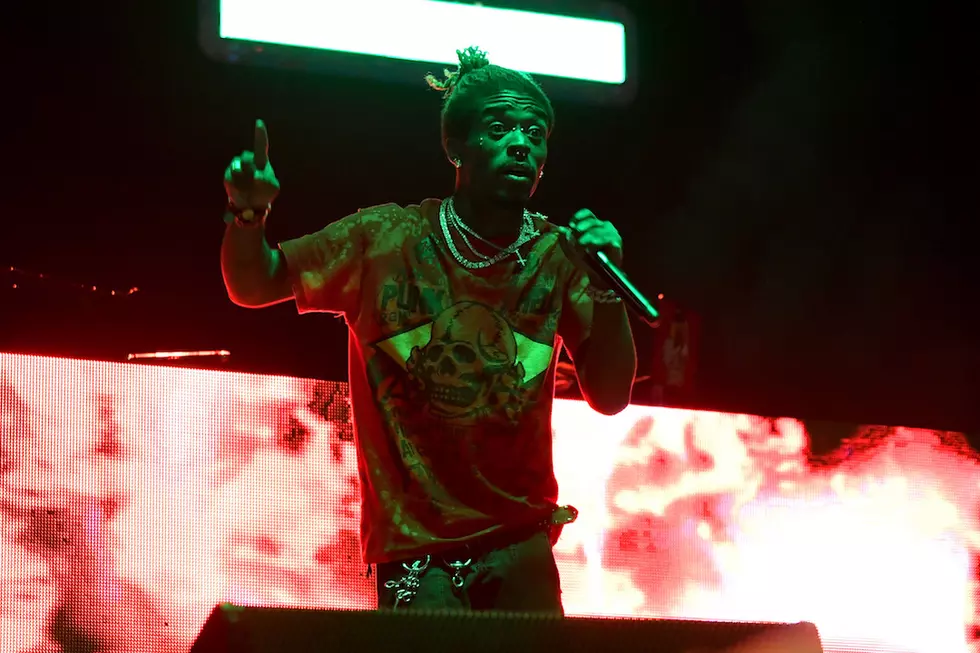 A Timeline of Lil Uzi Vert's Struggles With His Record Label
Neilson Barnard, Getty Images
Lil Uzi Vert has been pushed to the edge. The former XXL Freshman is one of the most popular artists of the SoundCloud generation, has a cult following and is a proven hitmaker. Yet, as of Jan. 24, 2019, it's been 517 days since the popular Philadelphia artist last dropped a project, to the dismay of his fans and the artist himself. Now, let Uzi tell it, he's done making music altogether due to record label discord.
Uzi has been having label issues for a little while now. He inked a deal with DJ Drama and Don Cannon's Generation Now label through Atlantic in 2015 and things seemed to be going swimmingly at first. He released four mixtapes in a year's time. It wasn't until the end of 2016 when issues surfaced including Uzi appearing to claim another label and complaining over album delays.
More recently, things have turned up a notch with Uzi seemingly getting more and more frustrated with his label for delaying his sophomore LP, Eternal Atake, which he's been teasing since last July.
"Y'all talking about dropping something? I tried to drop something," he recently opened up on Instagram Live. "I dropped 'New Patek'—that shit ain't get leaked. I been tryna drop something. Bro, this is my life now. All I can do is make music and sit back and wait for y'all response and make visions to this shit. You think I don't wanna drop music? You just gotta understand—people don't love me."
Have we really heard the last of Lil Uzi? Or is he simply acting out in order to get his label's attention? XXL dives into the past and dissects Lil Uzi Vert's record label woes.
Lil Uzi Vert Fuels Confusion Over Which Label He's Signed To

December 2016

After putting out four mixtapes under Drama and Cannon's Generation Now imprint, Wiz Khalifa announces Uzi is Taylor Gang during a show in Philadelphia, leading to confusion. Uzi even appears to cosign the gesture on social media.

"Due to any confusion or contrary belief, Lil Uzi Vert is only 'Signed' to Generation Now, LLC!" Drama posts.

Cannon echoes the statement on Twitter, posting, "Respectfully, we have alotta of love for Taylor Gang and Wiz, but Lil Uzi Vert is signed to Generation Now. Here is your answer."

Lil Uzi Vert Complains About Album Delays

April 2017

Upset over his Luv Is Rage 2 album being delayed, Uzi hops on social media to vent.

"Can I honestly tell y'all why this album ain't drop," he posts. "It's because of a Old Person who doesn't Understand what's going on right now......Can You Guess Who?"

Several people in the comments speculate DJ Drama is the unnamed source of Uzi ire. He later deletes the tweets. Several days later, Don Cannon explains that mixing and mastering is contributing to LIR2 holdups.

Lil Uzi Vert Vents About Label Situation on Twitter

January 2018

Uzi has another moment of frustration that he lets out via Twitter. During a string of tweets, he posts, "If y'all do sign ... sign 2 a major Dont sign 2 a rapper or a Dj ........Its Just Easier When The Time Come For That Fake Shit."

A few days later, he randomly adds, "Don cannon real as fuck .... fuck the rest of them niggas ."

Lil Uzi Vert Raps About Getting Out of Deal

December 2018

Lil Uzi provides an assist on Shabazz PBG's new song "Shells" and rhymes about splitting with his label spitting, "Tryna figure out how I'm gonna get out my deal/I'm a bad boy, a reverend, I feel like I'm Ma$e/Your bitch with me but she got to leave by eight."

The lines come six months after he teased his sophomore album Eternal Atake, which has yet to receive a release date.

Lil Uzi Vert Claims He's Quitting Music for Good

January 2019

"I wanna take the time out to say I thank each and every one of my supporters but I'm done with music," Uzi writes. "I deleted everything. I wanna be normal … I wanna wake up in 2013."

Lil Uzi Vert Compares Signing a Record Deal to Snitching

January 2019

"And that goes for the streets too. You ain't supposed to sign no muthafuckin' paper in the streets because that's ratting," he says. "How the fuck I even sign this shit? I set myself up!"

Lil Uzi Vert Wishes He Could Hit Up Studio

January 2019

Uzi seems saddened by the fact that he can't hit up the studio after claiming he was done making music for good. He reminisces on Instagram, captioning a photo, "Wish I could still go to the studio. Just reminiscing."