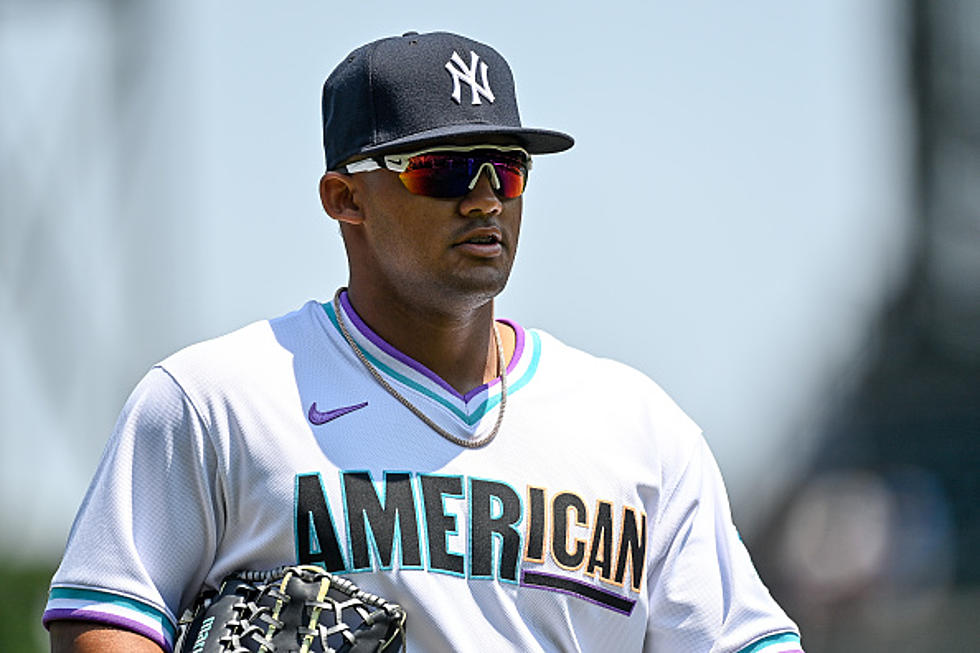 'Martian' Rocketing To Yankee Stadium – Could Land In Days
Getty Images
Jasson Dominguez is all of 20-years old but he has been a focal point for New York Yankees fans for the past four years. Why? Well, general manager Brian Cashman shelled out $5.1 million to the young player nicknamed "The Martian" for his "out of this world" baseball talent as a 16-year old. Now, the extraterrestrial-nicknamed minor leaguer is hitting his way to the Bronx.
Things weren't looking too worldly for the highly touted prospect through the first 67 games of the season at Double-A Somerset. According to nypost.com, Dominguez was hitting .197 with a .702 OPS, 85 strikeouts and 56 walks in 304 plate appearances to start the year. Then the calendar flipped to July and since in 42 games, 'The Martian' has hit .333 with an .895 OPS, prompting the 20-year-old's promotion to Triple-A Scranton/Wilkes-Barre last weeek. So far, Dominguez is 11-for-23 with 10 RBIs, four walks and one strikeout, as he continues to make a case for a September call-up to the big leagues.
Greg Joyce of nypost.com talked to Joe Migliaccio, the Yankees' hitting coordinator about Dominguez this week, "You can put the kid in any stadium you want, put him in any jersey you want, put any pitcher on the mound, change the environment, and with how good his preparation is and how talented he is as a player, he's going to perform."
"I think that's the most impressive part about him being 20 years old, is whether he goes 0-for-3 with three strikeouts or 3-for-4 with two doubles and a home run, he has a routine that is specialized to the objectives he has to get better at. It's so impressive how he comes into the cage every day." Migliaccio said his work ethic and "infectious" personality maintained in place during a terrible early season slump. The Yankees' hitting coordinator said the young outfielder's his plate discipline has been a main factor. Jasson Dominguez is not on the Yankees 40-man roster, which would have to happen prior to a 'call-up', in order to protect the prospect from the Rule 5 draft in the winter. Hopefully, 'The Martian' lands in the Bronx (or in Houston) later this week, when the calendar turns.
Dumbest Driving Moves Seen In New York
You have spoken and these are the dumbest driving moves seen in New York State. Be safe out there.
Upstate NY State Park Named Among Best Hiking Spots in America - See Photos
An Upstate New York state park has been named among the best hiking spots in America for 2023. Have you ever explored this incredible terrain?