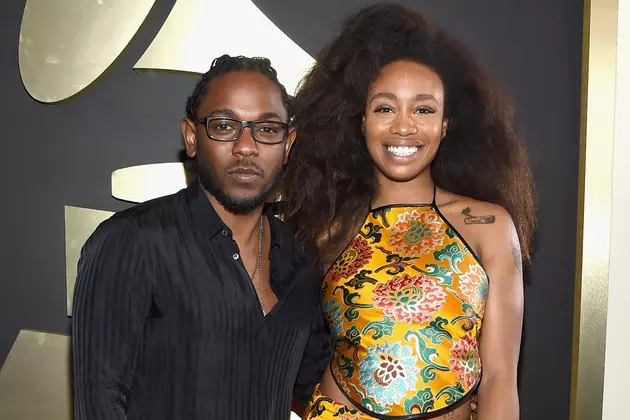 SZA Defends Controversial Kendrick Lamar Lyrics on "Humble"
Larry Busacca, Getty Images
Kendrick Lamar sparked a backlash with some perceived misogyny-laced bars in his platinum-selling track, "Humble." For her part, SZA, who's K. Dot's Top Dawg Entertainment labelmate, doesn't see what the fuss is over. She defends Kendrick's lyrics in a new interview with Glamour, where she also speaks on feminism and why she nearly decided to leave the music industry.
Before we get to SZA's K. Dot defense, though, let's take a look at the lyrics that caused a bit of controversy a while back. After all, lyrics are always subject to interpretation.
On the track, K. Dot raps, "I'm so fucking sick and tired of the Photoshop/Show me something natural like afro on Richard Pryor/Show me something natural like ass with some stretch marks/Still will take you down right on your mama's couch in Polo socks."
Ostensibly, K. Dot's bars could be taken as a criticism of magazines and advertisements that edit out stretch marks, therefore pressuring women to live up to an unrealistic portrait of how their bodys should look. That appears to be how SZA understands the set of lyrics.
"How is that misogyny if he's supporting positive body image? I think that's so weird, and it's reaching," SZA tells Glamour. "If you want to support women, you should support all shapes of women," continues SZA, who collabed with K. Dot on her Ctrl song, "Doves in the Wind."
SZA finds comfort in K. Dot's controversial bars. "I used to be 200 pounds, and I have stretch marks all over my body," she says. "I find more comfort and solace with Kendrick reinforcing that I'm beautiful. I don't really feel anything misogynistic from that."
While SZA defends K. Dot's "Humble" lyrics, being TDE's lone female artist, she still recognizes the undertones of sexism and misogyny that plague the music industry. She tries not to worry too much about that on her end, though.
"I don't try to analyze those things because I feel like if I focus on who I want to be and what I want to represent for women and what I want to represent for myself, I don't have time to worry about how men view me," SZA says.
Kendrick Lamar's "Humble" Song Sparks Feminist Backlash, Twitter Reacts