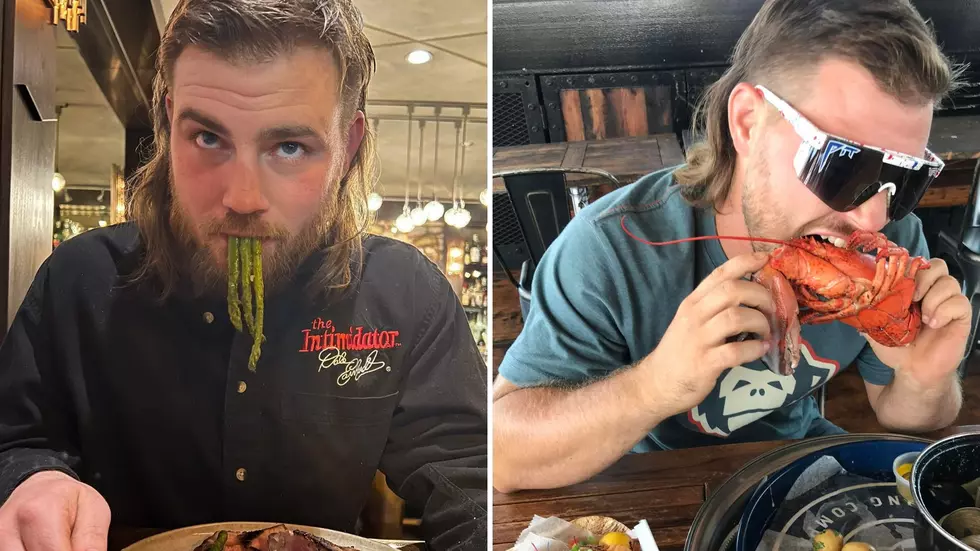 Stillwater Man with Magnificent Mullet Ranked Top 25 in USA!
Photo: Ashley Salvadore Facebook
Scott Salvadore from Stillwater is known to many as the light-hearted, hard-working, blue-collar guy who earns an honest living doing tree work and landscaping for one of the two businesses he owns.
But these days, when Salvadore isn't cutting trees or working on lawns, he's manicuring his own melon, which happens to be fully engulfed in one of the most specular displays of a Tennessee Tophat that anyone has ever seen.
Salvadore's world-class mullet was entered in a national competition where fans can vote for the head of hair that best represents "business in the front, party in the back!"
Salvadore's story was first reported by a colleague who also works for Town Square.  The article, published last week, explains how it was Salvatore's wife Ashley who actually convinced him to enter his Camaro Hair in the competition.
Listen to the entire interview with Brian and Chrissy in the Morning on GNA, below
One might argue there are worse relationship deal-breakers than a funky hairstyle, but Salvadore tells us that he's happily married in spite of his Hockey Hair.
Salvadore, who appeared on the GNA morning show Tuesday, told us that he grew the mullet out years ago because he was attending the Daytona 500 and thought it'd be a way for him to fit in.
What about Salvadore's love life?  Does the mullet hinder him in any way?
According to Salvadore, it almost did!
He told us that when he first started dating his now-wife, he had a "regular" haircut, but then the changes started happening.
"It started to grow like an inch-and-a-half a month and she was starting to dislike it because it was turning into a mullet!" Salvadore explains.  "But I didn't choose the mullet, the mullet chose me!"
But would Ashley understand?
Over time, as their relationship (and Salvadore's mullet) grew,  Ashley gave him an ultimatum.
She told him to lose the Canadian Passport or she was gone.
"So I shaved my head in her living room and ended up proposing to her about a month later...But that day, as soon as my knee came off the ground, that thing grew back with a vengeance!"
Sounded like it could have been a win for Ashley, but Salvadore insists that he's powerless against the mullet.
"I got all my teeth and I don't live in a trailer park...I don't wanna toot my own horn but everyone tells me how handsome I am, I wanted to even out the playing field."
Voting for the USA Mullet Championships starts on October 1st, and to hear the complete interview from GNA Morning Show, click the link below.
15 Fall Things People in Upstate NY are Most Passionate About!
List of the Top Halloween Haunts and Attractions in Upstate NY!
Spooks Start Soon! Here's a list of some of the most popular haunted attractions in Upstate NY and when they start for the 2022 Haunting Season!