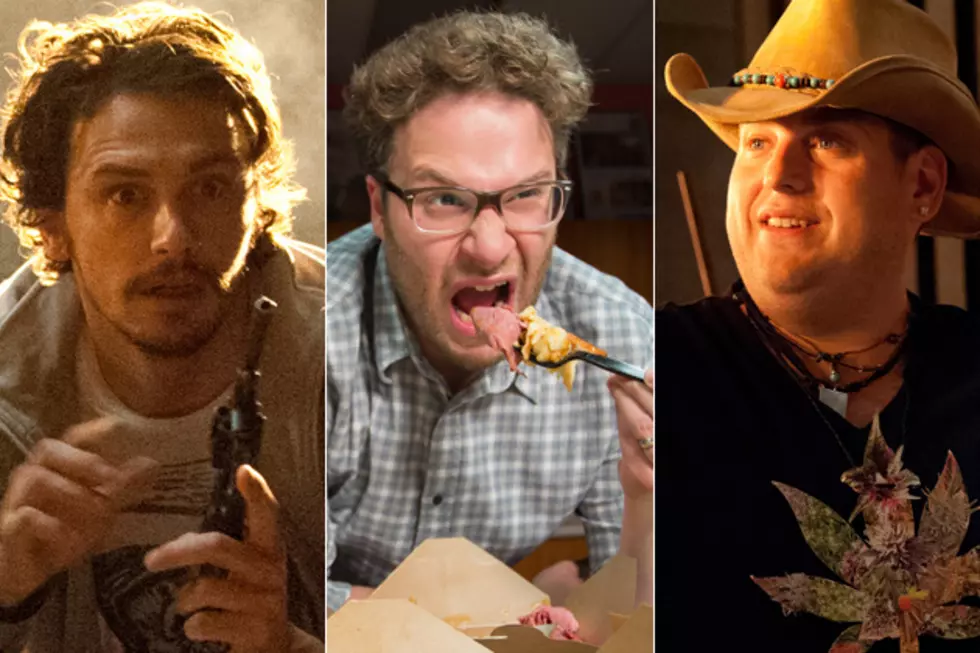 Seth Rogen's Animated 'Sausage Party' Casts James Franco, Jonah Hill, Kristen Wiig and More
Sony Pictures
The last we saw Seth Rogen, James Franco and Jonah HIll onscreen together was in 'This Is the End,' but the trio won't wait long to reunite as they're already planning one big, R-rated 'Sausage Party.' Yes, it sounds like something one of your bros would say while funneling some PBR at a frat party, but this is in fact the title of Rogen's upcoming animated movie. Funny enough, the recently announced voice cast for the film is also a bit of a sausage fest.
As originally reported by The Wrap, Rogen will be joined by Franco, Hill and Kristen Wiig in leading the voice cast for the animated 'Sausage Party,' which also features Michael Cera, Edward Norton, David Krumholtz and Nick Kroll. The film also marks another reunion between Rogen and his longtime partner in crime, Evan Goldberg -- the duo partnered on such classic comedy films as 'Knocked Up,' 'Superbad' and 'Pineapple Express,' and now they've written the script for 'Sausage Party' and will produce through their Point Grey Pictures.
For a title with such a stereotypical guy-leaning sense of humor, the plot has to be equally absurd:
'Sausage Party' follows one heroic piece of meat's quest to discover the truth about his existence. After falling out of a shopping cart, the sausage protagonist teams up with some new friends to embark on a perilous journey through the supermarket and return to their aisles before the Fourth of July sale.
Something described as "animated" and "R-rated" immediately brings to mind something along the lines of Adam Sandler's god-awful 'Eight Crazy Nights,' but keep in mind 'Sausage Party' is a Rogen-Goldberg creation. If you're a fan of their previous work, you'll want to check it out.
'Sausage Party' will be released by Sony Pictures in 2015, and is directed by Conrad Vernon and Greg Tiernan.