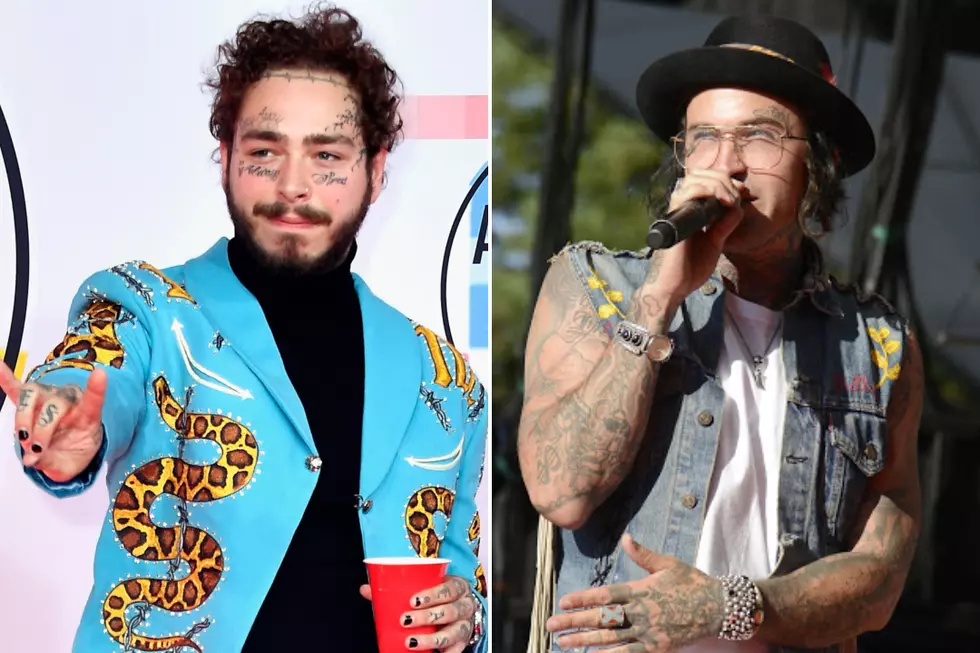 Post Malone Responds to Yelawolf Diss, Calls Rapper a Nerd
Frazer Harrison / Tim Mosenfelder , Getty Images (2)
Post Malone has apparently heard the shots Yelawolf fired at him on "Bloody Sunday," and he's not impressed. Last night (March 12), Posty responded to the Shady Records rapper with a series of tweets in which he dismisses the derogatory bars in Yela's new freestyle. He also calls the 39-year-old rapper a nerd.
"Also Yelawolf is a nerd, and this tweet is the only support I will offer his album :)," Post Malone tweeted. "also @Yelawolf please show me all your chill bill shit please! Last I heard you was talking about how you wanted your shit like mine, I have a couple lenders, don't worry! hmu dad :)"
In another tweet, Malone included a screenshot of a comment Yelawolf left on one of his previous Instagram posts, which said "GETTINIT ⚡⚡⚡⚡." The comment is seemingly one that reflects how cordial both rappers used to be, and after the Republic Records signee posted the shot, he closed out his response by trying to get Yela's band to work for him instead.
"Also lmk when your band is done with your dookie and wants to play some actual good music ," Post tweeted.
The 23-year-old rapper's feud with Yelawolf came two days after the Alabama native called out Malone in his song "Bloody Sunday." In the diss track, which also targeted G-Eazy, Yelawolf claims that Posty doesn't even rap and seems upset that they aren't friends.
"Who else? I would diss Post Malone but he don't even rap, fuck it, fuck Post Malone, just because, let's see if he answers back," Yelawolf raps. "All that change, tits, and funk chill bill, and the cowboy boots and hats, Damn Post, why can't we be friends? Our clothes already match/Poser, biter, appropriation thief, give a fuck how many records you sold."
Check out Post Malone's response to Yelawolf below. Listen to Yelawolf's "Bloody Sunday" when you're done.
See Hip-Hop Fans Name The Most Disrespectful Diss Track of All Time