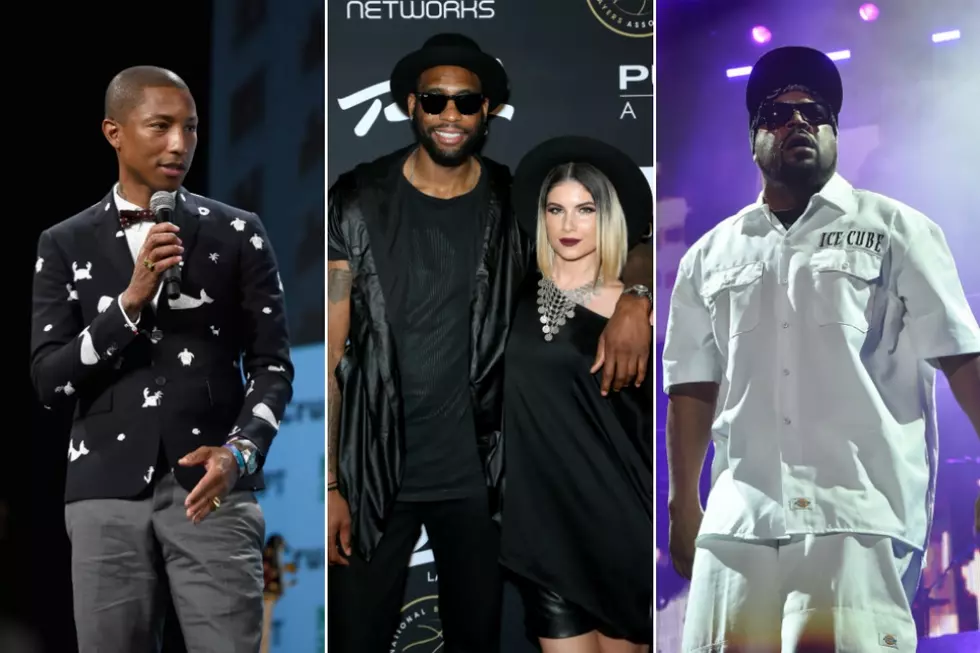 Pharrell, Ice Cube, Joe Budden and More React to Deaths of Former NBA Player Rasual Butler and Singer Leah LaBelle
Noam Galai / Gabe Ginsberg / Kevin Winter, Getty Images (3)
In the early hours of Wednesday morning (Jan. 31), former NBA player Rasual Butler and his wife, singer Leah LaBelle Vladowski, were killed in a single-car accident in the Studio City section of Los Angeles.
In the hours that followed, members of the basketball and hip-hop communities at large mourned the death of Butler and his wife. Among those was Pharrell, who uploaded a heartfelt Instagram post dedicated to LaBelle yesterday.
"@leahlabelle , your spirit was just as your voice; beautiful," he wrote inn the caption, describing a woman who made it to the semi-finals of American Idol season three before signing a joint record deal with Epic Records, So So Def Recordings and his own I Am Other label. "Moments like these leave us with so many questions. What I don't question is how much you loved God, how much you love your life partner and where you guys are now. Sing Sis, sing. 🙏🏾🙏🏾🙏🏾"
For his part, Ice Cube posted a tweet including ESPN's article about Butler's untimely death. "Very sad to hear about my guy Rasual and his wife Leah. Great people. Such a lost. Please pray for the family," he wrote in the tweet.
During a lengthy career that began in 2002, Butler played on teams like the Miami Heat, the New Orleans Hornets, the Oklahoma City Thunder, the L.A. Clippers, the Toronto Raptors, the Chicago Bulls, the Indiana Pacers, the Washington Wizards and the San Antonio Spurs.
During his career, several NBA stars came to see the 6'7" wing as a sort of mentor and an opponent to be respected. He was only 38 at the time of his death. LaBelle was 31.
Take a look at hip-hop luminaries mourning the loss of Butler and his wife below.
See New Music Releases for February 2018

[gallery carbonlayout="fullscreen" galleryid="812:745470" galleryindex="0" ids="745471,746607,745473,745475,746608,746609,745476,746606,746610,745477,745479,745481" showthumbs="no"]