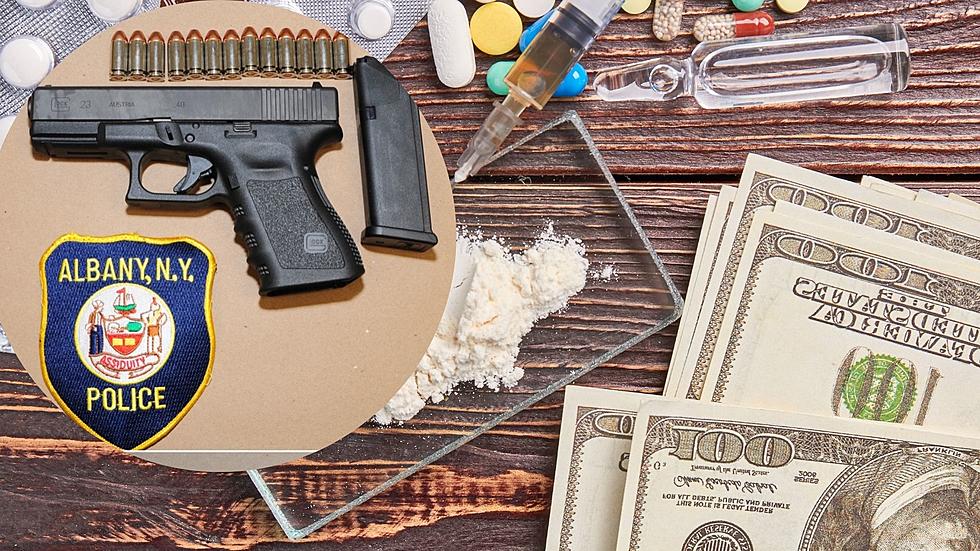 Massive Police Sting Takes Out 18 Gangbangers in Upstate NY
Photo: Canva, Albany Police Informant Steve Smith
Albany Police Say a Massive Sting Called "Operation Turnbuckle" Took Out 18 Gangbangers in Upstate NY
A whole slew of bad guys was taken off Upstate NY streets last week when police and Marshals joined forces to target a group that was allegedly responsible for distributing dangerous narcotics in areas throughout the city of Albany.
According to News 10 ABC, the massive sting called "Operation Turnbuckle" was headed up by the Albany Police Department and Marshals in March, and after a month or so of watching and waiting, they struck last week and arrested a total of 18 gang members and drug dealers and in the process, confiscated drugs, guns, and money.
W
hen it was all said and done, here's what Albany Police say they took off the streets:
273 grams of crack cocaine.

349 grams of powder cocaine

4 grams of heroin

9 grams of Fentanyl

424 bags of Fentanyl

100 bags of Suboxone strips

Three loaded handguns

$12,884 in U.S. currency
The charges lobbied against the 18 arrested vary; many were charged with criminal possession of drugs with intent to sell while some were popped with illegal guns and drugs during "Operation Turnbuckle."
Of the 18 arrested, 17 were from the immediate Capital Region, and one arrested was from North Carolina.
According to News 10 ABC, they are:
Rasheem Andrews, 42, of Albany
Anthony Walker, 42, of Latham
Nigel Richards, 37, of Albany
Jose Rosado, 61, of Albany
Luther Irby, 63, of Albany
Adrian Kelley, 44, of Albany
Edward Shaw, 46, of Albany
Shelton McCoy, 24, of Troy
Emanuel Landy, 31, of Albany
Shamer Thomas, 30, of Albany
Robert Craig, 61, of Albany
Leroy Standford, 35, of Albany
Kenneth Neely, 57, of Albany
Kimani Barkley, 45, of Troy
.Jahmel Inman, 28, of Albany
Stephanie Bonds, 34, of Albany
Jamel Mayo, 22, of Albany
Duante Ethridge, 20, of Durham, North Carolina
List of Upstate New Yorkers Reported Missing Since 2000