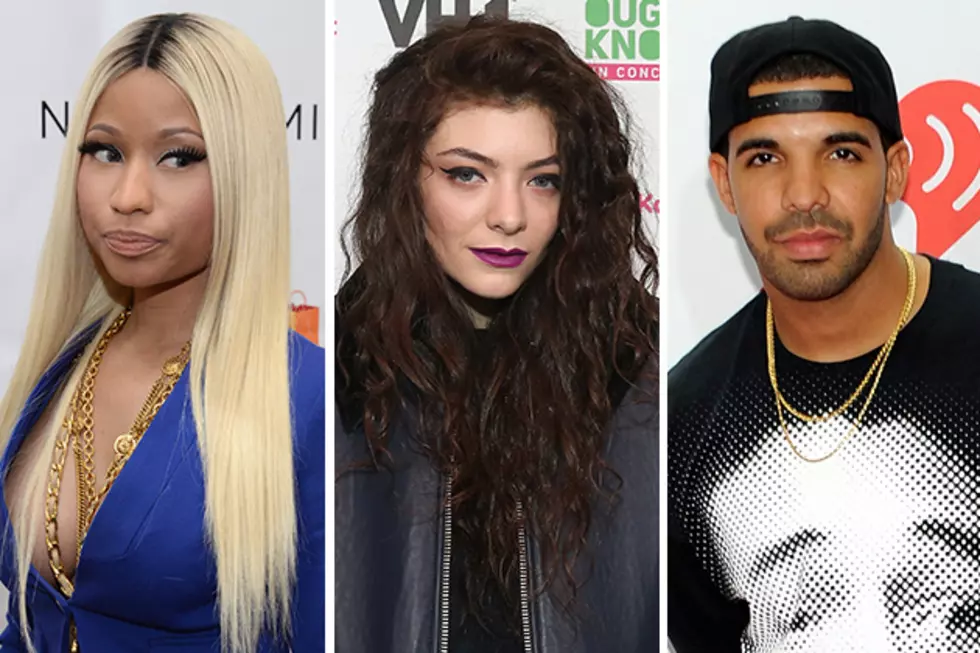 Lorde Calls Nicki Minaj + Drake's Music 'Irrelevant'
Jason Kempin / Neilson Barnard / David Becker, Getty Images
The New Zealand songstress, who turned 17 earlier this month, tells Interview magazine that, although she's a fan of the rappers' music, she finds the subject matter in their songs "irrelevant."
"Around the middle of last year I started listening to a lot of rap, like Nicki Minaj and Drake," she says. "They all sing about such opulence, stuff that just didn't relate to me -- or anyone that I knew. I began thinking, 'How are we listening to this? It's completely irrelevant.'"
It's not completely out of line because, really, how many teenagers are independently wealthy? But Lorde might be racking up as many enemies as she is fans as her public profile increases and she trash talks her way through interview after interview.
Some artists are firing back, like Guetta's subtle shade. Others? They join her for lunch! How Minaj, Drake and their hordes of fans respond is yet to be seen, but we're not expecting this to go very well.
Maybe she shouldn't be so quick to talk about other artists, but to Lorde, it's all about connecting with people her own age. "Everything revolves around the lyrics," she tells Interview. "I wanted to put the EP up for free because being teenager, and not having a credit card -- I mean, who has a credit card at 16?! -- I just thought people my age would appreciate it."