Kreayshawn/A Bathing Ape T-shirt Collaboration
The West Coast rapstress/video director Kreayshawn, known for her hit single 'Gucci Gucci' has stepped into the world of fashion. Teaming up with Japanese clothing company 'A Bathing Ape' also known as 'BAPE' to make a few limited edition t-shirts. Bape has been highly embraced by rapper's like Kanye West, Kid Cudi, and Pharrell Williams just to name a few.
Nigo, the man who founded BAPE, also co-owns and is head designer of Pharrell's Billionaire Boys Club clothing line. Getting back to Kreay, her collab t-shirt with A Bathing Ape features a cartoon version of herself, with a Baby Milo (whose pretty much the Bape Mascot) trailing behind. Cartoon Kreayshawn features pink dipped hair, a few tats, and a Raider's t-shirt.
Check the shirt out below...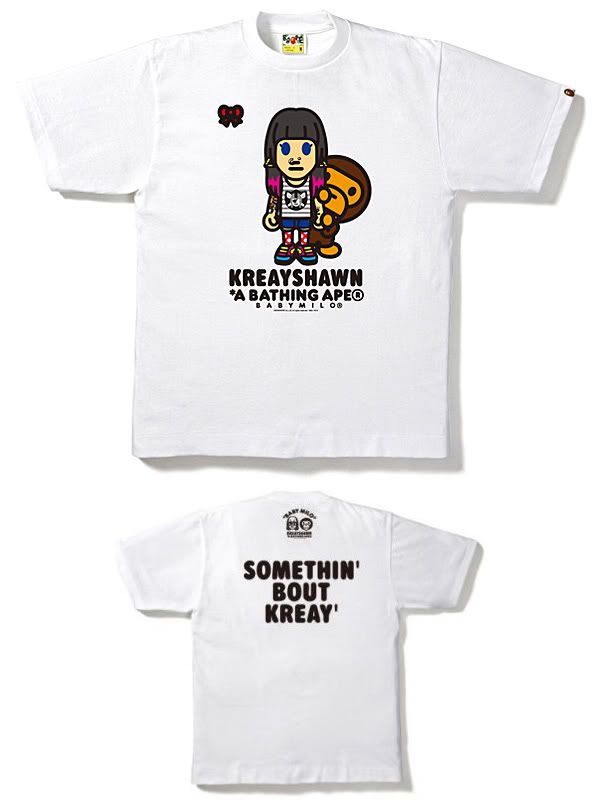 This shirt is now available at the Bape store's in NY and London as well as on the BAPE website. Kreayshawn's album 'Somethin Bout Kreay' is set to release and should be available August 14.
Would you wear Kreayshawn's A Bathing Ape collaboration t-shirt? Leave a comment and let us know what you think!
FOLLOW US ON TWITTER! @BruceVeetRoy @Hot991Albany