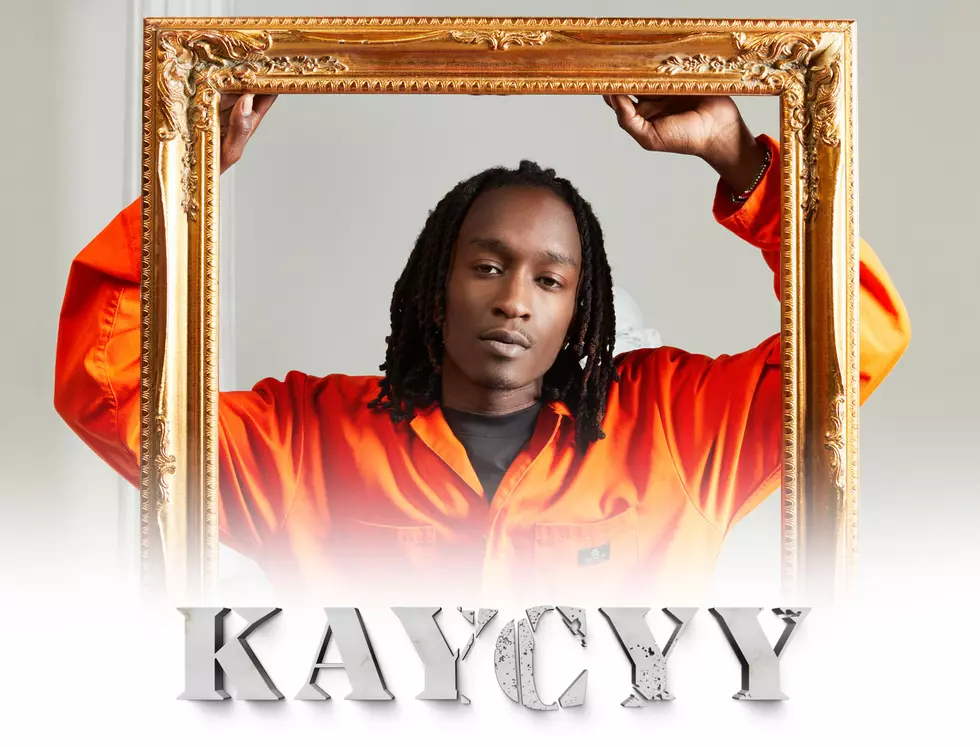 KayCyy – 2022 XXL Freshman
KAYCYY'S 2022 XXL FRESHMAN FREESTYLE
KayCyy deserves to be on any hip-hop fan's radar, and if he isn't already showing up, his 2022 XXL Freshman freestyle should put him there.
The 24-year-old rhymer from Kenya, who also reps St. Paul, Minn., brought an unprecendented idea to the table for his freestyle: a choir. That's right, KayCyy's freestyle features a six-person choir that provides a haunting melodic backdrop to his impressive bars.
"James Brown of my generation, a piece of me in every song/Not avoiding my temptations, I face shit then I move on/And they callin' who a Freshman? Feel like a vet that just got on/Man, this shit took some years/If it took one night then it should feel wrong," KayCyy spits in his freestyle, speaking on his already impressive industry resume despite only being in the game for a few years.
The creative aspect of this moment may inspire future Freshman prospects to try imaginative endeavors in a similar vein, according to the rising artist. "More people are probably gonna do more creative stuff in the solo part that they maybe didn't know they could do other than just rap," KayCyy predicts, speaking to XXL in an exclusive interview on his choice to bring a choir in for his freestyle. "It's the first freestyle I probably ever did for a platform. I've never really done one for radio either. It's challenging, but I like challenges."
KayCyy has made moves both as a solo artist and behind the scenes since entering hip-hop. Plus, he's had a hand in many other rappers' projects as a songwriter and feature artist. Since 2013, the hip-hop newcomer has been dropping music on SoundCloud, and released a handful of projects over the last few years. Formerly known as KayCyy Pluto, his project, Vacation, arrived in 2016. Pluman 2, Plumixes, Patient Enough, Ups & Downs, Two20 50 and Get Used to It followed. He's also worked alongside rap mainstays and legends such as Kanye West and Lil Wayne. Perhaps most notable is his presence within West's critically acclaimed album Donda, where KayCyy is credited as both a writer and performer on tracks like "Keep My Spirit Alive."
Earlier in 2022, KayCyy, born Mark Mbogo, dropped a collab EP with acclaimed producer Gesaffelstein. The release contained three songs, one of which, "OKAY!," features electronic sounds and no bass in the instrumental. The genre-bending track still manages to contain incredibly high energy, and that kind of risky creative decision is what KayCyy is building his career off of.
"[It's] cool when people are trying to do it outside the box," KayCyy shares. "With the 'OKAY' joint, it was obviously a discussion, 'Do we add drums or do we do this?' I was really fortunate to even work with [Gesaffelstein]. When he presented the beat, it was like that. So, there were no drums there. He was like, 'I have this beat,' but he couldn't really get nobody to do anything with it. I was like, 'Play it.' And then we just started messing around with it. And I just felt like it had so much energy already."
Despite his notable accomplishments, it still feels as though KayCyy is just getting started.
Check out KayCyy's 2022 XXL Freshman freestyle, powered by Puma, below.
—Tyler Sharp
KAYCYY'S ABCs
KAYCYY, SOFAYGO, DOECHII AND SAUCY SANTANA'S 2022 XXL FRESHMAN CYPHER
Tell the truth, this is what you've all been waiting for. Now, that the 2022 XXL Freshman Class is fully unsheathed, and the pleasantries of the Mean Comments, ABCs and individual freestyles are out of the way, it's time to get the finals: the 2022 XXL Freshman Cyphers. The first group of rappers from the new class that are ready to show and prove in the rap circle is Tampa, Fla. native Doechii, Atlanta's SoFaygo, KayCyy from Kenya and St. Paul, Minn., and Saucy Santana, who calls Bridgeport, Conn. and Perry, Fla. home.
It all starts with a fire track, and one of the hottest producers in the game has provided that this year. Platinum-selling producer Wheezy Outta Here, the man behind hits like Gunna and Future's "Pushin P," Young Thug's "Hot" and YSL's "Ski," supplied a bevy of fire tracks to choose from. The first group picked a banger with pulsing synths and deep bass as their palette.
Ladies first. Doechii, the self-proclaimed "Swamp Princess," proves she's not to be played with. "Ooh shit, ooh nana/Tell 'em make room when a real bitch fly by," she spits. "If Doechii on the list than it's thicker than a Popeyes/Flick of the wrist will get you gone, bitch, bye bye/Made $1 million in a month like voila/Niggas switching gangs, bandanas looking tie-dye/In The Shade Room, but the shades ain't Prada."
Next up, Travis Scott's Cactus Jack Records signee SoFaygo is operating in the flex zone for his cypher contribution. Taking his time, So slow-flows over the spacey soundscape. "Topic discussion, whoa/I do this shit just like it's nothing, whoa," he raps. "Come get that bitch that you cuffin', whoa/Ice on my wrist and it's bussin', whoa/Ice on my neck and it's bussin'."
Minnesota's KayCyy, by way of Kenya, is third up to the plate. Despite cosigns from Kanye West and Drake, the young rapper is still fighting for respect. He comes off the dome with a freestyle about his underdog status. "More money, more problems, that's certainty/I came in the game and it's urgent/I came in the game and it's promising (Yeah, let's do it)," he delivers. "I don't got time for the other shit/I don't time for the nonsense/Yeah, I don't got time for the drama shit."
Saucy Santana is dripping swag while batting cleanup. "I'm rockin' with Gucci, Emilio Pucci/Bitches my kids, baby mama coochie," he rhymes. "Go against me you must be stupid/When you rap, my ears is muted/Niggas is strapped, they zooted and booted/Looking for love and trying cupid."
Watch Doechii, SoFaygo, KayCyy and Saucy Santana's 2022 XXL Freshman cypher below.
—C. Vernon Coleman II
See Every Artist in the 2022 XXL Freshman Class
Which rapper is your favorite?