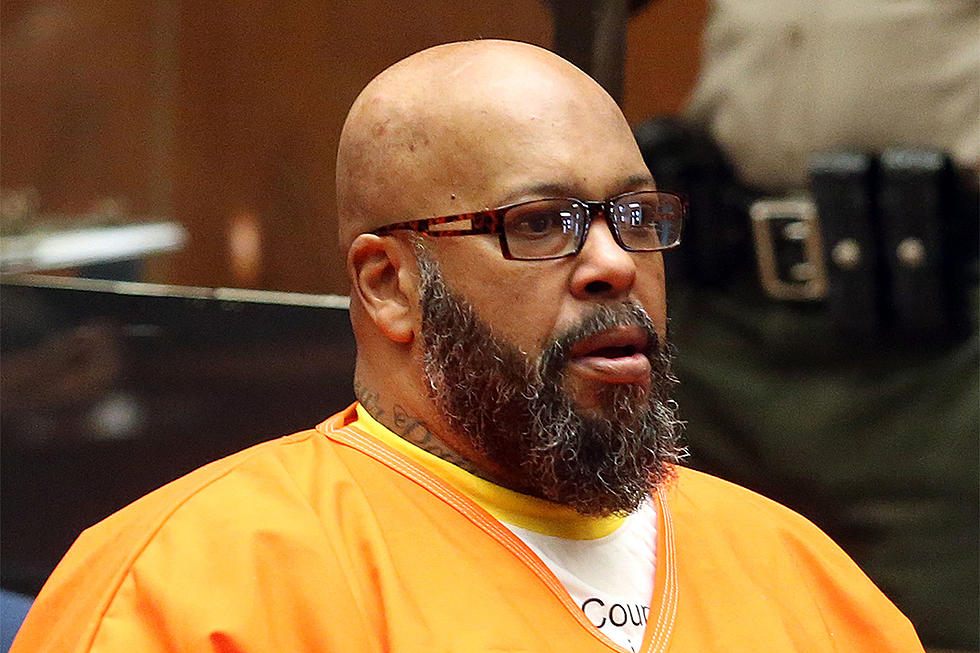 Suge Knight Starting Podcast From Prison, Will Address Beef With Snoop Dogg, Warren G and More
Frederick M. Brown/Getty Images
Suge Knight has announced that he is starting a podcast from prison that will address his beef with Snoop Dogg, Warren G and many others.
Suge Knight Announces Collect Call Podcast Recorded From Prison
On Friday (Oct. 20), Suge Knight's Instagram account announced the official launch date for a new tell-all podcast titled Collect Call With Suge Knight. The currently incarcerated founder of Death Row Records will join Breakbeat Media CEO Dave Mays from prison to deliver "raw and unfiltered" conversations between Suge and what's being described as "hip-hop culture's most influential figures."
The first episode of Collect Call With Suge Knight is set to premiere in audio form on Tues., Oct. 24, across all streaming platforms. The video version drops on Tues., Oct. 31 via the Breakbeat Media YouTube channel.
What Will Suge Knight Talk About on the Collect Call Podcast
In announcing the Collect Call podcast on IG, Suge and Breakbeat Media also shared a teaser trailer of what's to come. The video below hints that Knight will offer his first-hand insight into the many controversies his name has been associated with through the years including the notorious history of Death Row Records and the murder of Tupac Shakur.
Apparently, a large focus of the prison-recorded conversations are placed on Suge Knight addressing longtime beef he's had with hip-hop notables such as Snoop Dogg, Warren G, Master P, Dr. Dre and Jimmy Iovine.
Suge Knight Claims Tupac Shakur Was Not Killed by Orlando Anderson
The announcement of Suge Knight's new podcast comes two weeks after the former Death Row CEO spoke out regarding the recent developments in Tupac Shakur's murder case. After Duane "Keefe D" Davis was arrested for his role in the rap legend's slaying late last month, Suge told TMZ that despite Keefe D's admission that he was present during the 1996 shooting, he does not believe Orlando Anderson pulled the trigger.
"I'll tell you this," Suge Knight told the celebrity gossip site on Oct. 2. "I never had nothing bad to say about Orlando. No. 1, he wasn't the shooter. No. 2, he came to my hearing and told [expletive] to let me go and told the truth. They still didn't let me go...It wasn't Anderson, that's all I have to say about that part."
Check out the video below to see what Suge Knight's new Collect Call podcast is all about.
Watch the Trailer for Suge Knight's New Collect Call Podcast Recorded From Prison
See Why These 25 Rappers Are in Jail or Prison Right Now