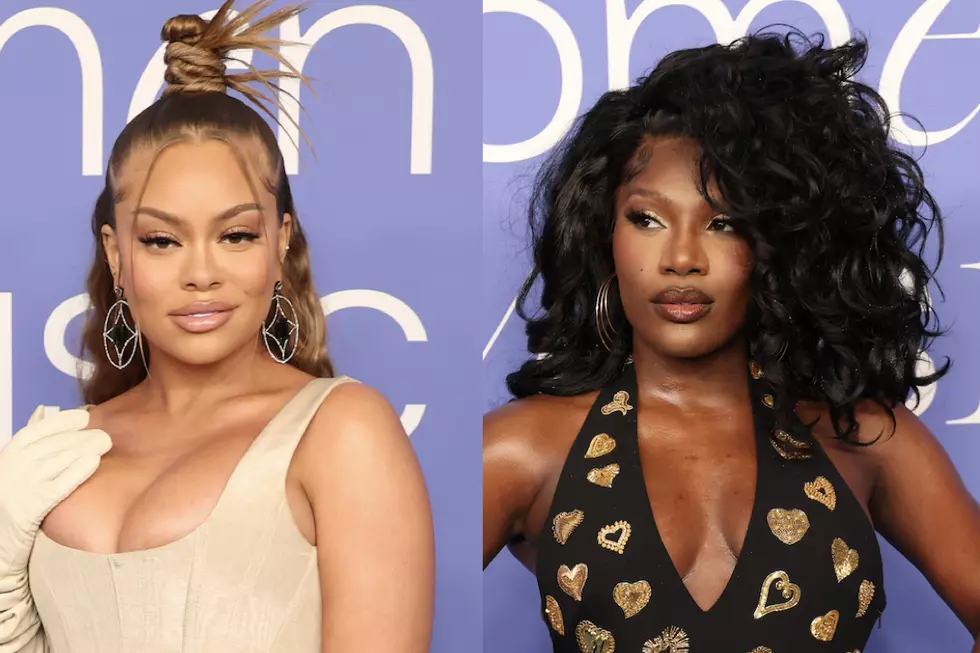 Fans Question If There Was Tension Between Latto and Doechii at Billboard Women in Music Event
Monica Schipper/Getty Images (2)
Fans are questioning whether there was tension between Latto and Doechii at the 2023 Billboard Women in Music event last night. Rumors surfaced yesterday that the two rhymers engaged in a verbal altercation.
On Thursday (March 2), Twitter account @FemmeRapLIVE shared a report that Latto and Doechii exchanged some heated words backstage at the 2023 Billboard Women in Music event on Wednesday (March 1) in Inglewood, Calif. According to an insider, Doechii reportedly "checked" Latto for making fun of her acceptance speech when the "Big Energy" rapper was onstage giving thank yous after receiving the Powerhouse Award.
The source alleged that Doechii was about to "crack" Latto. Supposedly Billboard reps reportedly asked Latto and her entourage to leave the event after her performance.
This all stems from Doechii thanking Nicki Minaj and other women who have been honored at past Women in Music events during her acceptance speech for being honored with the Rising Star Award. As previously reported, Nicki and Latto had a Twitter spat back in October of 2022.
During Latto's acceptance speech, she also mentioned artists who had previously won the Powerhouse Award.
However, fans thought Latto purposely didn't mention Nicki Minaj. The latter has not been honored with a Powerhouse Award from Billboard in the past. Latto was quick to shut down that speculation and insisted that fans are reaching in an effort to involve Minaj in the mix.
"Y'all arms not sore yet from all that REACHING?????????!!!" she tweeted.
Latto also posted a clip from an interview that same night praising Doechii as well as a screenshot of the list of women who have won the Powerhouse Award before her, proving that Nicki Minaj isn't on the list.
Meanwhile, some time after the Women in Music event, Doechii hopped on Instagram live and showed off her twerking skills while Nicki Minaj's "Barbie Tingz" was playing in the background.
XXL has reached out to Latto and Doechii's reps for comment.
On social media, fans hopped on Twitter to question whether Latto was mocking Doechii's speech at the Billboard Women in Music Awards while also believing Latto was throwing shade at Nicki Minaj.
"Not latto & her crew trying to jvmp doechii at an event that literally celebrates WOMEN in music just because doechii mentioned nicki minaj during her acceptance speech… you can't make this up [two loudly crying face emojis]," wrote one fan.
Another person tweeted: "Barbz tryna start beef between Latto and Doechii. Y'all have a deep obsession with attempting to turn rappers against the girls that have gotten into it with Nicki. Give it a rest! It's tired."
"Y'all weird n over exaggerating the speech Latto gave. Doechii n her are cool," railed a third commenter. "Doechii even posted her speech. N plus Sza didn't mention that lady as well but yet y'all only mad at Latto. She just won a reward n y'all trying to hide that achievement by causing fake drama."
Hopefully, this is all rumors and there is no beef between Latto and Doechii.
Read More People's Comments on the Rumored Tension Between Latto and Doechii Below
See Wild Rap Beefs That'll Probably Never Be Resolved
Pusha-T and Drake, YG and 6ix9ine, and more.