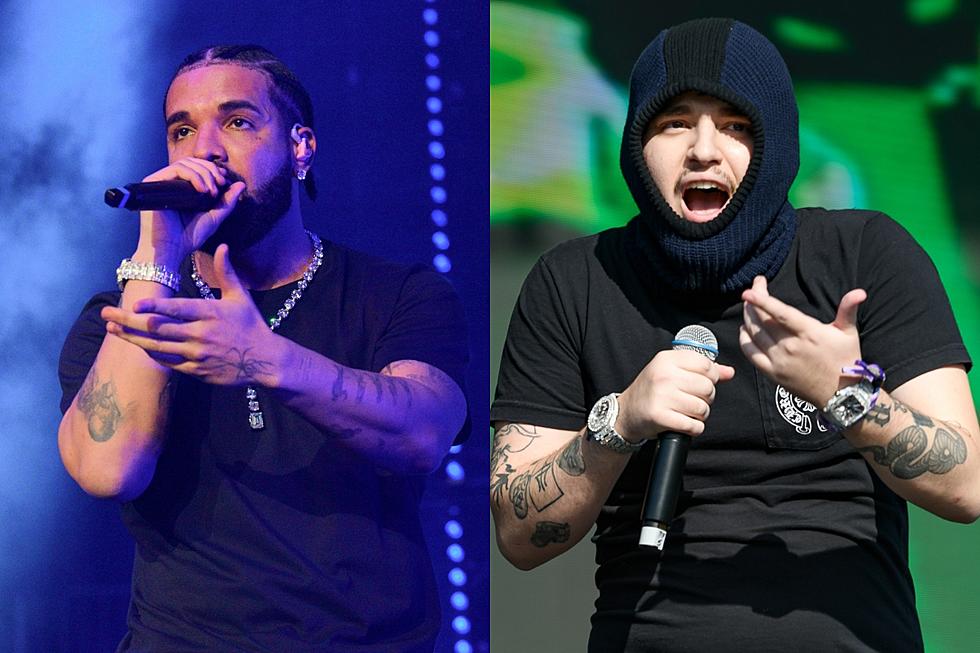 Is This New Drake and Yeat Song on For All the Dogs Album?
Prince Williams/ Timothy Hiatt/Getty Images (2)
Drake debuted a new commercial for his Nike Nocta Glide sneakers, which is scored with a new Yeat collab that might be on Drizzy's new For All the Dogs album.
Drake and Yeat Collab Featured in New Nike Nocta Glide Commercial
On Wednesday (Sept. 13), Drake shared on his Instagram page an ad for his new Nike Nocta Glides, which dropped today (Sept 14). The commercial features a cinematic clip of two people wingsuit gliding through snow-capped mountains. Of course, both men are wearing different colorways of Drake's new shoes. The video closes with Yeat rapping over a synth-driven track.
The post is captioned, "NOCTA GLIDE 2023 Available tonight on nocta.com. Music by Twizz and The Boy. Directed by Mahfuz Sultan."
Further evidence that the track might be on Drake's new album comes in the form of a comment from Yeat, who wrote under the post: "This 1 for tha dawgz…….."
Drake's For All the Dogs Album
Drake has been teasing his For All the Dogs album since June. Last week, he confirmed the release date for the LP. This week, he confirmed a new single for the project would be dropping on Friday (Sept. 15). On Wednesday, Drake shared the cover art for the single, which can be seen below, that will apparently feature SZA. Bad Bunny and Nicki Mnaj have been confirmed to be on the album as well.
See Drake's new Nocta Glide commercial and the cover art for his upcoming single with SZA below.
Watch the New Nocta Glide Ad That Features a Drake and Yeat Collab
Every Drake Project Ranked
XXL ranks all of Drake's albums and mixtapes.