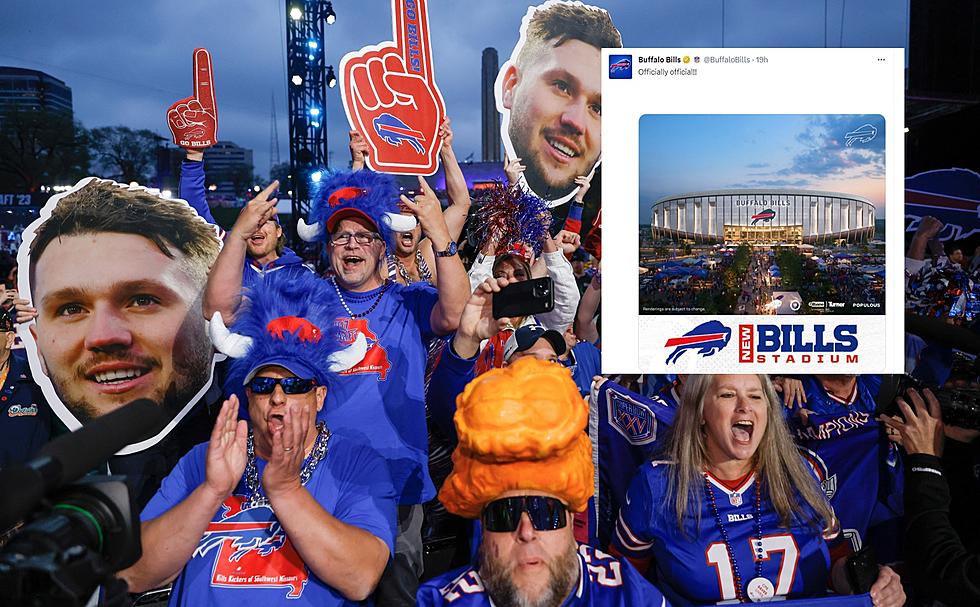 Upstate New York Football Fans Will Love This New Update from the Bills
Getty Images / Twitter (@BuffaloBills)
The dream of thousands of Buffalo Bills' fans is about to become a reality, thanks to a unanimous decision made by the Erie County Legislature on Thursday. The vote passed by the county was the last hurdle that Buffalo was facing before officially breaking ground on the next chapter of their franchise's history.
This latest update, shared by the team on their website and social media pages, is an absolute game-changer for Bills Mafia!
---
Buffalo Bills, Erie County Legislature Agree to Lease on New Stadium
A story from ESPN cited information provided by the Buffalo Bills on Thursday, which stated that the team had entered into a lease agreement with Erie County Legislature for their new football stadium.
The lease is for an eye-popping 30 years, and was the final necessary step before the team could break ground on the construction of their new home. Check out this tweet, posted by the team on Thursday:
The new stadium is set to open its doors for the 2026 season, and construction is set to begin in Upstate New York next month, per ESPN and the Bills. Fans of the Bills were elated by this news, as after years filled with rumors of the team relocating to another city, they can finally rest easy knowing their team is remaining in Orchard Park for a long, long time.
In total, the project will cost $1.54 billion, an increase from the original $1.4 billion price tag, according to ESPN.
$850 million of that total is being provided by the state and county. That figure was, at the time, the most public money ever contributed to a stadium project. That number has since been surpassed, as the Tennessee Titans' new stadium project will receive a larger chunk of funding from their local and state government.
Buffalo's current home, Highmark Stadium, has been open since 1973. Much like the team's current home, the Bills' new stadium will not have a roof, which surprised many fans when the first stadium renderings were released (scroll below to see those). Their new home will instead have a canopy around the edge of it, which ESPN states will "cover 65% of seats%" from the elements.
The 2023 NFL season is still months away, but this weekend, Bills Mafia will likely be celebrating as if their team is playing on Sunday. After all, Buffalo fans can now look forward to 30+ years of football Sundays for their favorite team.
Upstate NY Fans Rip Apart Photos of New Buffalo Football Stadium
The Buffalo Bills released artist renderings of their new football stadium, and Upstate NY fans were quick to share their negative opinions on how it looks.
Biden Praises Buffalo's Hamlin for 'Courage' in White House Meet
Buffalo Bills' CB Damar Hamlin visited Washington D.C. this week, and spent time with President Joe Biden at The White House, who lauded him for his courage.