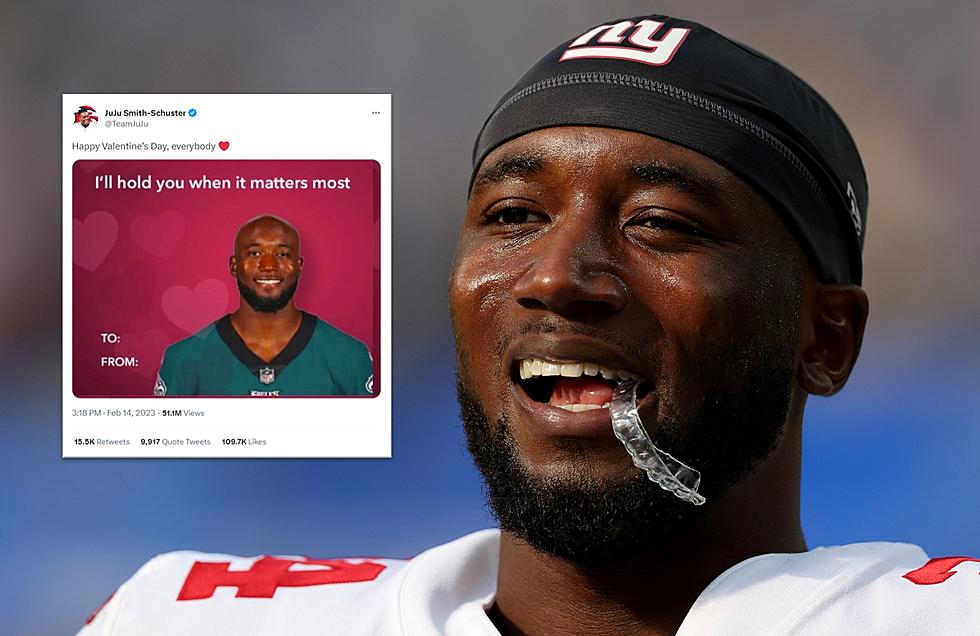 NFL Players are Destroying Their Peer After Failed Roast of Ex-New York Giant
Getty Images / Twitter (@TeamJuJu)
A Valentine's Day-themed joke went viral for one NFL wide receiver yesterday, and it divided the NFL world completely down the middle.
The joke was made by Kansas City Chiefs' wide receiver, JuJu Smith-Schuster, and was directed toward Philadelphia Eagles' cornerback, James Bradberry. The joke was made about a pivotal play at the end of Super Bowl LVII, in which Bradberry committed a holding penalty that set up KC for a game-winning field goal.
Some people found the joke to be funny, but others did not, and now, NFL players are coming to the aid of the former New York Giants' defensive back.
---
Chiefs' WR Trolls Former New York Giant with Valentine's Day Joke
A post from Chiefs' wideout JuJu Smith-Schuster went viral yesterday (and is still going viral today), in which the Super Bowl champion trolled former New York Giants' cornerback James Bradberry for his influential holding penalty, taken late in the fourth quarter of Sunday's Super Bowl.
Here's the original post from Smith-Schuster:
Let's be honest with one another: this is a pretty funny post, and a pretty "sick burn" of an opponent. If you or I had posted this, it would be nothing more than that. Fans of every team in the league, except the Eagles, would have a laugh, and then we'd move on.
The issue that some people had with this tweet wasn't the content; it was the person who posted it. Some viewed this post as punching down, or kicking an opponent when they're already down.
Here's what a few NFL players, current and former, had to say about it:
Even non-NFL players are getting in on the fun:
I'll be honest with you all, Charlie Voelker and I shared a laugh over this tweet on The Drive with Charlie & Dan yesterday, with Charlie exclaiming that the post was cold-blooded.
Is it childish? Yeah, probably, but what's the problem with that? The message wasn't malicious, and it wasn't sent directly to James Bradberry or any of his teammates. Smith-Schuster can be credited with posting something funny online, and can also be viewed as immature for doing it.
Sports are, by nature, a form of entertainment, and a lot of people found this post to be very entertaining. A number of his peers, however, do not fall in that category.
See Photos Of Eli Manning And Other NY Giants Stars Training In Albany
Head coach Jim Fassel and company used the facilities at the University at Albany each preseason for over a decade, as some of the best Big Blue beasts tore it up in the Capital Region before taking the field in the NFL.
Upstate NY Fans Rip Apart Photos of New Buffalo Football Stadium
The Buffalo Bills released artist renderings of their new football stadium, and Upstate NY fans were quick to share their negative opinions on how it looks.