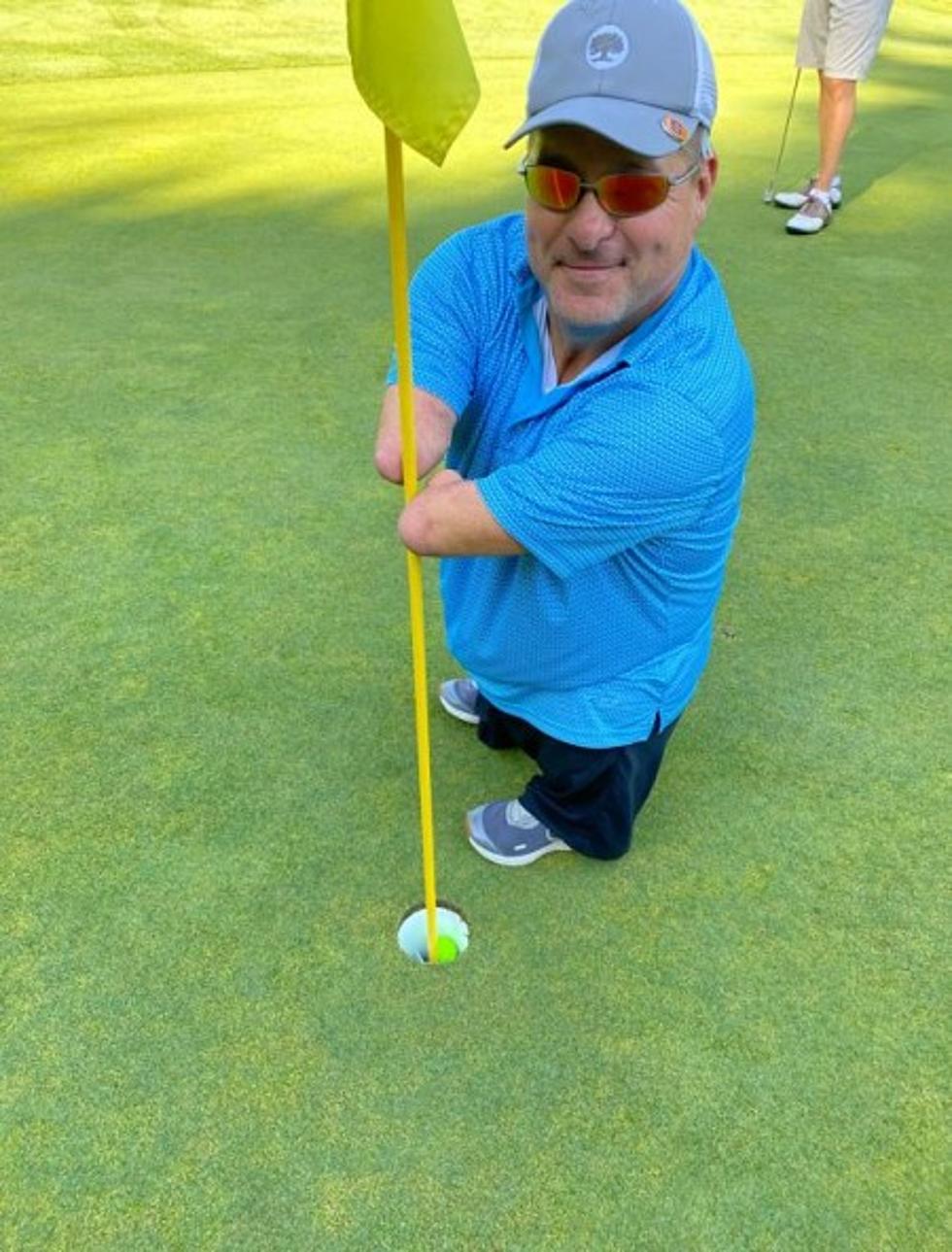 Inspirational Glenmont Man Hits Golf Shot Heard 'Round the Capital Region
Brian Cody
Perhaps by now, you may have heard about the golf shot heard 'round the Capital Region and seen the photo that seemed to be popping up everywhere on social media over the weekend.   If not, allow me to tell the story of John Robinson, an avid golfer whose passion for the game of golf is only rivaled by passion - and ability - to inspire and help people who face similar challenges throughout the Capital Region.
Talk to anyone addicted to the great game of golf and they'll tell you it's not always easy squeezing in a five-hour round when you have family and work commitments.   But a few times a week, the 52-year-old Glenmont native gets some time away from family and his very demanding job as President and CEO of Our Ability, a company he started that helps people with disabilities find jobs.  In his free time,  he and his buddy Peter Gregory hit the links at Colonie Country Club for some fresh air and a few laughs while whacking the little white ball around; pretty normal stuff.
But what took place on Sunday was anything but "normal."
Robinson sunk his first career hole-in-one on the par 3, 15th hole at Colonie Country Club on Sunday; a nearly impossible task for a golfer of any ability, let alone a player who faces the challenges that Robinson does.
John Robinson was born a quadruple congenital amputee meaning that he has no extension of his arms or legs and stands at 3 feet 8 inches tall.  His arms extend down to his elbows and he has no hands, while his legs are about half the size of what would be considered full length with no knee or upper leg.
Robinson developed a love for the game after another sport he loved was traumatically and inexplicably taken away from him.
When he was 7-years-old living in Central New York, he was told by the people who ran the Little League that he could no longer play t-ball.  So his father went out and bought him a 7 iron and a putter and handed it to him saying, "They can never take this away from you."  He's been playing ever since.
So, how exactly does he swing a club?  "Well it's a great question," he says.
"I put the club under my right arm, I hit the ball left-handed so I get as much turn as I can with my hips and my shoulders.  I hunt and peck around the fairways and do the best I can around the green."
Robinson says he can hit the ball about 130 or 140 yards off the tee, but for the short par 3, 15th hole at Colonie Country Club, he only needed a perfectly placed 105-yard shot.
"I got up, hit the tee shot, and make good contact," he told us.  "I saw it hit the fringe and bounce one, and roll onto the green."  Thinking that he may have hit the ball a little too hard, Robinson was actually yelling for the golf ball to stop. "My good friend Peter yelled 'Go!' and all of a sudden the ball dropped," Robinson joyfully explained.
It's a tradition for the golfer who makes a hole-in-one to buy post-round drinks at the bar and that didn't escape Robinson.   But news of his ace spread so fast that by the time he finished his round a few holes later, the whole place was buzzing.
"When I got back to the clubhouse," he explains, "I got a standing ovation...and then I was buying drinks for everyone...but it was well worth it!"
Robinson prepped one final nugget before we spoke just to give a little perspective in regards to the odds he faced to accomplish this feat.
"To be an amputee without arms it's something like 2 out of every 10,000 births.  To have a lower leg amputation it's something like 4 out of every 10,000 births. To have a hole-in-one it's 1 out of every 12,000 tee shots on a par 3," he explained.
There's no way to accurately calculate the odds of making a shot like that, but I don't think it really matters. A special moment like the one that Robinson and the rest of his golf buddies at Colonie County Club experienced on Sunday can't be quantified through an odds calculator, it's far more special than that.
But then again, defying the odds is simply par for the course for a man who won't let anything stop him from doing what he loves.
To listen to my interview with John, click the link below:
CHECK IT OUT: See the 100 most popular brands in America