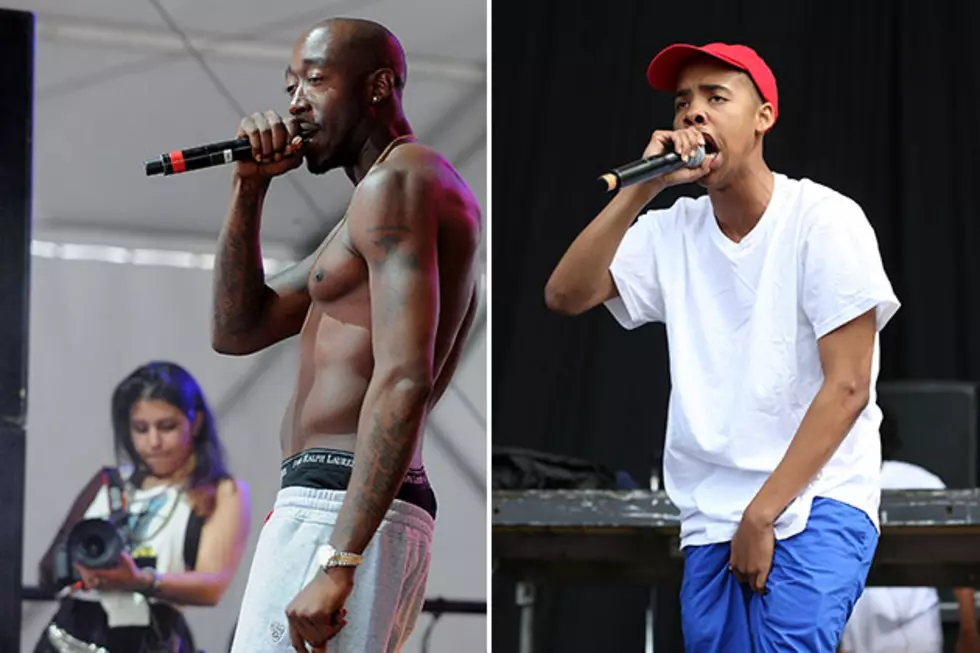 Freddie Gibbs and Madlib Get Soulful on 'Robes' With Earl Sweatshirt, Domo Genesis
Brad Barket / Fiona Goodall, Getty Images
Freddie Gibbs and Madlib are finally giving the people what they've been waiting for: a new song off their joint album, 'Piñata.'
The main reason 'Piñata' is an anticipated project is because it's being released by the duo. Even without 'Madvilliany,' Madlib is part of this century's upper echelon of producers. Plus, it will take some digging to find one weak song in Freddie Gibbs' catalog. Today, fans have yet another reason to thirst over the release: 'Robes' featuring Earl Sweatshirt and Domo Genesis.
'Robes' features Gibbs' typical heavy hitterlines like, "I weigh my options I rather be cooking, cutting it, lay one up." But this one's all about musicality. The floating bass line is cooked in Isley Brothers-flavored seasoning, while Gibbs doesn't rap at you as much as he simply glides and shimmies across the track. Even Sweatshirt, who normally finds himself in darker, brooding productions, finds a home here. The best part: there's more of this to come.
'Piñata' was originally set for a Feb. 4 debut, but it's been pushed back to March 18. Raekwon, Scarface, Danny Brown and Mac Miller are just some of the guests who'll appear on the album.
Listen to Freddie Gibbs & Madlib's 'Robes' Feat. Earl Sweatshirt & Domo Genesis