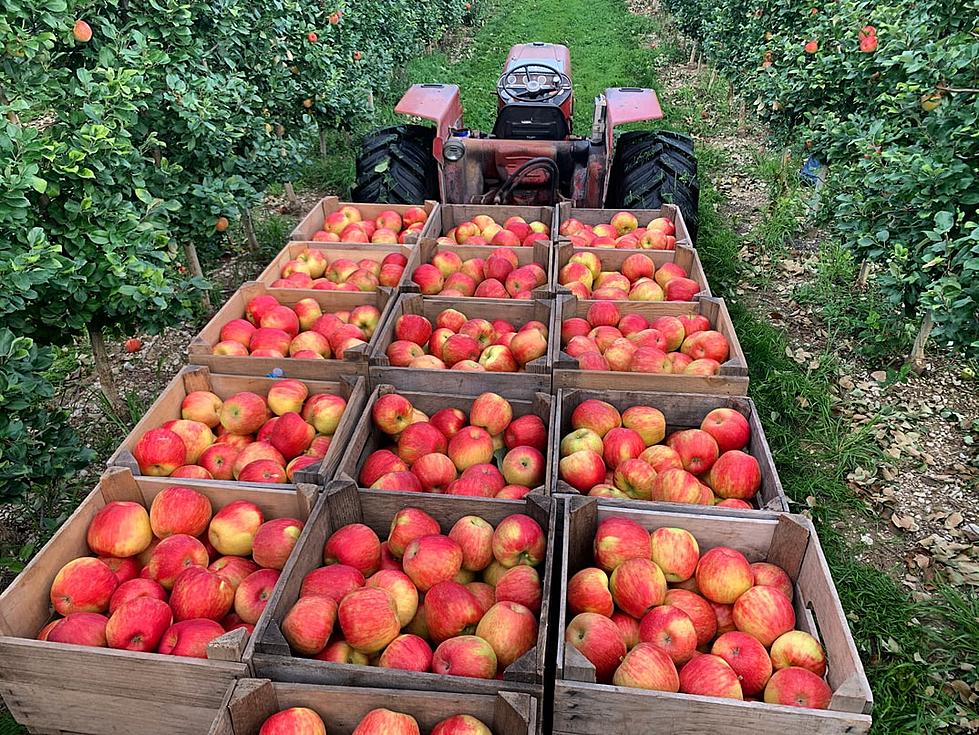 Bowman Orchards Stays True to Core Despite Barrage of Price Critics
Photo: Unsplash.com
Kevin Bowman, owner of Bowman Orchards in Rexford, says that just last weekend, at least two cars tried to get away from their grounds in Rexford with at least $461 dollars worth of stolen goods.  "There may have been more," he says, "but those were the two we were able to catch."
It is standard practice for Bowman Orchards' staff to check cars before they leave the lot to ensure that no one is freebooting their fruit, but they don't get everyone, and stealing drives up costs.  That along with what Bowman describes as "the highest labor wages in the nation" makes it very difficult for a local business that employs 80 people to keep their costs down.
This year, Bowman Orchards has added an additional "parking fee" charge to get on the property.  It's $5 dollars for every person inside the car and allows you entry into their orchard, pumpkin patch, photo-ops, and farm store.
And while a day picking apples could get a little pricey for a family looking to have some fall fun, Bowman says the price hike is justified.
He told us he pays his employees more than the others in the area and his orchard has more to offer than the competition.  "We have 25 varieties of apples, whereas a place like Indian Ladder Farms has 2-4 different varieties," adding that Bowman Orchards "spends $60,000 dollars a year" to maintain these crops.
Unfortunately - but to no one's surprise - the added costs have created a bit of a firestorm on social media.  A few crabby apples have blasted the Orchard's new pricing policy.  A thread on Albany Reddit posted by an online user who goes by Arock999 talked about their recent experience:
"I get that apple picking is an experience, but %$!# off. Shame on them. They charge per person in the car too. Then you gotta pay like $30 bucks for a bag of apples. $60 to go apple picking in Clifton Park.  A lot of businesses around here are taking advantage of the "times are tough" sentiment as an excuse to nickel and dime their customers for everything.  To think about this another way - it's $105 to go to Disney's Magic Kingdom for an entire day." 
What followed this post was a series of mostly distasteful comments, which has become the norm these days. Justified or not, the piling-on seemed a bit over the top but none of this was lost on Bowman who knows to take the good with the bad.
When asked if he sees these types of negative comments and reactions on social media or other review forums, he acknowledged that indeed he does.
While he wasn't necessarily speaking about the Reddit post, Bowman thinks the kind of people who write unfavorable reviews like the one posted by Arock999 are usually from people who have a personal vendetta against them, or from people who were popped trying to steal.
"There are some dirtbags out there who are trying to steal from us, and when they get caught, they write nasty comments about us," Bowman said.
While it's impossible to say whether or not his theory applies to the review(s) on the Reddit thread, it seems unlikely considering that user Arock999 was more concerned about the costs, and less about being searched.
Regardless, Bowman seems unfazed by the growing number of crabby apples picking apart his orchard.  "We've been checking people's cars since 1972, this is nothing new," he said. 
But what about the critics who appear quite sour over the parking fee?
Bowman says it comes with the territory. "We have 10,000 who people come through our orchard every year, these comments represent one or two people," he said.
See the Must-Drive Roads in Every State