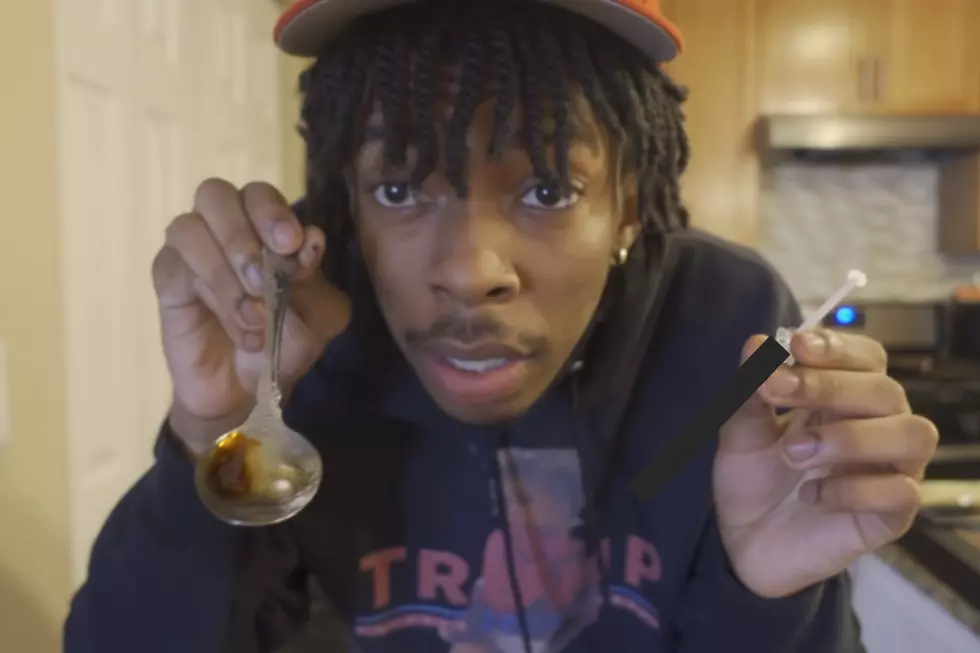 Bishop Nehru Appears to Shoot Up Heroin in New 'Heroin Addiction' Video
Bishop Nehru via Instagram
WARNING: This article contains content that may be triggering to some readers.
Bishop Nehru has released a controversial new video, which appears to show the rapper injecting heroin in the name of research.
On Tuesday (May 17), Nehru released the video for his latest single "Heroin Addiction." It features a title card disclaimer that reads, "On March 21, 2022, I decided to film myself trying HEROIN to note its short-term side effects. Here's what happened… [please DO NOT try this at home.]"
In the visual, Bishop Nehru appears to be in a kitchen with a piece of aluminum foil lined with a powdery substance, a spoon and a needle. He goes on to light the spoon with the powder on it until it bubbles. He eventually injects the needle in his arm.
From there, we see Nehru appearing to suffer from the effects of the drug. Between shots of restless sleep, he vomits multiple times and looks very disoriented.
The YouTube description comes with another disclaimer: "DISCLAIMER: THIS VIDEO WAS MADE FOR ART PURPOSES SPECIFICALLY! WE AT THE NEHRUVIAN FAMILY DO NOT CONDONE OR PROMOTE THE USE OF HARD DRUGS, BUT WE SUPPORT & SPEAK FOR THOSE EFFECTED WHO MAY NOT HAVE A VOICE FOR THEMSELVES. IF YOU EVER NEED SOMEONE TO TALK TO HIT ME IN THE DISCORD. THANK YOU."
The video has gotten mixed reviews. "@BishopNehru Crazy how after all the work u been putting in all these years, your fake heroin video was the one to get people talking," one person tweeted. "It goes to show what really gets peoples attention, don't listen to hate bro, the video went over a lot of people's heads."
Other people were not sold. "Bishop Nehru had assistance from Nas, MF DOOM, and Wu-Tang Clan and now he's sticking in needles for clickbait. This is sad," another person commented.
As of now, it remains unclear what Nehru's goal behind the video is. Obviously, it could be a commentary on addiction. But it could also be a case study on shock value and how people and the media flock to it.
The new single is in promotion of the new mixtape Bishop Nehru is dropping of the same name on Friday (May 27).
See Bishop Nehru's "Heroin Addiction" video below.
See 52 of the Most Controversial Hip-Hop Album Covers Since 2 Live Crew's As Nasty As They Wanna Be
Which rapper has the most controversial album cover?