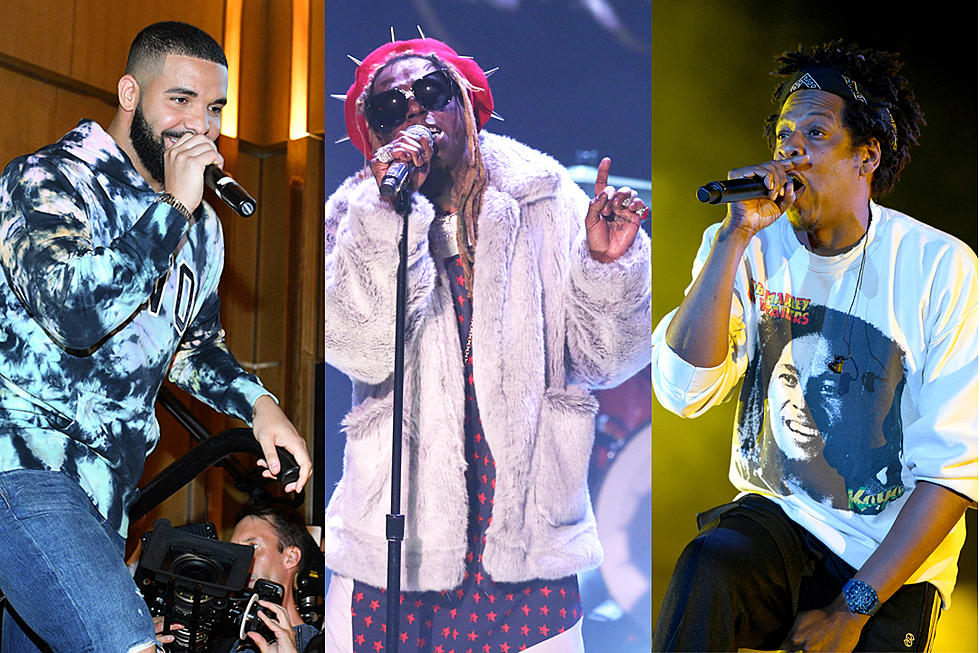 Here Are the Best Guest Verse Runs From Rappers for Every Year Since 2000
George Pimentel / Jonathan Daniel / Craig Barritt, Getty Images (3)
No matter how rap has evolved, high-profile guest verses have remained a snapshot of either dominance or ascendancy in the hip-hop food chain.
When Lil Wayne was transitioning from up-and-coming rap star to the main attraction, his string of guest verses—offerings that appeared on songs from Lloyd, Chris Brown and more—stood as his primary case for Best Rapper Alive title. With a quirky, but understated charisma and an endless stream of off-kilter but skillfully constructed punchlines and metaphors, Weezy's run, which began in 2006, marked the beginning of a multi-year barrage of infinitely quotable guest verses.
A few years later, sometime between 2009 and 2010, Weezy's protégé, Drake, would follow a similar path. Using a more conversational style focused on concision, spurts of melody and introspection, Drizzy's guest verses helped pave a way to becoming the most dominant artist of the 2010s. While he'd earned some criticism from boomers for his ostensibly less conventional style at the time, by 2013, he'd done so many features and collected so many accolades he could rap, "That's why every song sounds like Drake featuring Drake" and no one would argue.
With their combination of mic presence and skill, Drake and Weezy are two artists with multiple stints as the rap game's most consistent guest verse providers. On any given year you could argue they held the top spot, but others did just enough to claim it for themselves. Either way you look at it though, the best run of guest verses tells an important story about the state of hip-hop, and you can read it by assessing just who, exactly, had the best runs each year.
Today, XXL takes a look at the best guest verse runs from rappers since 2000. See the lineup for yourself below.
Snoop Dogg was really one of the more active guest spot rappers in the 2000s, and in the first year of the new millennium, he proved that he was hip-hop's most reliable feature. While the likes of Hov and Eminem were still respected as pure lyricists, neither were as active as Snoop in 2000. Over the course of the year, Snoop delivered a memorable verse on Dr. Dre's "The Next Episode," C-Murder's "Down for My Niggas" and his protégé Bow Wow's "Bow Wow (That's My Name)." All three spots were sharp, and Snoop floated. They also landed in the top 40 of the Billboard Hot 100 chart. With over 20 guest verses thrown into that mix, Snoop takes this one for pure activity and success.

Between filming the movie 8 Mile and recording The Eminem Show album, Eminem wasn't too active on the feature verse front in 2001. Still, the one guest verse he did deliver happened to arguably be the best in history. After originally making the song for himself and Royce 5'9," Em gifted "Renegade" to Jay-Z for Hovito's The Blueprint album. Although Hov rapped as well as he could, when the dust settled, fans and critics agreed that he'd managed to walk away with the best verses on the track. It was a case of Jay dropping an efficient 40 points and Em pulling up to drop a 50 ball. Em's verses led Nas to say Shady out-rapped Jay on the song. Nas used his Hov diss "Ether" to deliver the blow, and most of hip-hop had no choice but to nod in agreement.

In almost every technical way, Jay-Z is the most fundamentally sound rapper in hip-hop. So then, it's no surprise he delivered stellar guest verses time after time throughout his career. 2002 was one of his best feature runs. Standouts from this year include the best verse on Scarface's "Guess Who's Back," Freeway's "What We Do" and Talib Kweli's "Get By (Remix)," songs that saw him invoke the spirit of urban survival while analyzing the environment that creates drug kingpins, just as he did on his own songs.

The song that instantly shot Beyoncé to solo superstardom features a grand guest verse from her then-boyfriend and current husband Jay-Z, who once again dominated the 2003 guest spot lane with his incisive bars and liquid flow. "Crazy in Love" and Pharrell's "Frontin'" will get the majority of the love, but his turn on OutKast's "Flip Flop Flow" is one of his slipperiest ("'Why that? Why this?'/Niggas wanna hijack the flyness/I'm on a whole 'nother plane"). Hov takes '03, and this still isn't the last time you'll see him on this list.

Ludacris' animated and endlessly adaptable flow helped make him one of the biggest rap stars of the early aughts. It also made him a near-perfect guest feature for artists all across the music spectrum. He could be flirty, comical and energetic on the biggest song in the country as he was on Usher's Lil Jon-featured "Yeah" or outright menacing and surprisingly venomous as he was on Young Buck's "Stomp." For the latter song, he skillfully dissed T.I. and proclaimed his down-South dominance after hearing Tip handed him a subliminal diss on the same record before he recorded his verse. "Stomp" was one of the most shocking and impressive diss responses of the year and "Yeah" peaked at No. 1 on the Billboard Hot 100 chart. All in all, it was a good year to be Luda, and his tongue-twisting ways have to be recognized.

On his 2001 single "Izzo (H.O.V.A.)," Jay-Z said he couldn't leave the rap game alone because it needed him. Less than two years into his "retirement" from hip-hop, Hov proved that his feelings for the genre were at least mutual as he began unloading even more superior guest verses throughout the year. In the summer of 2005, Jay dropped a legendary guest verse on Jeezy's Let's Get It: Thug Motivation 101 album cut, "Go Crazy." On the track, he evokes images of a rap game Sosa from Scarface: "See, I'm a hustler's hope, I'm not his pipe dreams/So when they speak of success, I'm what they might mean." Around that same time, he unleashed an electric verse on Kanye's "Diamonds From Sierra Leone" and appeared as a "guest" on "Dear Summer," a cut from Memphis Bleek's 534 album. Of course, Hov is the only one on it, but it still technically counts for this list. His extra nimble verse on Bun B's "Get Throwed" only helps his case for 2005, when the cracks in Hov's retirement plans revealed themselves through verses that prove the guy was simply too good to stay away for long.

On his 2005 album, Tha Carter II, Lil Wayne declared himself the best rapper alive. His run of guest verses in 2006 served as one of his most salient arguments. Straddling the line between understated, tongue-in-cheek wordplay and the adventurous, punchline-drenched style he'd adopt in subsequent years, this Weezy destroyed tracks with subtlety, charisma and versatility. Over the course of 12 months, Wayne showed he could float on everything from teeny bop R&B (Chris Brown's "Gimmie Dat (Remix)") to comical and raunchy street fare (Cam'ron's "Suck It or Not"). In an era of peak, madlib punchlines, Weezy soaked his bars with so much personality they never felt trite; he was convincing whether saying "I love you like cooked food" (Lloyd's "You") or "Get your money ho or just stop breathin'" (Curren$y's "Where Da Cash At?"). Weezy's got more quotable verses than the ones he unloaded for features in '06, but this was his peak as a technician.

In 2007, Weezy F. Baby was once again the most reliable guest verse. By this time he'd fully leaned into the punchline-heavy approach he's used ever since. He also started coloring outside the lines more vocally, with his previously calm and collected bars now being fused with intermittent croaking. As was the case in his previous year, Weezy was everywhere in '07, and he'd bring a unique set of vibes for every song he jumped on. One moment he'd be teaming up with Birdman for "Pop Bottles," celebrating the spoils of rap game success with some very dismissive sex talk. The next he'd be talking about the struggles of a stripper-turned-prostitute for the saccharine "Sweetest Girl," a Wyclef Jean song that also included a feature from Akon. His crowning achievement was his verse on DJ Khaled's "We Takin Over," a track that also featured Akon, Fat Joe, T.I. and Rick Ross. Weezy was assigned the last verse, which is a fitting climax for a moment that felt like Weezy became the biggest rapper alive.

When Kanye West entered the rap game, he was seen as a more than serviceable, but less than stellar rhymer. By 2008, Yeezy was a regular star performer for guest spots, and he finally had a year in which you could consider him the best feature man in hip-hop. His brags stuck as much, if not more than ever, his rhymes were more precise and his wit was as sharp as it would ever be. Spitting on Estelle's "American Boy," Yeezy floated as he made some self-aware jokes about the way he was perceived in the media and turned in a couple of clever U.K. puns. He even took Lil Wayne's "Lollipop" for a test drive as he experimented with some Auto-Tune for a very quotable remix to Weezy's Tha Carter III single. When he wasn't emptying a full clip onto those tracks, or N.E.R.D's "Everyone Nose (All The Girls Standing in the Line For The Bathroom) (Remix)," he gave fans an emotional preview of what was to come on his 808s & Heartbreak album that November. That preview came when he delivered a visceral, Auto-Tune-drenched verse on Jeezy's "Put On," a song on which 'Ye reflects on the untimely death of his mother, nightmares and the perils that accompany fame. Whether it was clever quips or stream-of-conscious blood-drawing, Kanye got it done in any and every way as a guest feature in 2008.

How many rap fans ever considered Tunechi to be the best rapper alive is unclear, but by 2009, it was apparent he was at least as big as any artist in the world. Riding the momentum of his ridiculously successful year in 2008, Weezy delivered a seemingly innumerable amount of supreme guest verses. He easily kept pace with his protégé Drake on "Goin' In" and bodied everyone on Busta Rhymes' "Respect My Conglomerate." By this point, Weezy's wordplay could come from any and every direction and he had an unmatched knack for inventive phrasing. He showcased some unpredictable spurts of wordplay on Jadakiss' "Death Wish": "Muthafuck your guest list, I be like, 'Let's just/Kill him and get breakfast,' neck slit/Next shit expect this, every time you check this/I'm exit, I mean, excited to be your death wish." The tight rhyming and abrupt turns of phrase are Weezy signatures, and "Let's just kill him and get breakfast" are the iciest bars you'll ever hear. In 2009, Wayne was pretty much the coldest out.

By 2009, Nicki Minaj had generated a massive buzz. But 2010 was the year she became queen. Her run of guest verses that year played out like a checklist for rap game ascendancy. Near the top of the year, she pulled up on Ludacris' "My Chick Bad" with an example of peak hashtag rap for a track that climbed to No. 11 on the Billboard Hot 100 chart. Around that same time, she served up a super quotable verse on Usher's "Lil Freak," a track on which she name-drops Diddy's then-girlfriend Cassie before ending with a well-played Everybody Loves Raymond pun. In August, she joined Trey Songz for "Bottoms Up," a song that would land at No. 6 the Billboard Hot 100. As if those guest spots weren't already enough, Nicki closed out 2010 by hopping on Kanye West's Jay-Z and Rick Ross-assisted single "Monster" to deliver the verse of her career. Flaunting a schizophrenic delivery and a hyperactive imagination that can conjure international baddies along with gold teeth and fangs, Nicki put any remaining doubters in the ground. "Yeah, I'm in that Tonka, color of Willy Wonka/You could be the king, but watch the queen conquer." In 2010, there was pretty much no other choice.

2011 was the year Drake solidified his spot as the biggest star in the rap game, and his run of guest verses helped him grab the title. Known for his conversational style and skills as a rap technician, Drizzy managed to blend those elements seamlessly no matter what song he was on. If he was teaming up with The Weeknd, as he did on "The Zone," he took listeners through a steamy hookup and the thoughts of a rising superstar with a uncertain road ahead. On Waka Flocka Flame's "Round of Applause," he hit up the strip club. With a style that can be playful and meditative—a lot of times, both at once—Drizzy cemented himself as go-to feature man for the 2010s.

Drake is to guest verses what LeBron James is to the NBA; he's always the most valuable player, but for various reasons—sometimes voter fatigue, others being outlier years from his contemporaries—he can't take home the trophy every year. Still, 2 Chainz, who reinvented himself in 2011, after previously going by Tity Boi, deserves his props for a transformational run of 2012 guest verses. That year he contributed verses to everyone from Kreayshawn ("Breakfast Syrup") to YG ("Grind Mode" with Nipsey Hussle) and many more as he showcased his knack for colorful flexes and punchlines you couldn't forget if you wanted to. If there was one moment that summed up the year it would have to be when he eviscerated Kanye West, Big Sean and Pusha-T on G.O.O.D. Music's "Mercy."

On the Drizzy end of things, the 6 God managed to body a rap legend on Rick Ross' "Stay Schemin'" with French Montana (sorry Common), out-rapped Kendrick Lamar on "Poetic Justice" and 2 Chainz on "No Lie." He even turned in a stellar verse on Meek Mill's "Amen" before serving up compelling bars on the posthumously released Aaliyah single "Enough Said." At the time it felt like it was all in a day's work for Drizzy, but that's what happens when you normalize dominance.

In 2013, Kendrick Lamar was on one. For starters, his verse on Big Sean's "Control," one in which he challenged J. Cole, Drake, Mac Miller and more for rap game supremacy, had everyone talking. While it might have been a little click-baity, the mentions and K-Dot's electric metaphors were effective. On ScHoolboy Q's "Collard Greens," K-Dot employed a hyperactive flow and eccentric quasi-alien voices for a beat that's just as trippy. Those verses stand out, but Kendrick's best was on Pusha-T's "Nosetalgia," a verse that finds the rapper strolling through haunting memories of seeing drug abuse as a child. When you can out-rap Pusha, you know you're doing something right. In 2013, Kung Fu Kenny did a lot of that.

2014 was the year Young Thug ascended for the first time. That was the year where he performed on at least 15 guest verses in less than 12 months, cementing himself as a name to pay attention to in the future. With his extraterrestrial vocals and underrated knack for wordplay, Thugger either held his own with or stole the show from fellow newcomers to seasoned veterans. While his delivery stood out on songs like Rae Sremmurd's "Throw Sum Mo" and T.I.'s "About the Money," it was his guest spot on Rich Gang's "Lifestyle" that will be the most remembered.

Despite some ghostwriting allegations, Drizzy was once again rap's premier feature man in 2015. His appearance on Game's "100" effortlessly blends sarcasm and observation, his verse on Future's "Where Ya at" finds him mesh some trench bars with his own sensibilities and his lyrics on Big Sean's "Blessings" provided enough Instagram captions to last six months. 2015 wasn't his most active year on the feature front, but Champagne Papi did more than enough with the ones he did deliver to stand out as the go-to guest spot for the year.

People remember Migos for breaking into another commercial space when they released "Bad and Boujee" in the fall of 2016. That might be their defining moment, but the release of that song was preceded by Quavo's torrid run of guest verses that same year. With his Auto-Tune-filtered melodies and some hyper-specific flexes, Quavious always left his mark on the track. His most memorable turns unfolded on Young Thug's "GuWop" and "Pick Up the Phone" with both Thugger and Travis Scott. His lyrics on the latter song ended up being the title of Travis Scott's 2016 album, Birds in the Trap Sing McKnight.

Between 2016 and 2017, Migos went back to back. Quavo held down 2016 for best guest verses, and Offset picked right up and turned in proficient verses left and right, north and south and everywhere in between in 2017. Whether it was tracks with Boston rhymer Cousin Stizz ("Headlock") or Gucci Mane's "Met Gala," 'Set was getting these bars off. While Quavo has generally gotten attention for his melodic capabilities, Offset's done so by having the most athletic flows of all the Migos rappers. If he was a football player, he'd be a halfback—able to start, stop and change direction at a moment's notice. He does so effortlessly, and in 2017, he was usually carrying some vivid trap details and audacious but realistic flexes along with him. He flaunts this constellation of attributes on Metro Boomin's "No Complaints." On the track, he pulls up IG caption-worthy bars at every turn: "Quarter million when you open my brief/Celebrity status so keep this shit brief/Draco by me 'cause I keep it in reach/Know niggas didn't do that shit like that boy Meech/That's word on the street, let me preach." That year, it seemed like everyone would happily let Offset do just that.

The rise of Cardi B may have technically began with "Bodak Yellow" in 2017, but her subsequent run of guest verses over the following year was her proverbial coming-out party—or an extended victory lap for her first one. In the last months of 2017, she turned in two guest spots, one on G-Eazy's "No Limit" with A$AP Rocky and another on Migos' "Motorsport" with Nicki Minaj, that showcased the reasons she was poised to dominate 2018. With an electric personality that made her a social media star and Instagram caption-worthy bars—calling herself the Trap Selena ("Motorsport") might just have topped anything she said on her breakout single—Bardi quickly became the most reliably electric guest spot rapper this side of Drizzy. Since both songs of those songs were released in late 2017, and remained near their peak as top 10 Billboard Hot 100 singles well into 2018, it's fair to count these toward her 2018 guest verse run. In 2018, she continued carrying that momentum, landing two top five Billboard Hot 100 slots (Maroon 5's "Girls Like You" at No. 1 and Bruno Mars' "Finesse (Remix)" at No. 3), solidifying her spot as a superstar in the process. On top of all that, her verse on her pal Pardison Fontaine's "Backin' it Up" proved to be one of the punchiest of 2018. On the song, she unloads playful one-liners along with threats to the opposition: "We see who winning, we see who got it." In 2K18, it was clearly Cardi.

Between 2014 and 2017, J. Cole became known as the guy who could go platinum without features on his album and, if you weren't on his Dreamville Records roster, you weren't going to get him on your song. Between 2018 and most of 2019, though, Cole appeared to be making up for lost time. At the tale end of 2018, he delivered an unexpected verse on "A Lot," the intro to 21 Savage's I Am > I Was album. With a 6ix9ine name-drop, clever observations about the rap zeitgeist ("Some niggas make millions, other niggas make memes") it was clear that Cole was on it. Months later, in spring of 2019, he popped out for Young Thug's So Much Fun single "The London," delivering his customary tight rhyme schemes and some rapper brags only a handful of others can viably make. Elsewhere in 2019, he lent sharp verses to Offset's debut solo album ("How Did I Get Here") and the final offering from Gang Starr ("Family and Loyalty").

2020: Tyler, The Creator and Jay-Z

Through the first 66.67 percent of 2020, fans can see what looks like a tie between two rappers, with a third also making a solid case to this point. For his part, Tyler, The Creator has eviscerated tracks with Westside Gunn ("Pray for Paris"), Freddie Gibbs ("Something to Rap About") and Lil Yachty ("T.D." with A$AP Rocky and Tierra Whack). Tyler's knack for sharp lines and word-bending stand out, but his ability to excel on these three very different beats with top-notch wordsmiths is a testament to his all-around dexterity.

The man tied for first place so far is Jay-Z, whose guest verses on Jay Electronica's A Written Testimony album each have an argument for verse of the year. Since he appears on every track and Jay Elect had been teasing a Hov and Jay Electronica joint album, this feels a little more like a group project, but it's technically not, so Hov has to stay. Holding things down on the honorable mention side is Lil Baby, who's delivered standout verses with YoungBoy Never Broke Again ("One Shot"), 6lack ("Know My Rights") and more while proving himself to be one of the very best rappers of the moment.