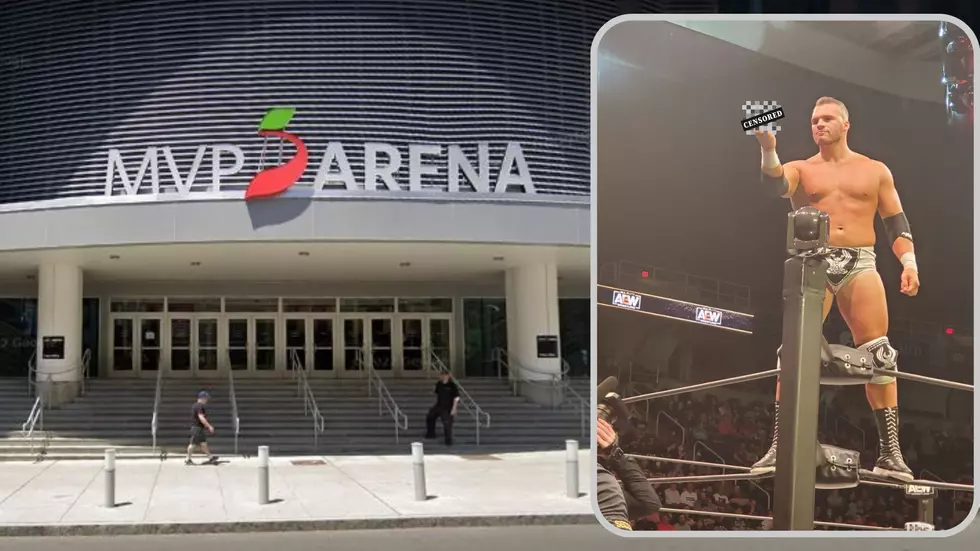 'All Elite' Pro Wrestler from Albany 'Salutes' Hometown Crowd!
Photo: Sarah Weisheit Twitter
All Elite Wrestling (AEW) is an American professional wrestling promotion based in Jacksonville, Florida, rolled into town on Wednesday night, bringing attitude, excitement, drama, and a host of talented professional wrestlers.
Even if you weren't at the MVP Arena in Albany last night, you might recognize some of the names on the roster like former WWE Superstars like Chris Jericho, and Bryan Danielson to name a few.
AEW is considered the second most successful wrestling promotion in the US behind the WWE.
Zack Clayton, a local pro wrestling star on the AEW roster, was born and raised in Upstate NY and credits Albany as his hometown, and he excitedly promoted his return home to MVP Arena on Facebook earlier in the week.
Clayton, 27 years old, rose to fame for being the on-again, off-again boyfriend of reality television star JWoww on MTV's Jersey Shore Family Vacation - so you can see why he might be a bit polarizing.
"(Wednesday night)I return to my home town arena.
I never doubted there would be a day that I would wrestle in the middle of a ring with a top level company, in front of a capacity crowd at the @themvparena
I've thought about it since I was a child, and not once did I ever see it not happening.
That is the importance of having a goal, and doing whatever it takes To accomplish it."   - Zack Clayton  Facebook
I wasn't there in attendance, but I caught some of the action on TBS last night and followed it a bit on Twitter.  And while I'm not an expert on fans vs. athlete interaction, I do know that it's just as much fun to be beloved by fans, as it is to be a "heel" or a rulebreaker.
And the colorful Clayton is very comfortable playing the role of the heel, relishing the spotlight.
An AEW fan named Sarah Weisheit (Twitter @HardyLover) was in attendance at MVP Arena Wednesday night and captured some images of Clayton in action.
Some were versus his opponent Conan Lycam - whom he defeated, btw, another image shows Clayton engaging the large wrestling crowd, with an elite-level one-finger salute!
Clayton seems to relish in the spotlight and if "success" in professional wrestling is partly judged by crowd reaction, then it was a damn good return home for the Capital Region native.
Salute!
Ranking The Top 15 Movies Filmed in Upstate New York
See Rachael Ray's Must Visit Eateries In The Adirondacks
Whether you are a Capital Region lifer or new to the area, the quest to find the best places to eat is an endless one. Sometimes, you just need ideas from an expert to find a destiation for that next great meal. That perfect expert for the Adirondacks is celeb chef and Upstate New York native Rachael Ray. Born in Glens Falls, she grew up in Lake George and still has a home in the region. Combine her local knowledge with her food expertise, that's how you now Rachel's 4 must visit eateries in her
Adirondacks Travel Guide
are legit!