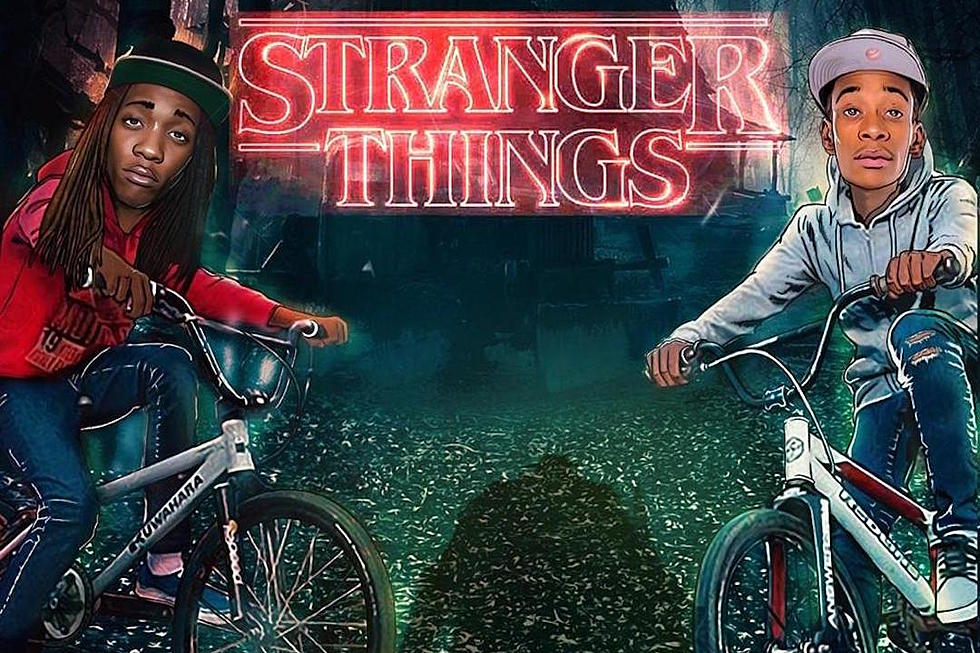 15 Dope Hip-Hop Songs That Flip TV Show Themes
Taylor Gang
In the midst of the Fall 2019 TV season (and the streaming wars), XXL highlights 15 fire rap tracks over the past 30 years that flip a theme song from a popular television program and morph it into a hip-hop banger. In other words, a playlist perfect for binge-listening. —Luke Fox
"357," Cam'Ron

TV Show: Magnum, P.I.

Over the course of his career, rap's most unapologetic coach potato has rhymed over the themes of (take a deep breath) Facts of Life, The Golden Girls, Night Court, Monday Night Football, Hill Street Blues, Gimme a Break, NFL Films and SportsCenter. But the theme of Cam'Ron's love for theme was established with his second major single, 1998's "357." A soundtrack to car chase to, the aggressive, tongue-twisting track steals liberally from Tom Sellick's 1980s vehicle, Magnum, P.I.

"Batman & Robin," Snoop Dogg Featuring Lady of Rage and RBX

TV Show: Batman

DJ Premier reimagines the Neal Hefti's surfy, spy-flick feel of the 1966 theme music to the original Batman television series (think Adam West in tights… actually maybe don't) for this mini Death Row reunion in 2002, featuring the incredible Lady of Rage (real life name: Robin Allen). Premo gives the track enough bounce to save it from being corny, and everyone involved goes along with the goofy concept. Three years later, 50 Cent and Eminem would put a more sinister twist on the idea with "Gatman and Robin."

"Cab Fare," Souls of Mischief

TV Show: Taxi

Souls of Mischief were never able to clear their creative sampling of Bob James's "Angela (Theme from Taxi)" and include "Cab Fare" on one of their major-label albums, but the track remains a cherished rarity among the diehard Hieroglyphics followers. The melancholic whistling of the 18-Emmy-winning early-1980s sitcom's theme is complemented by gritty snares and some clever, thoughtful verses about shifty cabbies.

"Early to Rise," Nice & Smooth

TV Show: Fat Albert and the Cosby Kids

For the opening track on their excellent 1989 self-titled debut, the sing-songy Bronx duo cribbed heavily from the funky intro to 1970s animation classic Fat Albert and the Cosby Kids. The show's theme song, "Gonna Have a Good Time," was composed by Ricky Sheldon and Edward Fournier, and pretty much encapsulates Nice & Smooth's modus operandi.

"Girls Ain't Nothing But Trouble," DJ Jazzy Jeff & The Fresh Prince

TV Show: I Dream of Jeannie

Philly's carefree duo burst on the hip-hop scene in 1986 on the strength of this fun rom-com romp, which is built around an obvious sampling of the theme music from 1960s TV staple I Dream of Jeannie.

"Got Ur Self A Gun," Nas

TV Show: The Sopranos

Nas woke up one morning and decided to jack the indelible theme from HBO's The Sopranos, a 'hood and critical favorite, for this memorable single from 2001's Stillmatic. Producer Megahertz stutters a vocal bite from "Woke Up This Morning" and fleshes out the track with hard drums and twinkling keys, while Escobar calls out the fake Tonys in the industry.

"My Flow Is Tight," Lord Digga

TV Show: The Price Is Right

Game Recordings dropped a ton of worthwhile underground 12-inches in the late 1990s. Among them is this little ditty by onetime Masta Ace Inc. affiliate Lord Digga. The gruff-voiced Brooklyn MC rides a loop from the opening theme of the iconic game show, The Price Is Right—every kid's guilty pleasure on a sick day. Come on, everybody. Let's all get down.

"People's Court," Jay-Z

TV Show: People's Court

Jay-Z holds his own kangaroo court deep in Marcy Projects on this rough-edged concept piece that swings a hard gavel at the end of DJ Clue's 2000 Backstage: A Hard Knock Life mixtape. "Two guns, right over left, that's how I cross-examine," Jigga quips during a series of less-than-lawful metaphors about taking verdicts into his own hands. "Fuck the judge, fuck the jury when you're warring with me," Hova spits, "It's people's court, we hold court in the street." Despite the made-for-TV beat, Judge Wapner this is not.

"Puppets (Succession Remix)," Pusha-T

TV Show: Sucession

Our favorite dope rhyme slinger linked with composer Nicholas Britell to spice up the HBO family drama's addictive instrumental with a pair of typically wicked paranoid, power-hungry verses and a hook that drives home the show's themes. The two apparently crossed paths at a Pharrell recording session, and Pusha suggested a remix after getting enraptured by the series' first season.

"We talked about the connection to power and its dynamic, issues writ large: struggle, pain, all of the things we could deal with," Britell told Vulture.

"Stranger Things," Wiz Khalifa Featuring J.R. Donato

TV Show: Stranger Things

The pulsing synths that set an eerie tone for Nexflix's 1980s-inspired kiddie spookfest get turned upside down and buoyed by a drum track in this 2016 Wiz Khalfia loosie. Christian MC Andy Mineo also jacked the series' theme for his own track titled "The Upside Down."

"The Opening Title Sequence," Wale

TV Show: Seinfeld

Whereas most rap artists are cool with sampling a TV theme and running, Wale actually developed a friendship with Jerry Seinfeld, getting the comedian to add skits to his Mixtape About Nothing, an entire concept project built around his love for groundbreaking 1990s sitcom Seinfeld. "I thought he was a very charming young man. And then I heard about the mixtape, and he came up with the idea of doing the whole album," Seinfeld told Rolling Stone. "It just felt so offbeat, and that's what appeals to me."

"Transformers," Warren G

TV Show: Transformers

For this cut off his sophomore LP, 1999's Take a Look Over Your Shoulder, Warren G rides an G-funkdafied instrumental culled from The Controllers' "Stay" but stays true to the track's title on the hook. Incorporating the sticky riff from the popular robot-slash-vehicle wars cartoon, Warren puts two-faced fakers on Front Street: "Transformers! Busters in disguise!"

"Turn It Up (Remix) / Fire It Up," Busta Rhymes

TV Show: Knight Rider

While the original version of this rabble-rousing Busta Rhymes jam off his excellent When Disaster Strikes LP (1997) borrowed a sample of Al Green's "Love and Happiness" (a hip-hop go-to), the updated remix/video snatched the manic electro synths from 1980s talking-sportscar program Knight Rider. David Hasselhoff would be proud that Busta's rapid-fire flow combined with a nostalgic sound to reach No. 1 on the rap charts.

"Welcome Back," Ma$e

TV Show: Mr. Rogers' Neighborhood

Producer The Movement outfitted the return of Bad Boy's shiny-suited star in 2004 by reaching into the prime-time television archives and updating the opening theme of Welcome Back Kotter for a light, breezy comeback single. The pastor doubled down on TV inspiration by parodying the single's video after Mr. Rogers' Neighborhood. Hello, boys and girls.

"Whoa Now," B Rich

TV Show: The Jeffersons

Ja'Net DuBois's soulful soundtrack to '80s sitcom The Jeffersons, "Movin' On Up," gets sliced and diced in one of the more memorable tracks from the short-lived career of early-2000s rapper B Rich. "Whoa Now" is fun, light and nostalgic in a good way—helping us ignore the fact that B Rich sounds a lot like Nelly.