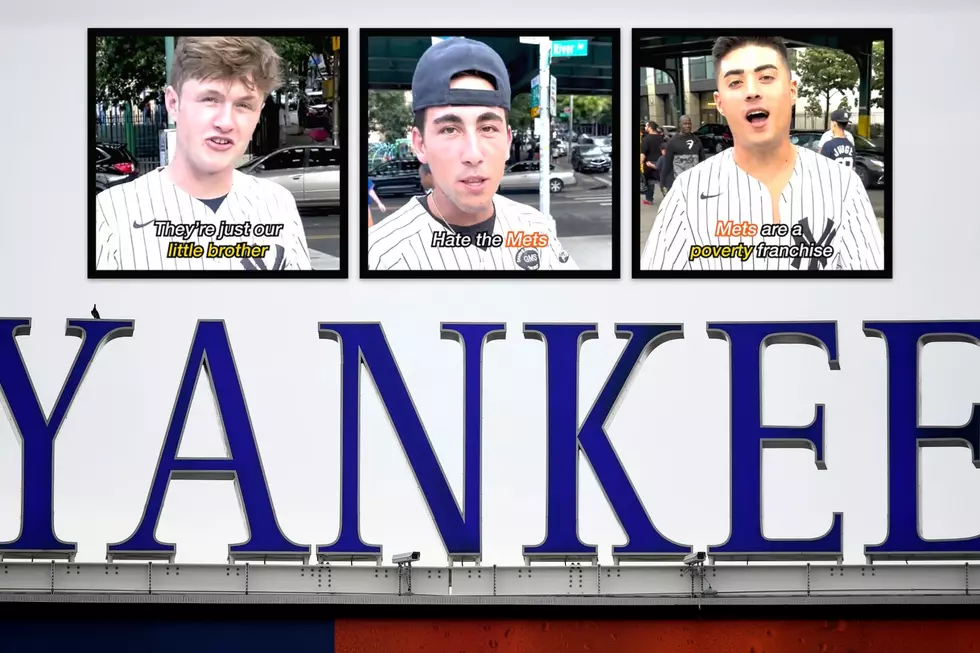 Watch NY Yankees' Fans Trash 'Poverty Franchise' in Queens [VIRAL VIDEO]
Getty Images / Twitter (@CBSSports)
Another chapter was added to the storied history of the Subway Series earlier this week.
The New York Yankees and New York Mets met at Yankee Stadium on Monday and Tuesday, and played Games No. 3 and 4 of the 2022 Subway Series. The Yankees won both games at the Stadium, ultimately splitting the regular season portion of the series, two wins apiece.
Though the teams won't play each other again this regular season, the hatred between the two fanbases is never-ending, and a video went viral earlier this week that showed exactly what Yankees' fans think of their brethren in Queens.
---
Video Shows New York Yankees' Fans Mocking Mets' Fans During Subway Series
A video began to circulate on Twitter yesterday which featured multiple baseball fans, dressed in New York Yankees' pinstripes. The video showed each fan giving their thoughts on the New York Mets, and by extension, their fans.
Some of the responses were absolutely hilarious:
Let's run through some of our favorite responses, shall we?
The Mets are a poor organization
Just jealous of the Yankees
They're the little brother
They are a poverty franchise
Be mad at your dads, Mets' fans
To quote Kenny Bania from Seinfeld, that's gold Jerry, GOLD!
Now, let's debunk some of these claims. First of all, the Mets are no longer a poverty franchise. With Steve Cohen having bought the team two years ago, the Mets are the front-runnners in spending on a consistent basis, and are poised to have a payroll that nears $350 million in 2023.
With the implementation of Cohen, and the subsequent hiring of GM Billy Eppler, and manager Buck Showalter, the Mets are quickly shirking the reputation of being a poorly-run organization.
If Sandy Alderson were to step aside, then they'd really be on their way!
That all being said, the claim of the Mets being the little brother to the Yankees is hard to dispute...yet. If the Cohen-led Mets begin to win championships, as they seemed determined to do in the near future, then that reputation will change. Until then, however, the Yankees will remain the most recognizable sports brand in the world, and the Mets will have to slowly chip away at that foundation.
Either way, one thing is for sure: we are in for some LEGENDARY Subway Series match-ups in the near future.
Re-live The Glory Days with This Old Yankee Stadium Virtual Tour
The "Old" Yankee Stadium may be gone, but plenty of photos and videos of the classic ballpark still exist. Re-live its history and lore through this virtual tour.
Ten Trades That Took the NY Yankees from 'Pretenders' to 'Contenders'
A steal, a fleecing, a robbery...whatever you call it, a one-sided trade can completely change the future of your team. These trades did that for the NY Yankees.