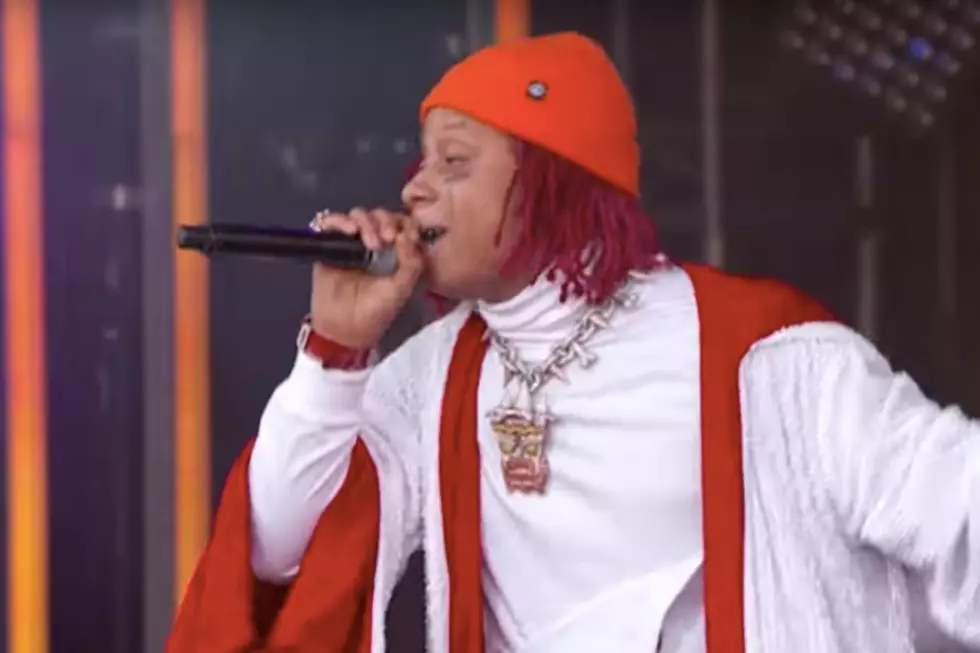 Trippie Redd Performs "Topanga" on 'Jimmy Kimmel Live!'
Trippie Redd via YouTube
Trippie Redd made his grand debut on Jimmy Kimmel Live! by bringing his new song "Topanga" to life. On Thursday (Nov 1.), the 19-year-old rapper hit the stage in Hollywood, Calif. to perform A Love Letter To You 3  lead single.
2018 XXL Freshman walked out on stage in a luxurious white and red priest's uniform while his dancers and DJ helped fuel the crowd's hype. Bouncing across the stage, Trippie looked like he was having a good time performing the track live for the first time.
The "Dark Knight Dummo" MC is doing the most to prepare fans for the highly anticipated third installment of his A Love Letter To You series. Recently, Trippie dropped the tracklist for ALLTY3, which includes Kodie Shane, Youngboy Never Broke Again, Nel-Denarro and Juice Wrld. Before he dropped the video for "Black Magic," Trippie also recently previewed the collab with Juice Wrld.
On the track, Trippie fires off some hard-hitting bars, rapping, "You got flipped and left in the past to me/You pick that knife up and you stabbing me/Wish it was a paper cut but it's the cash I bleed."
Trippie has been making a lot of noise, and he's poised to continue doing so. Soon, he'll hit the road for Travis Scott's Astroworld tour. The Life's A Trip rapper will join the likes of Gunna and Sheck Wes as they open up for La Flame. They'll begin the tour in Baltimore, Md. on Nov. 8 and hit 25 major cities across the country until they conclude in Los Angeles.
Watch Trippie Redd bring "Topanga" to Jimmy Kimmel Live! below.trip
See Behind-the-Scenes Photos of Trippie Redd at the 2018 XXL Freshman Cover Shoot