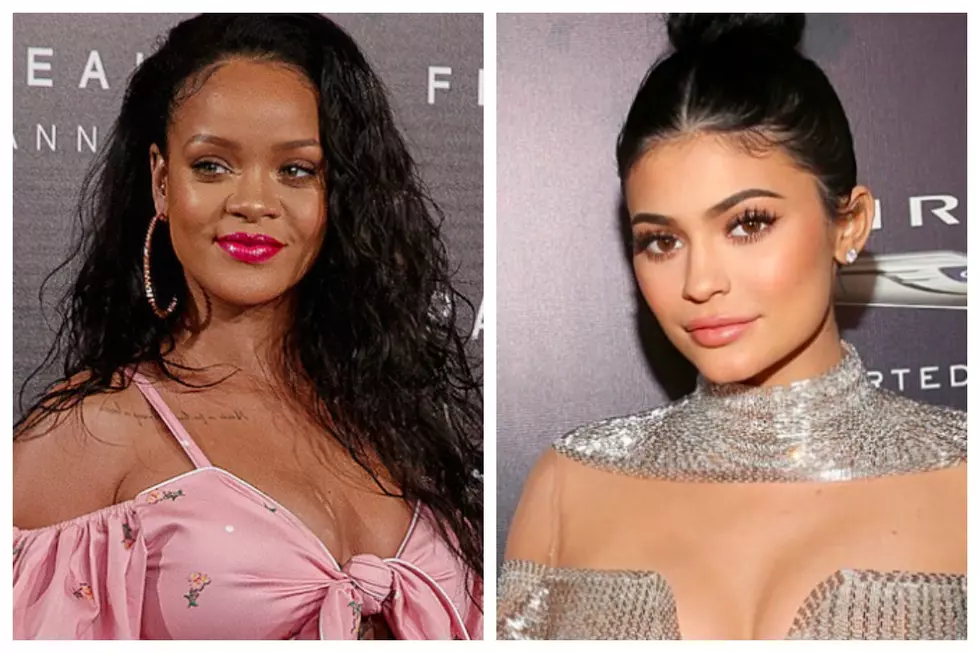 Rihanna's Beauty Line Is Generating More Buzz Than Kylie Jenner's
Eduardo Parra/Jesse Grant, Getty Images
It's no secret that Rihanna's Fenty Beauty line has made a huge splash since it debuted four months ago. But now, a new report by Fizziology has some interesting numbers to support Ri-Ri's beauty takeover.
According to the report, Fenty is more buzzed about on social media than Kylie Jenner's Kylie Cosmetics. It's significant news given that Ri-Ris line only launched four months ago, while Kylie's was launched two years ago.
Much of the buzz has  surrounded the racial dynamics of the line. When Fenty launched, it was with 40 different shades of foundation for women of all skin tones. That was huge in market that has woefully underserved women with melanin, who obviously come in various shades. Add that to the fact that the Kardashian/Jenner clan is constantly under fire for appropriating black culture and engaging in clueless, if not offensive behavior where race is concerned, and it's not surprising that Rihanna's line has been like a breath of fresh air for black women in particular.
"Fenty had four times the amount of buzz of Kylie Cosmetics, and 57 percent of the conversation around Kylie Cosmetics was negative," Jen Hadley, co-creator and co-president of Fizziology, told The Post. "It appears that Fenty damaged the Kylie Cosmetics brand."
Still, don't cry any rivers for Kylie. Her line made $420 million with in the first 18 months of its launch, so she isn't exactly missing any coins. As for Ri-Ri, the buzz around her new line goes beyond financial gain, as she's made a social impact as well.
"Rihanna/Fenty did a brilliant job of offering products aimed at women of color and also embracing that from a marketing standpoint," said Jonathan Feeney, household and personal care analyst for Consumer Edge Research.
Check out SZA modeling Fenty below.
Worst to Best: Every Rihanna Album Ranked