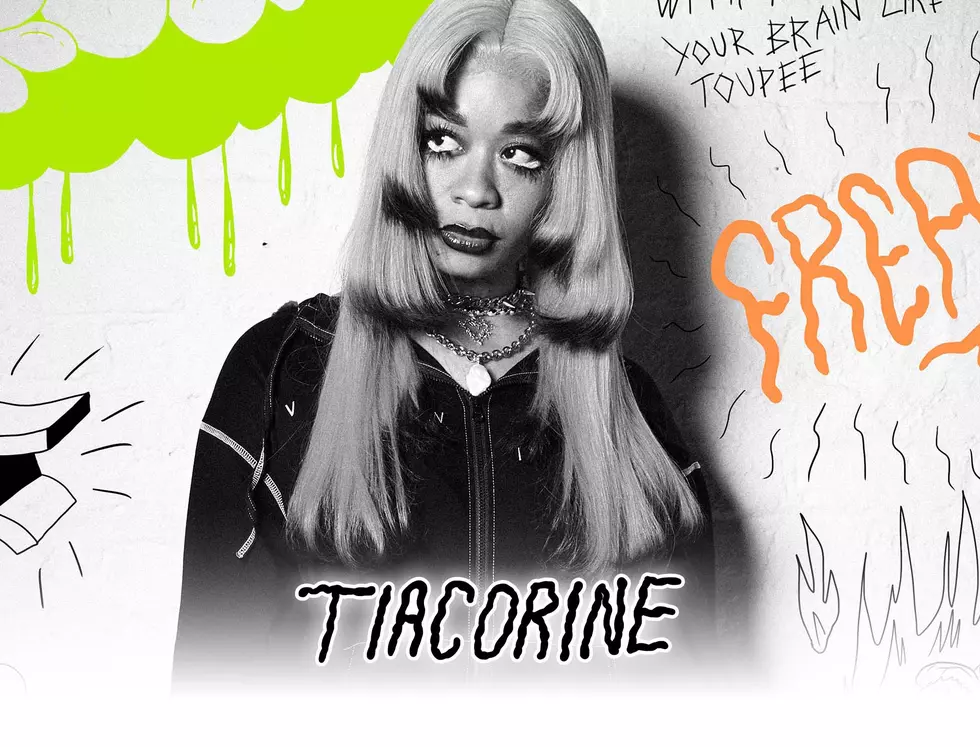 TiaCorine – 2023 XXL Freshman
GOV'T NAME: Tia Shults
AGE: 30
REPPIN': Winston-Salem, N.C.
TWITTER: @tiacorine
INSTAGRAM: @tiacorine
TIKTOK: @tiacorine
NOTABLE RELEASES: Songs: "FreakyT," "FreakyT (Remix)" featuring Latto, "Lotto"; Projects: 34Corine, The Saga of 34Corine, I Can't Wait
LABEL: South Coast Music Group
CURRENTLY WORKING ON: Currently untitled EP dropping in August.
WHO ELSE SHOULD BE PART OF THIS YEAR'S CLASS: "I feel like Monaleo definitely should have been. She's really fire. She's hard. She has really good bars. I love her videos. And congratulations to her for being a new mommy. I feel like Gloss Up, too. She's really, really hard. I like her. And K Carbon. I like those girls. They're really fire."
INFLUENCED BY: "Definitely SZA. I listen to her a lot. Sade. Erykah Badu. Willow. Pi'erre Bourne. Tyler, The Creator, big, big time. Lil Yachty. Oh, and Joji. I really like him. Joji is fire. And Frank Ocean. Love, love, love Frank."
AS A FRESHMAN IN HIGH SCHOOL: "I was fly as hell. I was weird, and I was cool with everybody. A lot of people said I was weird. They said I had a weird style. I would say you wear stuff, it matches, but it doesn't match. I was the cool one. Everybody still to this day is like, 'Man, I used to be fly as hell, but you still are.' I was definitely a nerd. I was quiet. I did my work. I played the flutes. I was in the band. And social butterfly. I got in trouble a lot for talking."
TRUTH ON BEING AN XXL FRESHMAN:
"[Being a Freshman became a dream of mine] ever since I've seen it. When you're making music, that's just the goal. Everybody that makes it on there is usually kind of like stamped, like, 'Oh, you got to f**k with it.' Everybody doesn't make it.
I think it's really important because I feel like every artist that has been a part of it has had a really successful career. I just think it's just a really good look. I feel like people take you a little more serious and it's just so broad. It's so broad that everybody pays attention to this. So, everybody's going to see me. This just gives me an opportunity to just expand my listeners. And I feel like even for brands, 'cause I chose this opportunity to make sure that I was really on my fashion so that people could tap in.
I feel like my personality is a little more eccentric. I have a different aesthetic. I feel like I'm more like anime and just bubbly and a little different than how most people are, especially with my outfits and just my makeup, as you can see. I definitely bring different flows. I have different voices. A lot of people kind of just have their own lane, and they just stick to that, but I'm just all over the place. I'm a wild card.
[When the cover comes out], Oh my gosh. I always like to celebrate with my city and my friends, so, I'm really good at throwing parties. I think I'm going to just have a water adult fun day with my friends and have my grill out there and just turn up in the country with my people."
Watch TiaCorine's 2023 XXL Freshman Freestyle
TiaCorine's approach to music is one that comes with instrumental training. She played the flute and was in the band in high school. So, the sounds heard in her breakout tracks like "FreakyT" or "Lotto" aren't by chance. It's intentional. The Winston-Salem, N.C. rapper takes pride in her artistry, songwriting ability, versatility and much more. Tia is easily in her own musical pot of gumbo, with rations of rap, sprinkles of rock, dashes of new school and old-school sounds and pinches of melodies. All of which have led to her 2023 XXL Freshman freestyle, where her lyrics takes center stage.
The 30-year-old rapper, one of the newest inductees into the 2023 XXL Freshman Class, is braggadocious with hers. If there's anyone that thinks they can one up TiaCorine, she suggests to try again. But let it be known that there's no arguing or debates involved because the truth is as it stands. Tia is that girl. In her freestyle, the the rising artist rhymes swiftly. Not as fast a rap vets like Twista or Busta Rhymes, but there's speed to her flow. One that she's displayed on some of her prior efforts.
"I'ma get to the cheese like a vato/Shorty can't smoke without fonto/I'ma light this b***h up in conto/You could f**k with my n***a, I got more/I ain't trippin', I ain't f**kin' no broke h*es," she raps.
TiaCorine maintains confidence in her bars, and states that her crew is always ready as well. "And my b***hes is strapped, they cut holes/And I'm beating that b***h give her combos/And I'm killin' and chillin' in Sambas/You wanna argue? Go talk to your mama/I get money, don't f**k with the drama/Is our commas and money in common?" Tia spits.
The multifaceted talent has been dropping music since 2019, and her first project, 34Corine, arrived in 2020. That offering contains her hit "Lotto," which currently has over 10 million streams on Spotify. The track received the remix treatment from fellow North Carolina native DaBaby, and appears on The Saga of 34Corine, her 2021 follow-up project. "Luigi," another notable song, sits on her sophomore project as well.
In September of last year, Tia released I Can't Wait, which includes "FreakyT," the track responsible for her virality this year. An undeniable smash that had social media in a chokehold, it has more than 25 million streams on Spotify. iIt's safe to say that number isn't finite. Earlier this year, TiaCorine unleashed the remix to "FreakyT" with former 2020 XXL Freshman Latto. The two united offer the perfect combination of complementary flows and cadences. The road is endless for Tia, who is hitting the road to perform this summer and delivering an untitled EP in the coming months.
Check out TiaCorine's 2023 XXL Freshman freestyle below.
Watch 2023 XXL Freshman Class Revealed
See the 2023 XXL Freshman Class