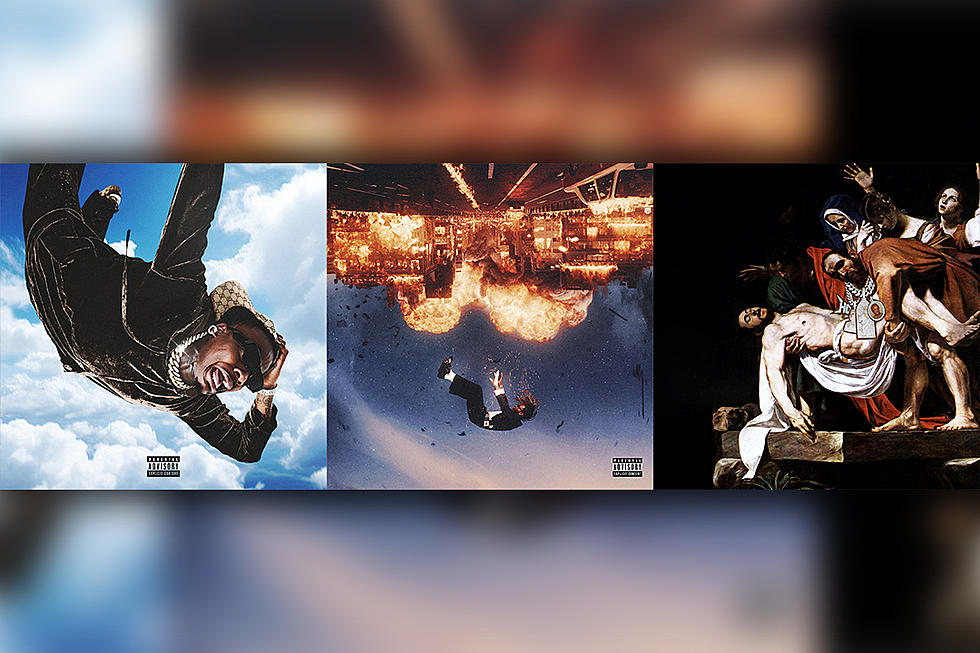 Offset, DaBaby, Westside Gunn and More – New Hip-Hop Projects
South Coast Music Group/Interscope Records/UMG Recordings Inc./Griselda Records/Empire
Week in and week out, the rap game never disappoints when it comes to new music drops. This time around, a Georgia-bred rapper draws inspiration from the King of Pop in the form of a new LP, a North Carolina rhymer is back with a new EP, a Buffalo MC unleashes what he touts as his final full-length offering and more.
Offset Drops Second Solo Album, Set It Off
With cover art that serves as an homage to his idol, Michael Jackson, Offset comes through with his second solo effort, Set It Off. The former Migos member delivers a 21-track LP that includes guest appearances from heavy hitters like Travis Scott, Future, Latto and of course, his wife, Cardi B.
Led by the Bardi-assisted "Jealousy," Set It Off is also previewed by the single, "Fan," which is accompanied by a "Thriller"-inspired music video. In speaking on his inspiration for the album, Offset describes how he likens his career to that of Michael Jackson's.
"I've been working on this project for over two years now," Offset says. "This season is personal for me. It marks a new chapter in my life. I feel like Michael Jackson coming from a successful group breaking records to superstardom on my own. This body of work is healing for me and a letter to my fans and supporters."
Set It Off serves as Offset's first studio project since the tragic passing of his late partner in rhymer, Takeoff, who was shot and killed in Houston on Nov. 1, 2022.
DaBaby Delivers Let's Do It Mixtape
DaBaby returns with a brand new featureless mixtape called Let's Do It. The tape arrives after DaBaby dropped off the single "Trickin'" on Sept. 29. Dababy's last full length album, Baby on Baby 2, dropped back on Sept. 23, 2022. The album debuted at No. 34 on the Billboard 200 chart, and spawned the single "Boogeyman," which found the North Carolina rapper claiming he slept with Megan Thee Stallion multiple times.
DaBaby also dropped off his Call Da Fireman EP on May 5, which featured the song "Shake Sumn." Baby then remixed the track with a guest verse from Sexyy Red, and the pair performed the song together during the opening moments of the 2023 BET Hip Hop Awards on Tuesday (Oct. 10).
DaBaby has also been trying hard to distance himself from the homophobic comments that he made at the 2021 Rolling Loud Festival in Miami. In an interview with The Shop a day before the release of his Call Da Fireman EP, Baby said he's been trying to move on from the incident.
"Yeah, like my [character]...That's somethin' I can't, like I'm unfaltering on that," Baby said. "Like, you know, like I say like, you almost gotta make it your business to not let that s**t get to you. Cause once it gets to you, it's almost like, you know...It's a nonstop game of figurin' this s**t out. That's what we have to do anyway, is to market ourselves, you know what I mean, to make ourselves worth somethin'."
Westside Gunn Releases And Then You Pray for Me, Says It's His Last Full-Length Album
Westside Gunn releases And Then You Pray for Me, a sequel to 2020's Pray for Paris that the Griselda co-founder says is his last full-length offering. The 21-track opus, which Gunn says is a "masterpiece" in its own right, features cover art designed by the late Virgil Abloh, who inspired the direction of the album's content as well.
While ATYPFM certainly includes boom-bap-style beats from frequent collaborators such as Daringer, Conductor and RZA, Westside Gunn also tapped into the production skills from the likes of Tay Keith and ForeverRolling, among many others. The project also finds WSG working with a wide array of rhymers from all corners of the game including JID, Rick Ross, Denzel Curry and, of course, fellow Buffalo spitters Benny The Butcher and Conway The Machine.
While Westside Gunn has declared that And Then You Pray for Me is his final studio LP, he also promises that this will not be the last the rap game hears from the Buffalo MC.
"I'm not saying I won't come with a five-song EP with Madlib or I won't do a seven-song EP with Alchemist or I won't rap," Westside Gunn explains in an interview with Rolling Stone earlier this week. "I'll do all of that, but making a studio album, I'm done with all that. It's back to dumping until I don't want to dump no more. I'm going to have fun now. It's no more pressure."
Check out other new projects this week from Kaliii, Ken Carson, Paul Wall and Termanology, and more below.
South Coast Music Group/Interscope Records

South Coast Music Group/Interscope Records

And Then You Pray for Me

Westside Gunn

Atlantic Recording Corporation

Atlantic Recording Corporation

Start, Finish, Repeat

Paul Wall and Termanology

Perfect Time Music Group/ST. Records

Perfect Time Music Group/ST. Records

The Am3rican Dream

Jay Worthy, Kamaiyah and Harry Fraud

GDF/Keep it Lit Records/SRFCHL LLC

GDF/Keep it Lit Records/SRFCHL LLC

Zombie

OT The Real and AraabMusik

4EvaThePharaoh

Nef The Pharaoh

When You Wake Up

BigBabyGucci

RCA Records/Sony Music Entertainment

RCA Records/Sony Music Entertainment

MPA Bandcamp Music Group/Empire

MPA Bandcamp Music Group/Empire

#Boyz Entertainment, LLC/Empire

#Boyz Entertainment, LLC/Empire

Winners Circle Entertainment

Winners Circle Entertainment