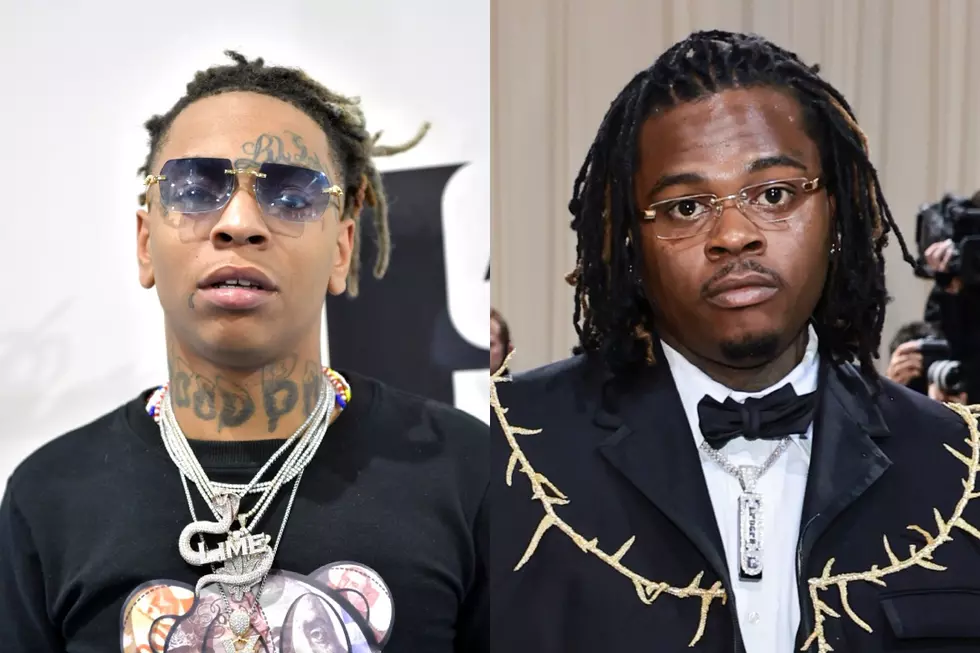 Lil Gotit Warns Against People Posting About Lil Keed After Gunna Returns to Social Media With Keed Tribute Post
Amy Sussman/Jamie McCarthy/Getty Images (2)
Lil Gotit has posted a warning telling people not to share social media posts about his late brother Lil Keed, in the wake of Gunna sharing a tribute post to the late YSL rapper on Twitter.
On Wednesday (Jan. 11), Lil Gotit went Live on Instagram to address the issue. According to the rapper, his mother takes issue with people sharing posts about Keed on social media. So he felt the need to relay the message.
"My mama said, she would like for nobody to post Keed in any type of way," Gotit said in the Live stream. "Like, trying to be funny...Just don't post it 'cause Lil Gotit gon' say something. That's all I'ma say. I don't give a fuck what nobody do, what nobody say, just don't post Keed. I don't care. I just got on here to say that. That's what my mama said."
He continued: "Nobody post bruh. It can be happy. It can be trying to be funny. Just don't post him at all because I'm having no understanding. You hear me? That's all I'ma say. 'Cause if Keed was alive he wouldn't have even accepted none of this shit, to be honest."
Lil Gotit's video comes on the heels of Gunna sharing a tweet that offered tribute to Keed, who died less than a week after Gunna was arrested in the YSL RICO case.
"R.I.P KEED [I love you] & [I miss you] TWIN," he posted along with crying and dove emojis.
Aside from receiving backlash from fans on the post, Lil Gotit appeared to take exception to Gunna mentioning his brother.
"Niggas need to stop that cap," he posted on his Instagram Story shortly after Gunna's uploads. "Don't call me twin," he added in a follow-up post.
Gunna has turned into a controversial figure in the hip-hop community after taking a plea deal in the YSL RICO case and admitting that YSL is a gang that conducts illegal activity during a court hearing.
Gunna and his attorney Steve Sadow are insistent that his admission will have no affect on Young Thug and the other members of YSL who are taking the case to trial.
"Gunna did not snitch to get out of jail," Sadow said in a statement on Instagram. "He has said nothing and is not cooperating. His plea statement cannot be used in court against any other defendant. So please stop spreading lies."
That hasn't stopped fellow rappers from calling Gunna out.
See Lil Gotit's Warning Against Posting About Lil Keed on Social Media Below
See Hip-Hop Artists We Lost in 2022
Rest in power to these beloved artists.