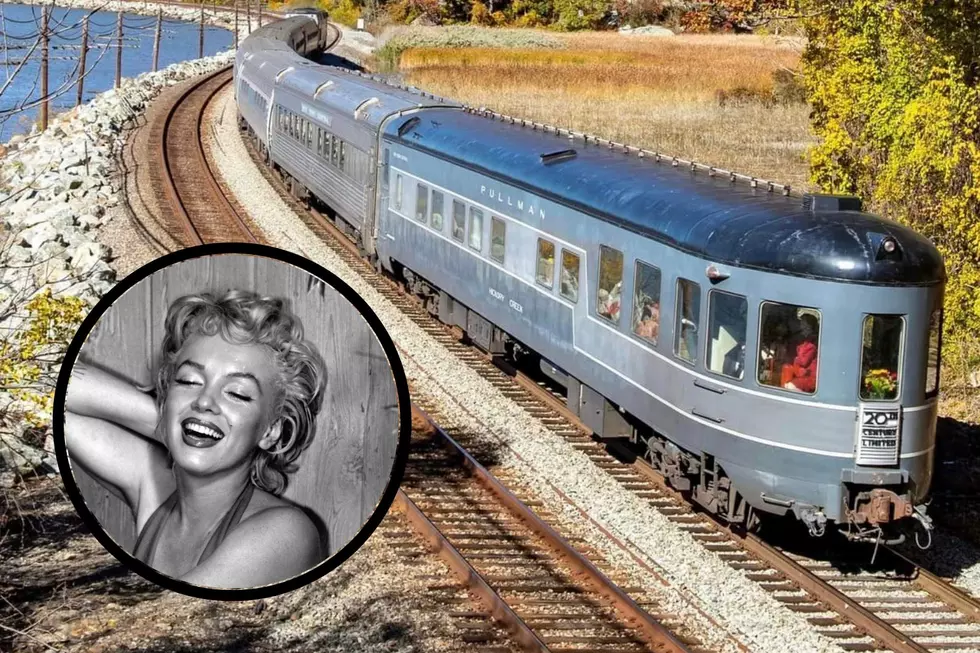 Ride Historic Train Loved By Celebrities From NYC To Albany
Getty Images/Canva
A vintage train that was once a favorite of Marilyn Monroe and Walt Disney will be riding the rails along the Hudson River from New York City to Albany next month.
Before flying the friendly skies became the primary means of mass transit when moving across the country, riding the rails was the main way Americans traveled around our great nation. While still a form of viable transportation today, that history does bring a bit of nostalgia when riding the rails. Anytime I jump on an Amtrak train I still feel that history, and now it is coming back to Albany on the historic 20th Century Limited Train.
According to Hudson River Rail, the 20th Century Limited was a luxury train that operated from 1902 to 1967 between New York City and Chicago and "...catered to the highest of society. Entrepreneurs, business people, and celebrities - like Marilyn and  Disney." The last remaining restored passenger car from this historic train, known as the Hickory Creek Car= is still in service for train and food afficionados to experience its luxury along the Hudson River from New York City To Albany.
Hudson River Rail says the Hickory car was "...the rearmost and most exclusive car on the 20th Century Limited..designed with oversized picture windows meant for the one-of-a-kind view of the Hudson River." When you book a Hudson River day trip on this car, the full-day excursion lasts about 9 hours and included lunch served along the way.\
Now the only catch to this journey is it boards at Moynihan Station in New York City for a round-trip to Albany but would be worth planning a getaway around in  New York City for the train buff.
You can see a full schedule of excursions and purchase tickets through the Hudson River Rail website.
All Aboard! Take a Scenic Train Ride Through the Southern Adirondacks
All aboard! Take a beautiful scenic trip on the Saratoga Corinth & Hudson Railway. This train line was originally built in 1864 by the Adirondack Company. The line was refurbished and begins at the Corinth Station and runs through the Southern Adirondacks region. The standard coach is a historic locomotive that was first built in 1943. Passengers can ride in first class, standard coach, or the open-air seating car that features picnic tables. This train runs on Saturdays and Sundays. Each scenic ride is ninety minutes. There are themed rides too including fall train tours.
Take this Vintage Train Through Cooperstown - But Watch Out for Outlaw Gangs!