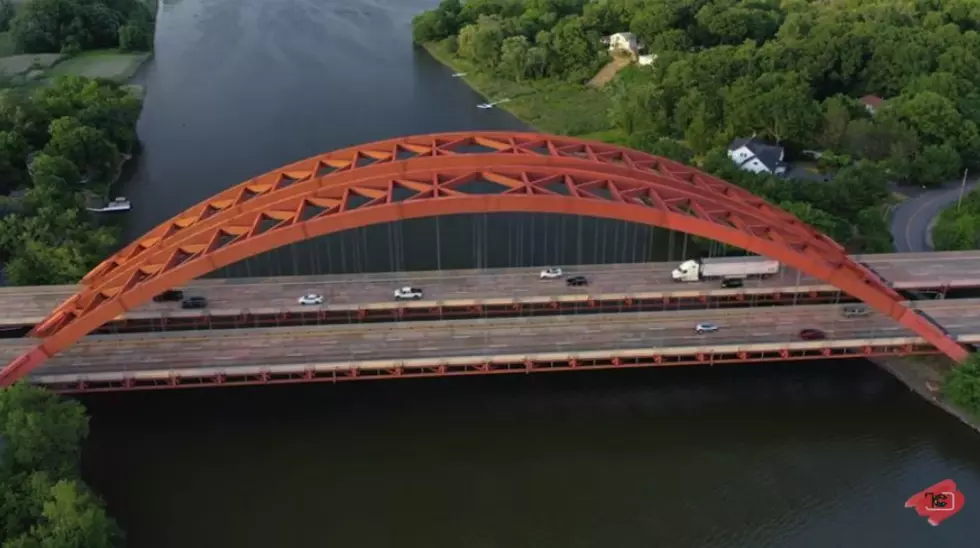 7 Interesting Facts About the Capital Region's Twin Bridges
YouTube.com-JayPhoto
Are you one of the thousands that cross the 'twins' each day? Heading North to Lake George or heading South to Albany? Most of us from the Capital Region refer to the bridge spanning the Mohawk River as the Twin Bridges or simply the 'twins' but there is much more to this landmark.
Here are 7 interesting facts about our Twin Bridges.
1. The Twin Bridges opened in 1959.
2. We call it the Twin Bridges but it's actually named the Thaddeus Kosciusko Bridge. Kosciusko was a Polish patriot that helped us defeat the British in the Revolutionary War.
3. It is estimated that approximately 115,000 vehicles cross the Twin Bridges each day.
4. The Twin Bridges are located in Saratoga County AND Albany County, New York.
5. The Twins were inaugurated in 1961 by Governor Nelson Rockefeller.
6. The Twin Bridges are more than 2 and one-half football fields in length.
7. Thaddeus Kosciusko was friends with Vice President Thomas Jefferson. According to New 10, Jefferson helped Kosciusko draw up a will with proceeds from his estate going to help free as many slaves as possible.
Next time you cross the Twin Bridges, I mean the Thaddeus Kosciusko Bridge, think of the 100,000 others that have crossed that day and remember the Polish patriot that the bridge is named after.
Is Albany Considered Upstate New York?
Here's the latest information on what New York has to say about the debate.
Sneak Peek Inside The Creepy Old Central Warehouse
Abandoned 1800's Convent in Albany
Believed to have been built in the 1860's, this building is part of a vast complex that spans almost 75 acres off of Southern Boulevard in Albany. It was once a convent and then became part of the Doane Stuart School, which operated on the property until 2009.
Although abandoned for a long time, it's nice to see that graffiti artists and vandals hadn't hit the building as of these photos. According to the post, this video was taken in July of 2020. At the time there was clearly some work being done rehabbing the building. Strands of lights for construction crews were hung in the hallways and new steel beams were being put up.
Apparently the plan was to turn the property into a mix of townhomes, hotels, an amphitheater and art gallery. In 2019, the banks foreclosed on the property and those plans were stopped.
The Times Union reports that the buildings were about to be sold at auction in 2022, but the current owner declared bankruptcy and its future is now in the hands of the courts.
Hopefully someone can breathe new life into the property before nature takes over.
WARNING: Under no circumstances should you enter this property. By doing so you risk bodily harm and/or prosecution for trespassing on private property.