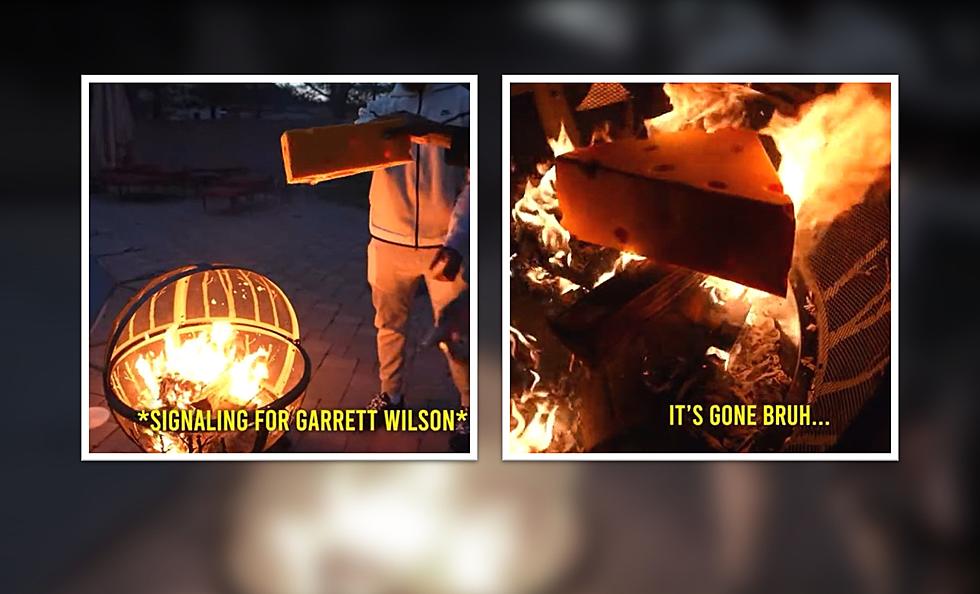 New York Jets' Star Burns Cheesehead, Pleads for Rodgers Trade in Viral Video
Twitter (@uSTADIUM)
Ahmad 'Sauce' Gardner really, REALLY wants Aaron Rodgers to become a member of the New York Jets, and he's been willing to prove it.
If you remember, the star cornerback made headlines in Green Bay earlier this year by stealing a signature "cheese-head" fan item, and running around Lambeau Field high-fiving fans while wearing it after the Jets pounded the Packers, 27-10.
Apparently, Gardner kept the cheese-head hat all this time, and in a video that has since gone viral, used the prop to prove his desire for a Rodgers-to-New York trade to not only happen, but happen soon.
---
NY Jets' Sauce Gardner Goes Viral for 'Burning Cheese-head' Video
A story from ESPN informed us of a viral video that had been created by Ahmad 'Sauce' Gardner, AP Defensive Rookie of the Year, and cornerback for the New York Jets. Gardner, along with fellow rising sophomores Garrett Wilson and Breece Hall, found a creative way to use Sauce's now-infamous cheese-head hat as part of their plea for the services of Aaron Rodgers.
Take a look at the video, posted on Gardner's official YouTube page:
Believe what your eyes are telling you, because it's the truth: Sauce Gardner wants the Jets to trade for Aaron Rodgers so badly, that he was willing to toast his cheese-head hat as a sign of goodwill for his team.
Funny antics aside, there was one line of this video that told the entire story of how Jets' players feel about this rumor:
"I need you to come here so we can win a Super Bowl."
Jets' players, or at-least a portion of them, are all-in on an Aaron Rodgers trade, and I can't blame them.
When you look at this from a player's perspective, it makes a lot of sense. Players on the New York Jets want to win games, and win a Super Bowl, and in order to do that, they recognize that they need the best players possible on their roster as soon as possible.
So, if a player gets the chance to have a future first-ballot Hall-of-Famer under center in 2023, odds are, they'd be a fan of that.
Not only that, but players probably aren't that concerned about Rodgers' extracurricular actions, especially when compared to members of the media or fans of the team, and how much they seem to care.
Being a professional athlete means you belong to a brotherhood, in a certain sense. In all likelihood, other members of the brotherhood have positive things to say about Rodgers as a teammate, and as a person, and that's part of the reason why Gardner, Wilson and Hall feel the way they do.
At this point, it feels as though it's only a matter of time before this deal gets done, and the cheese-head in the Jets' secondary gets his wish.
Should We Believe These Ten Odd New York Football Rumors in 2023?
Rumors are flying as we enter the 2023 NFL offseason, and with these ten New York football rumors, we're left asking this question: do we believe them, or not?
These Seven Super Bowl Champions Have Capital Region Ties
The Capital Region has seen its fair share of champions in the world of sports. Here are seven football players and coaches who have ties to the Capital Region, all of whom lifted the Lombardi Trophy as a Super Bowl champion.