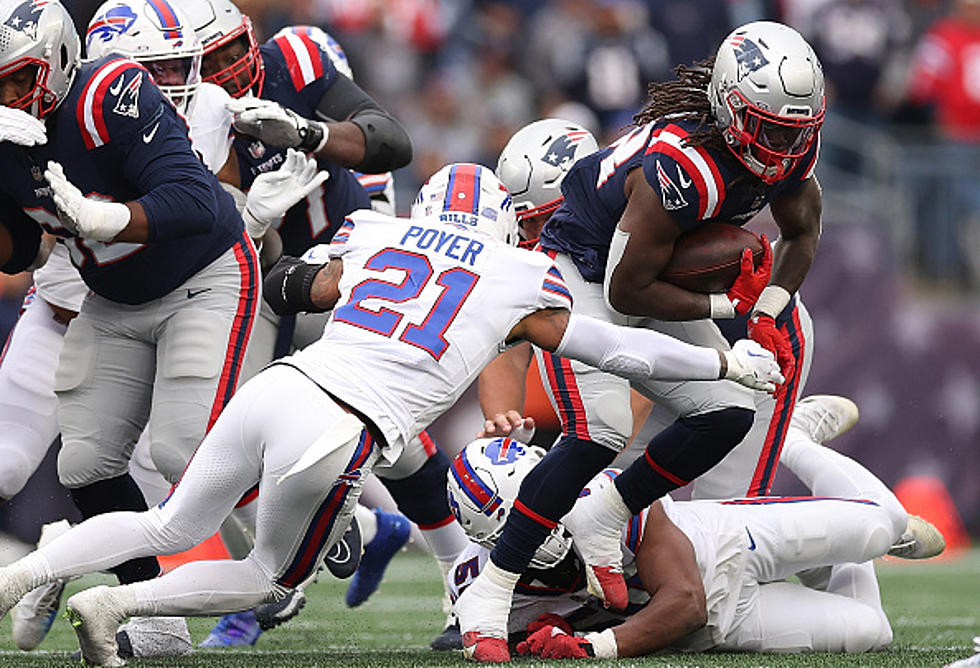 Bills Player Says Patriots Should Have Gotten This Penalty
Getty Images
The Buffalo Bills' season has taken a turn for the worse.
The Bills lost a frustrating game on Sunday to the New England Patriots, 29-25. Once again, the Bills offense got off to a slow start. They didn't hit any sort of rhythm until the last two drives of the game, when they got down two scores.
The Bills defense has been ravaged by injuries but they easily had their worst game of the season, giving up 29 points to a Patriots team that was 1-5 and scored zero points against the New Orleans Saints the week prior.
There are many people who are getting blamed on Monday, including Sean McDermott, Ken Dorsey, Josh Allen and Dawson Knox. Play-calling, game plan, dropped balls and poor tackling are all talking points.
The Bills didn't have Tre'Davious White, Matt Milano, DaQuan Jones and Ed Oliver due to injury. They also only had Von Miller for six snaps.
Jones didn't play in the game but took to Twitter to let people know what he thought about a flag that the referees picked up on the Patriots game-winning drive.
The Patriots were going to be called for illegal man downfield on Rhamondre Stevenson's long run, but the officials decided to not call it after a discussion.
Jones said it was illegal man downfield.
There's no explanation for why it wasn't a penalty. It may have been because Mac Jones' pass was slightly behind the line of scrimmage, but we simply don't know what they saw and why the flag was picked up. It would have negated a 35-yard-run.
In the end, the Bills deserved to lose the game. Whether the offensive problems are Dorsey's game-planning, McDermott's decision to reign in Josh Allen, or Allen's poor performance/slow starts, they will have to figure it out or risk missing the playoffs altogether.
The Bills next play this Thursday night. They host the NFC's Tampa Bay Buccaneers at Highmark Stadium.
15 Things You Should Never Do at a Bills Home Game
Things that are a no-no to do at a Buffalo Bills home game.
22 Famous Buffalo Sports Phrases Every Die-Hard Bills and Sabres Fan Knows
Being a sports fan in Buffalo is sometimes like knowing a different language. Here are 22 of our favorite Buffalo sports phrases you already know if you're a huge fan! And if you're new here, here's how to catch up.
Gallery Credit: Clay Moden
16 Buffalo Bills With Some Of The Best And Worst Nicknames
Gallery Credit: Brett Alan