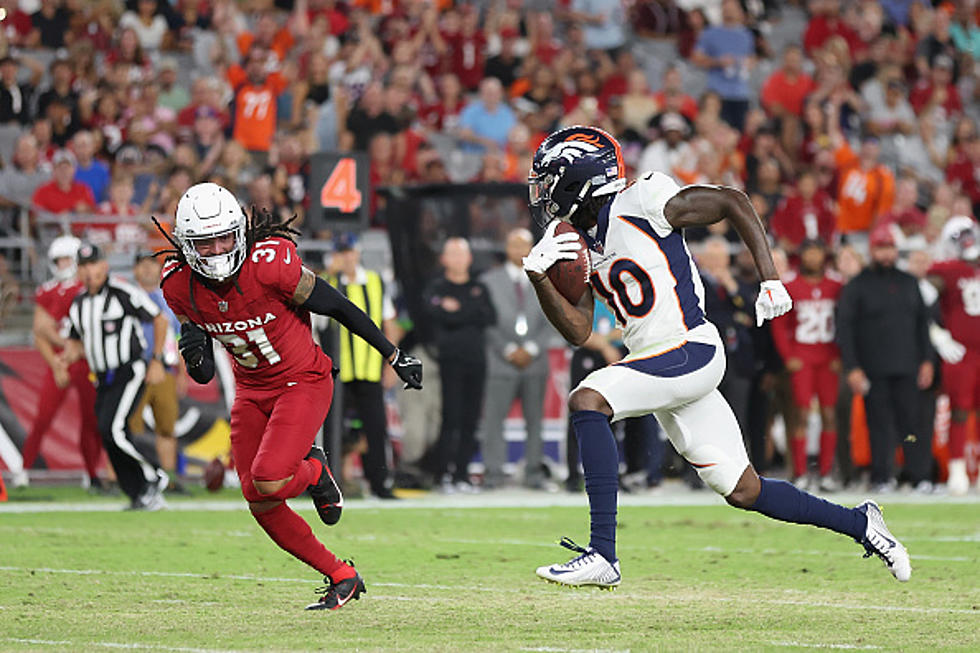 The Buffalo Bills Could Targeting Star Receiver in a Trade?
Getty Images
The Buffalo Bills are at practice in Orchard Park, with some good news on the injury front.
The only players not practicing on Thursday are cornerback Dane Jackson and left tackle Dion Dawkins. Dawkins is for a personal matter, with Jackson's being a foot injury. It remains to be seen if that foot injury keeps him out of the Sunday Night Football game against the New York Giants.
This means both edge rusher Greg Rousseau and cornerback Christian Benford should play this Sunday. Linebacker Matt Milano, defensive end DaQuan Jones and cornerback Tre'Davious White are all out of course, being placed on injured reserve.
The Bills ate 3-2 and sit second in the AFC East. The defense has been outstanding through five weeks, especially given the injuries. They should be tested though with others having to step up.
The offense has looked great in three games and frustrating in the two losses. The question is, if the defense takes a step back because of the injuries to Milano and Jones, what will happen if the offense continues to be hot and cold?
The NFL trade deadline is October 31st and according to insiders like Ian Rapoport and Ari Meirov, this trade deadline will be as active or more active than 2022, which was busy.
Teams who think they are not going to be a playoff team this season, will be looking to sell pieces. The draft class should be amazing in 2024, with a slam dunk number one pick at quarterback: Caleb Williams.
Reports are the Denver Broncos will be looking to trade players on their roster. They have the worst defense in the NFL and could have an eye towards the 2024 NFL Draft.
For Bills fans, cornerback Patrick Surtain II and even linebacker Josey Jewell are obvious trade candidates, but for Surtain, he will be pricey. Would the Bills want to give up a first round pick and likely more for him?
Instead, the Bills should target a receiver who is reportedly expected to be moved by Halloween, Jerry Jeudy.
Here's the reasoning for trading for Jeudy over Surtain.
For one, Jeudy should cost a little less than Surtain. Secondly, one cornerback at that price likely would not make a difference, especially considering the Bills emphasis on a nickel defensive package and zone coverage.
Trading for Jeudy or even Courtland Sutton would bring an added weapon at receiver and allow the Bills to outscore anyone and create a nightmare for defenses.
Because of the Bills Super Bowl aspirations and their injuries, they should be buyers this month in the trade market.
5 Of The Worst Free Agency Signings ByThe Buffalo Bills
Gallery Credit: Brett Alan
15 Things You Should Never Do at a Bills Home Game
Things that are a no-no to do at a Buffalo Bills home game.
22 Famous Buffalo Sports Phrases Every Die-Hard Bills and Sabres Fan Knows
Being a sports fan in Buffalo is sometimes like knowing a different language. Here are 22 of our favorite Buffalo sports phrases you already know if you're a huge fan! And if you're new here, here's how to catch up.
Gallery Credit: Clay Moden