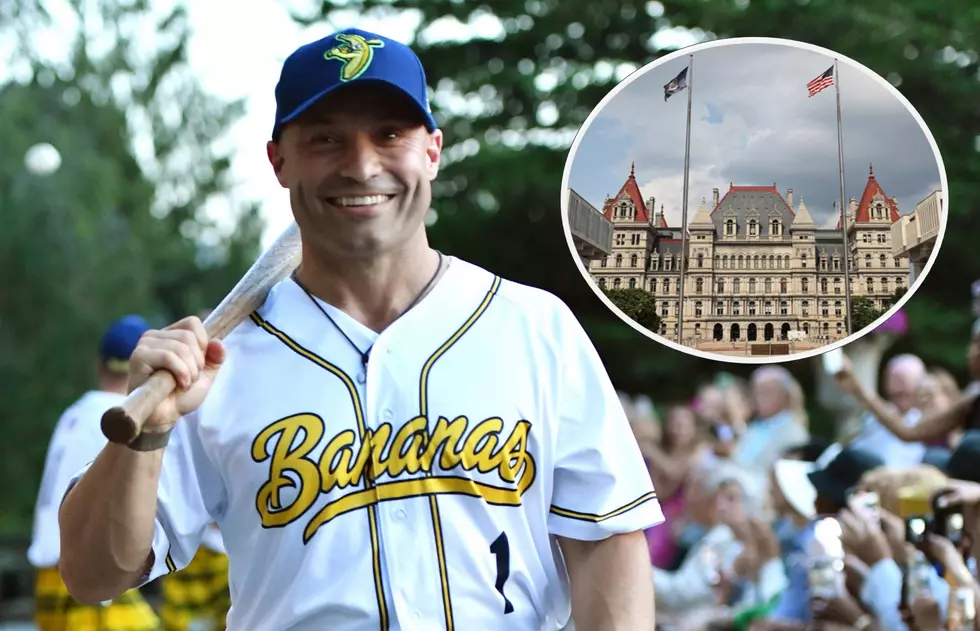 It's Bananaland! Are Baseball's Globetrotters Coming to Your Upstate NY City?
Getty Images
Baseball's version of the Harlem Globetrotters are hitting the road in 2023, and could be coming to a city near you.
The Savannah Bananas have taken the baseball, and sports, world by storm this year. Led by owner Jesse Cole, the once-unknown independent baseball team has created a unique brand of baseball, with new rules and an emphasis on fun, that has changed the way a lot of people are looking at the sport.
They're taking the team on-the-road for a world tour in 2023, and ahead of the schedule being announced, they teased a few locations in Upstate New York where they'd like to end up.
---
Savannah Bananas Tease Possible Games in Upstate New York in 2023
The Savannah Bananas posted an article on their official team website that listed their official "mock draft" of all of the cities they want to visit as part of their 2023 Banana Ball World Tour. A few Upstate New York cities were included on the list, meaning that, in theory, the Savannah Bananas could bring their team to those areas next year.
Here are the cities, and where they ranked in the mock draft:
#44: Poughkeepsie, New York

"It is top 10 in household income, prosperity, and unemployment percentage, while possessing a multitude of top notch restaurants. Surround it with the beautiful Hudson Valley and you've got yourself a bona fide star on the rise."

#59: Albany, New York

"Feels high time the capital of New York gets in on the action. Throw in the big ole' New York State Capitol building from the 1800's...you've got yourself a few days of fun at least."

#82: Buffalo, New York

"Throw in the Buffalo Bills (Boy I Love Losing Super Bowls) who look like the best team in the NFL this year and the Sabers who play hockey terribly as of late in the NHL, and you've got yourself a grand old time of a city!"

#85: Syracuse, New York

"...the JMA Wireless Dome (used to be the Carrier Dome) that every year packs more fans in for college basketball games than any other court in the country, the Syracuse Mets, the Syracuse Crunch and the Landmark Theatre. Oh I also failed to mention that it's the "Salt City," the "Crossroads of New York," and of course the host of the New York State Fair."

#87: Rochester, New York

"On Lake Ontario and next to the Genesee River's High Falls, "Flower City" has tons of toys and dolls in the Strong National Museum of Play and many snazzy picture themed displays at the George Eastman Museum (the founder of Kodak). It's a good city, and 87 feels just about right for it."

#90: Cooperstown, New York

"While we're on the topic of museums, I think Cooperstown deserves a shoutout. (T)ons of baseball memorabilia shops and great places to grab a bite to eat as well as an old fashioned baseball tournament my dad and I went to for a few years. It's honestly been too long since I've been to Cooperstown now that I think of it."
The Savannah Bananas replaced the Savannah Sand Gnats in 2016, and for the first few years of their tenure in Georgia, went largely unknown in the baseball world. It was in 2020, however, that the team began to experiment with their unique set of rules, which became known as the Banana Ball style of play, and things grew exponentially from there.
As of 2022, the Savannah Bananas are one of the hottest tickets in all of sports. Team owner Jesse Cole told Charlie Voelker and me back at the beginning of 2022 that they had a waitlist for tickets that stretched months in advance, and that the team was selling out every game.
They began to expand their brand outside of their home stadium in Georgia, taking their "show on the road" and playing exhibition games against other independent baseball teams across the country.
Heading into 2023, the team is looking to take their empire to another level, and as part of it, your Upstate New York city could play host to the Bananas real soon.
The Ten Most Underrated Heroes in New York Sports History
We all know Jeter, we know Manning, and we know Willis Reed. But, what about the other guys, the quieter heroes, that still made a major impact on New York sports?
New York Yankees' Legend's Beautiful Mansion to Be Demolished [PHOTOS]
Did Tom Brady ruin something else in New York sports? We're not sure, but a Derek Jeter-owned mansion that was rented by Brady is being demolished soon. Take a look inside below.