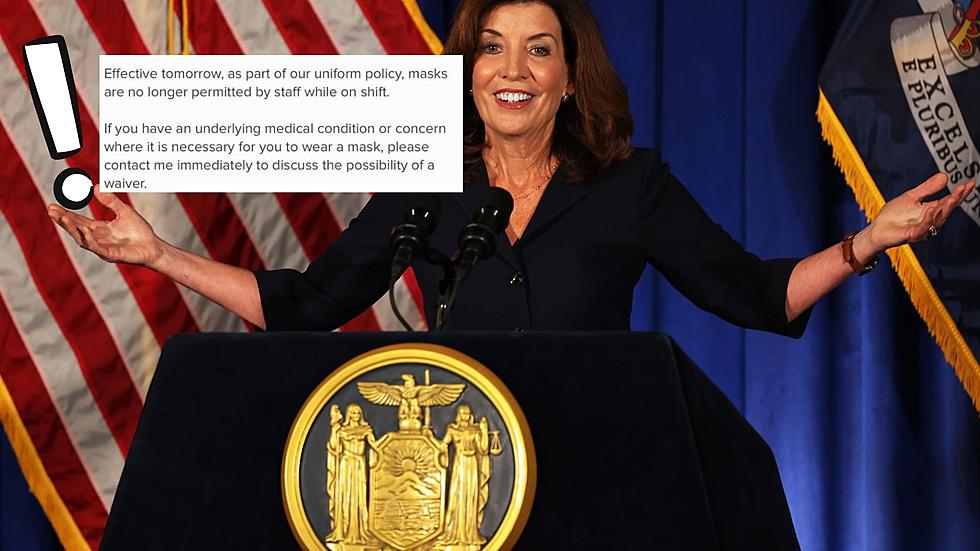 Is This Legal? New York Man Says Boss Has a 'No Mask Policy'
Photo: Getty Images, Reddit Post
See the email sent out to employees below.  What would you do?
When New York Governor Kathy Hochul lifted the mask mandate for businesses this week, it was a bit of good news for many New Yorkers who were longing for the ability to make their own mask-wearing decisions.
But for other New Yorkers, the decision by the Governor's to lift the mandate may have put a stranglehold on some employees who still want to wear their mask - but told they can't.  Is this even legal?
We may not know where in New York this happened, or what kind of job/position the person has, but one thing about this story that seems to be abundantly clear:
This boss does NOT want their employees to wear masks at work.  And it was doubled-down on in an email sent out to staff that you can see below.
A Reddit post that was published on Wednesday by a user who goes by the name of reddit.com/user/kevin_faces/, has almost 6k comments after nearly 23 hours. The reaction is so strong because the email packed a bit of a punch.
Here's what the alleged email said:
We seem to have enough context here to connect the dots and see that it's pretty obvious that the boss doesn't like masks.  Which is totally fine - we've argued about their merits for years now, so this is nothing new.
But insisting that employees NOT wear masks, that's where many of us have a problem.
We all wanted (for the most part) to have the freedom to make that decision for us, and this boss seems to be eliminating that option.
And much like the old mask madate, I have a feeling this new policy may not be around much longer.
36 High-Risk Hudson Valley Sex Offenders Recently Moved in New York State
Albany's Ten Most Dangerous Neighborhoods in 2022
Every city has their areas that residents try to avoid, and Albany, NY is no different. Certain neighborhoods and streets in the city have fallen victim to urban decay, and have struggled with rising crime rates in recent years. Entering 2022, here are ten neighborhoods that are considered dangerous in Albany.