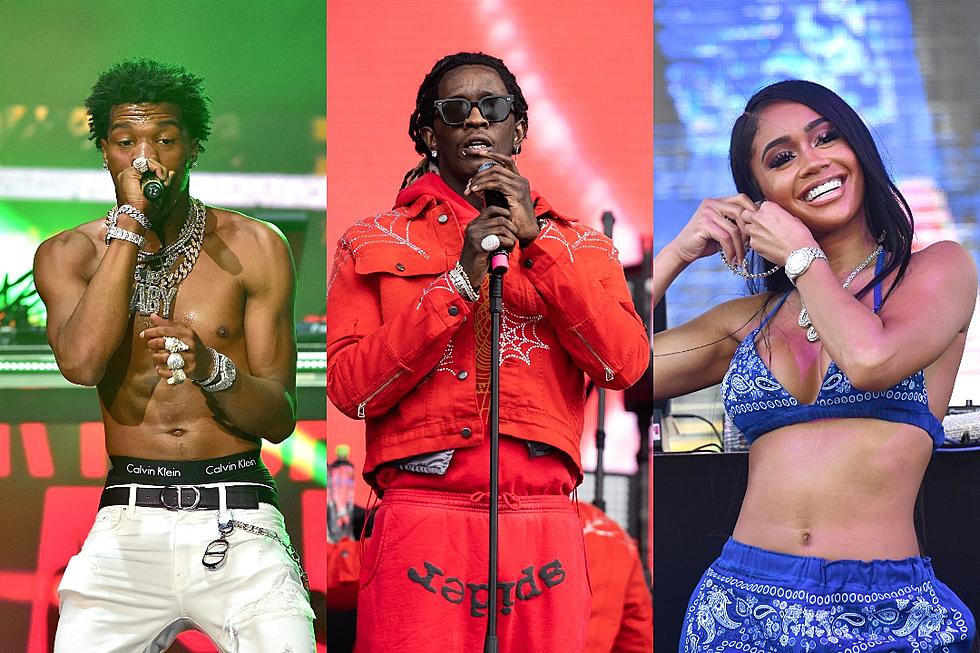 Defining the Best Hip-Hop Songs of the Weirdest Modern Summer of All Time
Prince Williams, Wireimage / Lorne Thomson, Redferns / Scott Dudelson, Getty Images
The four seasons are often tied to music, especially in hip-hop. Brooding winter anthems or summer bangers that slap, the seasons each have different feels and can be unpredictable, all while bringing back great memories of the good ol' days. So far, 2020 is one of the most unusual years ever as a result of the pandemic. The summer still happened (with restrictions like social distancing and being masked up), and rappers still dropped new music (but no touring).
Even with the major change this year, what hasn't stopped is the song of the summer. Every year brings debates about what is the best summer song and what isn't, so this time, the XXL staff came together to offer our choices (two songs each) of the songs we feel really resonate with this season so far.
The songs of the summer here are varied, a mix of newer acts and other rappers with a solid track record. Young Thug and Chris Brown certainly have some hits under their belt, but when they joined forces for the smooth party track "Go Crazy," they tapped into a chemistry that worked in their favor. The track entered the top 10 of the Billboard Hot 100 and is currently at No. 9. Another track that has been dominating the summer is DaBaby's "Rockstar" featuring Roddy Ricch, which has spent 17 weeks on the Hot 100 and dominated at the No. 1 spot for seven weeks in a row. Both 2019 XXL Freshmen created the song's video during the pandemic and hit the woods for a zombie fight.
When it comes to Drake, he's had a huge song every summer. This year, it almost seemed like 2020 would be different and that wouldn't be the case. As an artist you can never truly count out, Drake returned to chart dominance with "Laugh Now Cry Later" featuring Lil Durk; the song debuted at No. 2 on the Hot 100. The effort is likely to stick around and is already setting the tone for the latter part of the season. This also comes in a year where Drake is about to release his Certified Lover Boy album and Lil Durk dropped "3 Headed Goat," another song of the summer contender.
Take a look to see how we're defining the best hip-hop songs of the weirdest modern summer of all time below and find your favorites.—Robby Seabrook III
"Rockstar"

DaBaby Featuring Roddy Ricch

It's become normal to see DaBaby and Roddy Ricch's name atop the Billboard Hot 100 chart in 2020. And recently, they've been owning the spot together. With the SethInTheKitchen-produced track "Rockstar," the two 2019 XXL Freshman spent seven total weeks in the No. 1 spot with the hottest song in the country this summer. Over whirling guitar strings paired with stately 808 bass, DaBaby and Roddy drift over the entrancing beat, counteracting each other with DaBaby's typical punchy delivery and Roddy's hypnotizing melodies.

In the wake of the recent George Floyd protests and civil unrest in the country, an official Black Lives Matter version of the record was dropped months after the original. The remix features an extra verse from DaBaby about police brutality. Despite the booming drum composition, "Rockstar" sounds sedative when it comes to texture, but the song isn't as sweet as it sounds. Once you tap into the lyrics, you'll hear an in-depth threat of pulling the chopper out and letting it ring.—Kemet High

"Savage (Remix)"

Megan Thee Stallion Featuring Beyoncé

Leave it to hip-hop to turn a negative into a chart-topping positive. Megan Thee Stallion has proven her skills as a lyrically adept rapper and savvy songwriter, but the fruits of her labor hadn't landed her a No. 1 until this year. Flipping the uncivilized definition of the word savage into a sassy anthem for ladies everywhere, the Houston native's cheeky rhymes and playful delivery made "Savage" the perfect track for a TikTok takeover and summer anthem. "I'm a savage, yuh/Classy, bougie, ratchet, yuh," Meg raps on the J. White Did It-produced track replete with keys and claps. Thanks to Keara Wilson, the 19-year-old creator of the original dance that kickstarted the Savage Dance Challenge, the song took off on TikTok, which soon elevated its position on the Billboard Hot 100 chart.

While the song was released in March along with Meg's Suga EP, the addition of a special feature on the remix in April pumped up its volume: Beyoncé. "Hips TikTok when I dance (Dance)/On that Demon Time, she might start a OnlyFans (OnlyFans)," Bey raps seductively on the remix. A month later in May, Megan scored her first No. 1 on the Billboard Hot 100 with the remix, and added a renewed vigor to the already favorable ode. Outside isn't as open as we'd all like due to the coronavirus pandemic, but the song solidifies the positive outlook of the summer that no matter time or place, inside or outside, a classy, bougie or ratchet savage is always welcome.—G.C.

"What's Poppin"

Jack Harlow

Before 2020, Jack Harlow was consistently building upon his fan base each year, dropping eight projects since 2011—Extra Credit (2011), Finally Handsome (2014), The Handsome Harlow (2015), 18 (2016), Gazebo (2017), Loose (2018), Confetti (2019), Sweet Action (2020). His 2019 project Confetti got him buzzing, but his 2020 hit single "What's Poppin" took him over the top. The song works because it's a perfect marriage between Jetsonmade's craftiness behind the boards, and Jack Harlow's charisma shining through. "What's Poppin" is a bird's-eye view of a rapper's day-to-day life as he tries to hit the next level; Jack did it, with the track reaching No. 8 on the Billboard Hot 100, and the star-studded remix with DaBaby, Tory Lanez and Lil Wayne rising even higher to No. 2.—R.S. III

"Roses (Remix)"

SAINt JHN Featuring Future

Chances are you've been hearing SAINt JHN's song "Roses" everywhere this summer. The original version of the song can be found on the Brooklyn rapper's 2018 album, Collection One, but the remixes to the track are inescapable this year.

An opposite tone of the original song, the sped-up dance version "Roses (Imanbek Remix)," created in 2019, has given the track a resurgence in 2020. Thanks to its popularity on TikTok, it became a fan favorite, landing at the No. 1 spot on Billboard's Hot Dance/Electronic songs chart and peaking at No. 7 on the Hot 100 chart. The track has also found a home on TikTok with over 2.7 million video creations.

SAINt JHN released the infectious Fallen-produced "Roses (Remix)" featuring Future this past May and it's been going up ever since. The video, dropped in July, currently has over 6 million views on YouTube. It's closer to the original version, just as infectious as the dance remix and let's face it, Future can do no wrong on any track you put him on. SAINt JHN found the recipe for success with this one.—Bianca Torres

"Go Crazy"

Chris Brown and Young Thug

The best way to extend the life of a song is to have an impactful cultural moment attached to it. In rap, this often happens with viral challenges, as seen with Chris Brown and Young Thug's "Go Crazy." As the lead single and best song on their collaborative effort Slime & B, "Go Crazy" has people flooding Instagram and TikTok all summer with attempts to perfect Breezy's choreographed moves.

For the beat, Murphy Kid and KanielTheOne team up to bring New Orlean's flamboyant bounce sound to life, to which CB and Thugger have no problem sliding over. Lyrically, they both assume the role of a lover, gassing up their lady and relationship in every other bar. On top of the dance challenge, the music video for the song spawned a popular Twitter meme featuring the two artists with their eyes geeked out. Marketing strategies aside though, this song actually slaps.—K.H.

"3 Headed Goat"

Lil Durk Featuring Polo G and Lil Baby

Lil Durk has been experiencing a resurgence of sorts over the last few years, rebuilding himself as the voice of the streets and relationships. Just Cause Yall Waited 2, an album he released in May, features the song "3 Headed Goat," placing Durk alongside Lil Baby and Polo G. Everyone on the song snaps, from Aviator Keyz and Cicero on the beat to Lil Baby on the hook. This song doesn't feature romantic Durk; this is closer to his other side, a visceral street rapper who rhymes with conviction while fitting comfortably next to other rappers. "Three Headed Goat" quickly became his second biggest solo song on streaming platforms, racking up 40 million plays on Spotify in just a few months. In a year where Durk drops this song then gets featured on Drake's "Laugh Now Cry Later," Durk is really winning.—R.S. III

In two minutes, Saweetie delivers another icy girl anthem with "Tap In," her modern-day twist on Too $hort's "Blow the Whistle" beat. "Wrist on glitter (aye), waist on thinner (aye)/I'ma show you how to bag a eight-figure nigga (hoo)," she rhymes on the Dr. Luke-produced track. The 26-year-old shines on the song, but the refreshed use of a historic sample makes the record truly special. While many artists can get lost in the weight of pressure for such a popular original track, Saweetie sores above expectations.

Women empowerment energy glides over classic 808s as Saweetie claims the hyphy beat as her own with lyrics that feel like a pretty girl's guide to scamming. "You better get the card and make it swipe like tinder (phew)," she raps. Though the song leans more toward inspiration than instruction, she gets her point across loud and clear; she's never been a lame and stays icy from her lips to her fingers to her toenails. Saweetie's bold and unapologetic bravado, coupled with Dr. Luke's updated version of Lil Jon's original production, makes it impossible for "Tap In" not to be recognized as an undeniable song of the summer.—Zoe Johnson

"Wap"

Cardi B Featuring Megan Thee Stallion

With lyrics bold enough to get James P. Bradley, a Republican running for a Congressional seat in California, riled up, and a video that Tiger King star Carole Baskin criticizes for featuring big cats, Cardi B and Megan Thee Stallion's "Wap" is almost too hot for summer. Provocative bars ("Gobble me, swallow me, drip down the side of me"), memorable one-liners ("I want you to park that big Mack truck right in this little garage") and Megan and Cardi volleying their verses back-and-forth are celebrated as the sample of Frank Ski's classic "Whores in This House" is paired with Ayo the Producer and Keyz's kick drums. Their deliberate use of innuendo and wordplay is only as tame as the "wet ass pussy" line that rings out throughout the track. The controversial song has already earned the No. 1 spot on the Billboard Hot 100 and gone platinum. Whether "Wap" is labeled clean or marked with the "E" for explicit, Cardi and Megan bring the heat this summer with a sexy song that can fog up your windows even on the hottest of days.—Z.J.

"We Paid"

Lil Baby Featuring 42 Dugg

Lil Baby's had a great year so far despite the pandemic. His album, My Turn, locked in the No. 1 spot on the Billboard 200 and his poignant, police brutality-centered track "The Bigger Picture" has served as a sign of the times. The success of his new album resulted in a deluxe version that gifted fans with additional hits like the track "We Paid" featuring Detroit rapper 42 Dugg.

Making hits is nothing new to Lil Baby; "We Paid" peaked at No. 3 on the Billboard Hot 100 chart, giving 42 Dugg his second Billboard placement since debuting in the rap game—"Grace" was the first in March. Produced by Section 8, the hard-hitting, menacing beat is perfect for the two to boast how they "can't be fucked with." The lyrics are just as essential to the track. 42 Dugg opens with, "Fore I go broke like Joc/Fuck with that dog like Vick/Not that rott that pit/Palm Angels down to my sock/Can't hold my glock, reason I don't really like that shit."

The video, featuring Baby and Dugg hitting the streets in slick rides, currently has over 123 million views on YouTube. When you combine quality lyrics with a contagious beat, you get "We Paid."—B.T.

"Laugh Now Cry Later"

Drake Featuring Lil Durk

The phrase, "Laugh Now, Cry Later" points toward the impermanence of circumstance, whether good or bad. In the midst of a decade-long run with no end in sight, Drake trades in existentialism for petty boasts as he serves up a late contender for song of the summer. Powered by spurts of triumphant horns thanks to producer Cardo (with coproduction from G. Ry, Yung Exclusive and Rogét Chahayed), quotable 6 God bars and a guest appearance from Lil Durk, "Laugh Now, Cry Later" plays out like a sequel to his 2010 song "Over." For this one, Drizzy abandons the anxiety of the latter as he lays into the beat with the confidence of someone on their 10th victory lap. The hook—carried through Drizzy's signature half-sung hum—sounds like self-assurance, and the bars are painted with dismissal, as though the idea of not having the last laugh never occurred to the rapper. While the song title evokes an uncertain future—especially amid a global pandemic—the track itself scans as a certified banger. With his ability to generate songs like this one, Drizzy's future is secure.—P.A.B.

Fivio Foreign is, first and foremost, a lot of fun. His lyrics are coated in charisma and block vernacular. He can issue threats, but everything is steeped in a Cam'ron-esque sense of mischief. Exhibit A is "Wetty," an AXL Beatz-produced, Brooklyn drill track for hot New York City summers. On the song, Fivi takes us from a bodega to Instagram as he shoots his shot at a baddie. The bars are blunt, decisive and kinda funny. "She fell in love when she met me/Tell your ex to come check me," he raps in a casually confrontational tone. A hook that paints a semi-realistic scenario—fans on Twitter LOL'd at being approached in an NYC deli—and bars that you'll find yourself repeating because of their wit and intermittently spaced structure make "Wetty" one of the best songs of 2020.—P.A.B.

Flo Milli's buzz bubbled until it overflowed. She began catching the ears and attention of many rap fans last year, but it was the debut of her very first mixtape, Ho, Why Is You Here?, last month that landed the dart at the center of the dartboard. On the tape is the Mobile, Ala. native's single "Weak," an interpolation of SWV's 1992 hit put together by producer J. White Did It, which also shares the same title but adds new school flavor. Flo Milli is unapologetic with her bars, swift with her flow and crafty with her wordplay. An anthem for the ladies, she switches up the roles and spells out what she will and won't tolerate from the opposite sex. "These niggas weak (Eww)/They've been textin' me all week/Just let me be (Let me go)/Blowin' me up, I'm tryna sleep/I ain't your freak (Stupid nigga)/So don't be callin' after three/I do what these bitches don't/That's why they runnin' back to me," she raps on the chorus. After playing the track once, you'll most certainly turn the volume up and run the beat back.—Aleia Woods

"B*tch From Da Souf (Remix)"

Mulatto Featuring Trina and Saweetie

Mulatto often refers to herself as Big Latto and with a hit like "B*tch From Da Souf (Remix)" featuring Trina and Saweetie, the nickname is beyond fitting. The ATL spitter dropped the original version of the track at the top of last year and it slapped. With the warm reception of the banger, the 2020 XXL Freshman wanted to shake the room further and bring more heat, so she rallied up the Miami legend and the Icy Princess to do just that about 11 months later. On a Bankroll Got It beat consisting of minimalist bass, the trio trade off and spit bars representative of their respective hometowns–Atlanta, Miami and the Bay Area. "I hit up Saweetie like, 'What's up? I'm in The Bay' (The Bay)/The baddest bitch in MIA said I'm good when I'm in Dade (Uh)," Mulatto rhymes. The track is a hit and Mulatto has the credentials to prove it because the song, which appears on her debut album, Queen of Da Souf, just landed at No. 95 on the Billboard Hot 100, marking her first placement on the chart.—A.W.

"The Woo"

Pop Smoke Featuring 50 Cent and Roddy Ricch

Pop Smoke's gravelly tone was the perfect fit for the Brooklyn drill beats he became synonymous with before his tragic passing in February. While his rhymes over that more ominous production are championed, flexing his singing skills on more soothing beats showcases his goal to become a more versatile creator. That's amplified on his posthumous hit "The Woo" featuring 50 Cent and Roddy Ricch. The Latin-flavored, guitar-driven track, produced by 808Melo and Rxcksta, finds Pop repping his set, holding down the chorus and ultimately creating an ode aimed at the ladies they desire. "She wanna fuck with the woo," he croons on the song, which appears on the Brooklyn rapper's posthumous debut album, Shoot for the Stars Aim for the Moon, executive-produced by 50 Cent. The Queens MC praises a woman that can handle her own on his verse while Roddy brings his dynamic melodies with lines like "I told her, 'Ooh-woo-woo'/Shawty wanna fuck me inside of the coupe." Riding out on the East Coast in New York City or hitting the e-way in L.A. on the West Side deserves the proper summer soundtrack with Pop Smoke's "The Woo."—G.C.