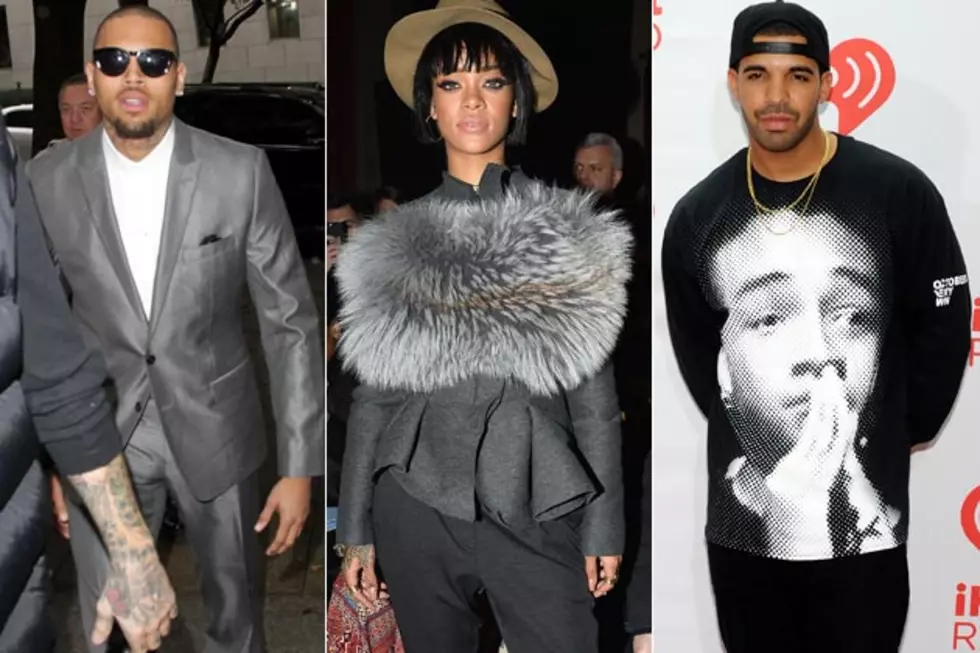 Chris Brown Diagnosed as Bipolar, At Peace With Rihanna + Drake
David Buchan / Pascal Le Segretain / David Becker, Getty Images
Chris Brown is usually grabbing headlines for his various legal troubles, but new information has come to light about exactly why he went to rehab and how he feels about his ex Rihanna and former nemesis Drake.
TMZ got its mitts on legal documents detailing Breezy's issues. They report that he has been diagnosed with bipolar disorder. He is also said to be suffering from severe insomnia and Post Traumatic Stress Disorder, and that he was self-medicating in an inappropriate fashion. All those things combined were a recipe for a disaster cocktail and were said to be the reason Breezy has had such anger issues in the past.
According to the obtained documents, an employee at the treatment center wrote: "Mr. Brown became aggressive and acted out physically due to his untreated mental health disorder, severe sleep deprivation, inappropriate self-medicating and untreated PTSD."
The cause of PTSD, a condition from which many war veterans suffer, was not explained. Breezy was diagnosed as Bipolar II, though. He is currently on medication to treat that and other conditions.
His rehab has allowed him to make improvements. He does relaxation exercises and tested negative for drugs, like marijuana, while in treatment.
The report states that he gets up at 5AM and works hard, especially at his community service. It read: "Mr. Brown's attitude has been beyond exemplary in regard to his community service responsibilities."
While there are rumors that DRihanna are back together, Breezy isn't mad about it, nor will it derail his recovery, sources told TMZ. He has moved on. RiRi was said to be a bone of contention between Breezy and Drizzy, and their triangle was one of the most tangled in pop music.
Breezy can't care about it because he is focused on rebuilding his career. No more epic battle bottles in NYC for these two.
Drizzy has denied another romance with RiRi, but...
It's also rumored that Breezy and longtime on-off GF Karrueche Tran have split, too.
Lastly, a celebrity barber posted what looks like a work ticket for his efforts on the video for the Ariana Grande duet with Breezy. Judging from this ticket, it may be called 'Don't Be Gone Too Long.' See the image the barber posted here.
It sounds like Breezy is working hard on fixing himself. Pop fans love a comeback, so bring it, kid!