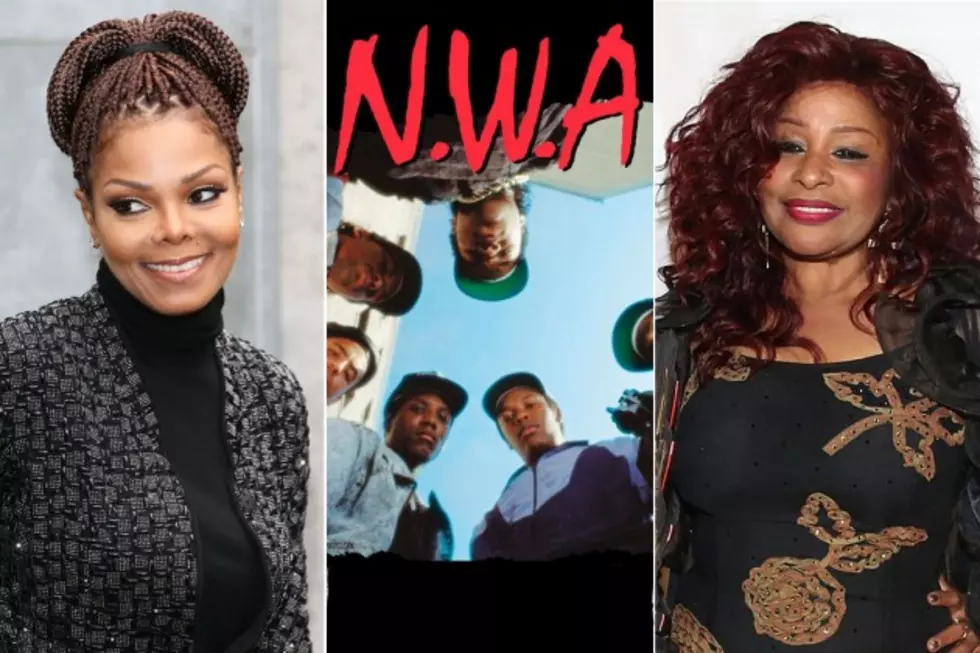 2016 Rock and Roll Hall of Fame Nominations Include Janet Jackson, N.W.A, Chaka Khan & More
Vittorio Zunino Celotto, Getty Images / Ruthless Records / Aaron Davidson, Getty Images
The nominees for the 2016 Rock and Roll Hall of Fame are here and big names like Janet Jackson, N.W.A. and Chaka Khan are in the running to be inducted next year.
If N.W.A makes the cut, the popular gangsta rap group will be the fifth hip-hop act to be inducted ino the Hall of Fame after Grandmaster Flash and the Furious Five, Run-D.M.C., Beastie Boys and Public Enemy, in that order. The controversial Compton natives were brought back to into the public consciousness after their biopic, Straight Outta Compton, did extremely well at the box off this summer.
The Pleasure Principle creator is also making history this year, since it's her first time being nominated. Her albums like the five-times platinum Control proved she wasn't just Michael Jackson's little sister but an R&B powerhouse on her own.
Chaka Khan and the Spinners add to the well-deserving list of artists. The Grammy Award-winning Queen of Funk brought us jams like "Ain't Nobody," "I"m Every Woman" and "I Feel for You." While the Motown group brought us "It's a Shame," not to mention summer barbecue classics like "I'll Be Around" and "Could It Be I'm Falling in Love."
Another notable group, Nine Inch Nails, joins the contenders. The group's leading man Trent Reznor has put out a slew of good music like "Closer" but he's also known as Timbaland's favorite producer. Reznor has also collaborated with Saul Williams, a poet and alternative hip-hop artist.
In addition to Jackson, Khan, N.W.A, the Spinners and Nine Inch Nails, Chic, the Cars, Cheap Trick, Chicago, Los Lobos, the J.B.'s, Deep Purple, Steve Miller, the Smiths and Yes are in the running to be inducted into the Hall of Fame.
The Rock and Roll Hall of Fame requires nominees to have a single or album released before 1990. The final inductee lineup for the Hall's Class of 2016 won't be announced until December but the public can vote for their top five nominees until then.This is the forth year where fans can vote alongside a judging panel of "artists, historians and music industry insiders." The "fans ballot" will decide one of the inductees to be honored at the award show in April of 2016. For those who can't attend, HBO is scheduled to broadcast the ceremony later that year.
Music lovers can vote for their favorite artist here.
See 25 Historic N.W.A. Moments