24 Rappers Rapping Over Other Hip-Hop Artists' Beats Recently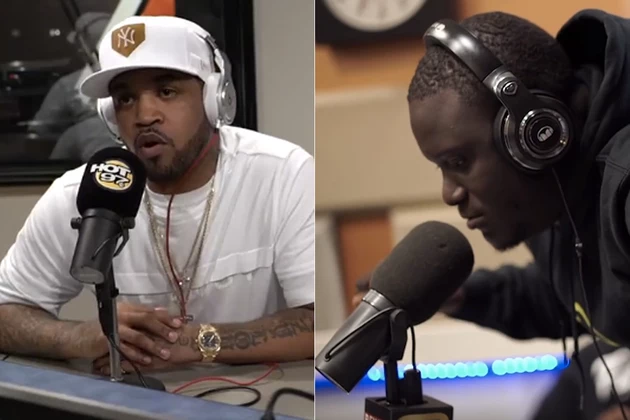 Unauthorized remixes and lengthy freestyle sessions aren't as popular now as they were during G-Unit's heyday 13 years ago, but by no means have rappers left those once marquee impromptu creations completely in the past. Just ask folks like Joyner Lucas, A Boogie Wit Da Hoodie, Lil Wayne and Vic Mensa, who've all taken the beats of other rappers for a test drive at different points this year.
Joyner Lucas wowed just about everyone when he pulled up on Future's insanely popular Southside and Metro Boomin-produced "Mask Off" instrumental, seamlessly stringing together one impressively rhymed couplet after the other. On the more lighthearted side of things is "Wild Thots," an A Boogie and Fabolous collab over DJ Khaled's Rihanna and Bryson Tiller-assisted, platinum-selling single, "Wild Thoughts." We'll let you figure out how they flipped it.
Being one of the top songs of this spring and summer, it's no surprise Playboi Carti's "Magnolia" has been an instrumental a few rappers have dipped their toes in. Weezy dropped his version of the track last month, which made sense because the song references the Magnolia Projects, the place Weezy used to call home. He definitely did his thing, too.
Of course, it was Vic Mensa who recently did some serious damage in what was probably the mother of all freestyles in 2017 so far. Appearing on Sway in the Morning, Mensa attacked Kendrick Lamar's "HiiiPoWer" as if he was engaged in a battle for his career. Kinda looks like he won.
Today, XXL takes a look at the many rappers, from Lloyd Banks to Zoey Dollaz and more, taking on the instrumentals of other hip-hop artists. Peep our list below.
A Boogie Wit Da Hoodie and Fabolous' "Wild Thots"
Over DJ Khaled's "Wild Thoughts"
Kodak Black and Jackboy's "G to the A"
Over Tee Grizzley's "From the D to the A"
Vic Mensa's Freestyle
Over Kendrick Lamar's "HiiiPoWer"
Lil Wayne's Freestyle
Over Playboi Carti's "Magnolia"
J.I.D's Freestyle
Over Celph Titled's "Primo's Four Course Meal
PnB Rock's Remix
Over French Montana's "Unforgettable"
Ski Mask The Slump God's "Catch Me Outside"
Over Missy Elliott's "She's a Bitch"
Meek Mill's Freestyle
Over DG Yola's "Ain't Gon' Let Up"
K. Camp's Remix
Over Playboi Carti's "Magnolia"
Lloyd Banks' Freestyle
Over Nas' "New York State of Mind"
2 Chainz's Freestyle
Over Kendrick Lamar's "DNA."
Zoey Dollaz's Freestyle
Over Drake's "Free Smoke"
Don Q's Freestyle
Over Pusha T's "Drug Dealers Anonymous"
MoneyBagg Yo's Freestyle
Over Drake's "Free Smoke"
Nyck at Knight's Freestyle
Over Prodigy's "Keep It Thoro"
Russ' Freestyle
Over Cam'ron's "Down and Out"
Action Bronson's Freestyle
Over JAY-Z's "A Million and One Questions"
Skippa Da Flippa's Remix
Over Tee Grizzley's "From the D to the A"
Quilly's Freestyle
Over Jadakiss' "Still Feel Me"
Source:
24 Rappers Rapping Over Other Hip-Hop Artists' Beats Recently